Happy National Beer Lovers Day! Here Are the Best Deals Around to Help You Celebrate
Cheers to the beers, it's International Beer Lover's Day 2018.
And wouldn't you believe your luck, it's landed smack bang on a Friday—perfect to usher you into the weekend. But what is a national day without a few freebies to go along with it? Bars and pubs across the United States are offering discounted brews for you to enjoy.
We've strung together a list of deals to wet your whistle. And if you can't see a nearby venue on the list, head into your local watering hole and tell them what day it is—fingers crossed that will at least get you a few bucks off.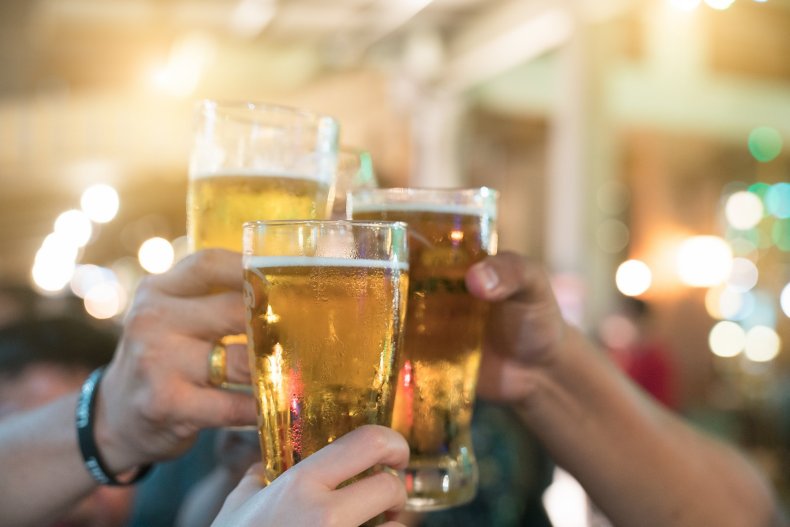 The Beer Growler, Winston-Salem, North Carolina
If you want a discount on every beer you see, check out The Beer Growler in North Carolina. 48 taps of craft beer, all waiting to be tasted— and the Winston-Salem bar is offering discounts on every single one.
Creed's Seafood and Steaks, King of Prussia, Pennsylvania
If you want to get a decent meal to go along with your beer, check out Creed's Seafood and Steaks in Pennsylvania. The eatery is offering up $3 beers all day long. "Someone decided that annual we should celebrate National Beer Lover's Day and who are we to stop them."
Flat Top Burger, Alexandria, Virginia
This one is a bit different. Flat Top Burger in Virginia wants you to enjoy a cold one on this most glorious of days, but it wants to keep you full as well. The burger bar will give out a free regular fries to anyone who orders a beer. We all love a snack with a beer.
Buffalo Wings & Rings, New Braunfels, Texas
Whether you prefer craft beer or a domestic pint, Buffalo Wings & Rings as got you covered. Until 7 p.m., you can grab a domestic brew for just $2.89. Can't make it before 7 p.m.? Not to worry, there will be craft cans on sale for $3 all day long.
Hank's Crawfish, Houston, Texas
Sharing is caring, that's what Hank seems to believe. Grab your buddies and order a domestic pitcher for just $12. Going solo? You can still order a brew and get $1 off each drink.
Sonesta, Philadelphia, Pennsylvania
Oh how the people at Sonesta tempt us. The hotel's ARTBAR is serving all draft beers at half price for the day. "You love beer, we love beer, so in celebration, all draft beers in ARTBAR are 50% off!"
Hussong's Mexican Cantina, Summerlin South, Nevada
Here we go, the big one: free beer… (almost.) Any entree order at Hussong's gets you a free draft beer with your order. Just like that. Hypothetically, you could skip the mains and just get a few entrees. Tacos and free beers sounds pretty good to us.
Wichita Falls Country Club, Wichita Falls, Texas
Texas seems to be doing quite well on the deals front. The Wichita Falls Country Club is offering $3 bottled domestic aluminium bottles in the Halfway House—the calming end to your day you'll need after fixing divots and three-putting a potential birdy.
The Blind Tiger, Greensboro, North Carolina
Now for the music lovers who want to enjoy a tall frosty one. The Blind Tiger will have $2 off all their brews. Come for the beers, stay for… the beers as well—come on, it's cheap beers, people.