Happy National Frozen Custard Day! Here Is How You Can Get the Best Deals Today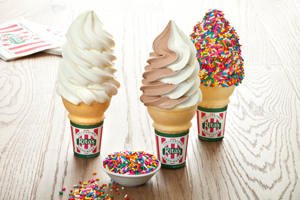 Wednesday is quite a busy day for food celebrations.
August 8 is officially National Frozen Custard Day, National Zucchini Day and—for the first time—National Fried Chicken and Waffle Day. That's a lot of different foods to celebrate, but space it out between three meals and you should be able to pull it off.
Starting off with dessert (obviously), Rita's Italian Ice will celebrate Frozen Custard Day with a serving for just 99 cents. Rita's has been making frozen custard for more than 25 years. President and CEO Linda Chadwick said frozen custard helped build the Rita's brand into what it is today. "We hope our guests will enjoy visiting our shops for a bit of happiness on August 8th to observe making it halfway to Friday, heading back to school, cooling off from the summer heat or really any reason at all," Chadwick said.
Andy's Frozen Custard will throw in a free small cone with every purchase of $10 or more on a gift card. Anyone who spends over $20 will get a free small cone with one topping included in the blend.
Kansas-based Freddy's Frozen Custard & Steakburgers are offering single cones or custard cookies for just $1. Even better, half the profits from the special will be donated to the Kids In Need Foundation. The group donates school supplies across the country.
Abbott's Frozen Custard in Sterling, Virginia, is running a competition to give away three free pints of frozen custard. Others stores may hold similar competitions, so head to their Facebook pages to find out more.
Now onto the entree of zucchini. Deals aren't quite as common as frozen custard (for obvious reasons), but there's something even better: a prank. #SneakSomeZucchiniIntoYourNeighborsPorchDay might be trending on social media, and if it is, you best get on board. Plus, your neighbor will appreciate you making sure they're eating healthy.
There is one deal to jump on: Noodles & Company will offer free swaps to zucchini noodles on Wednesday.
Last but not least is chicken and waffles. Florida-based restaurant Metro Diner has declared 8/8/18 will be the first Fried Chicken and Waffle Day. Head of marketing Crafton Bryant said it was time the dish got its own day. A tasty $9.99 will get you a Belgian waffle with sweet, strawberry butter and half a fried chicken (which usually costs $15.99.)
"We are giving fried chicken and waffles their very own day to honor just how special, delicious and popular the dish is across the country and to celebrate with our favorite people, our guests," Bryant said. "Since debuting our Fried Chicken & Waffle in 2010, the sweet, savory and spicy dish has become an award-winning menu item and all-around crowd pleaser."