Best Memes Saying Jumanji to 2020 and Welcoming 2021 With Existential Dread
The year 2020 was one that many people were happy to see the back off, but people on Twitter were torn over 2021. Some were saying Happy New Year to what they were hoping would be a better year where a number of vaccines for the coronavirus could get life back to normal around the world. Others, however, realised the cold hard truth that January 1, 2021 feels pretty similar to December 31, 2020, with a global pandemic still raging.
This split was reflected in Twitter users' choice of memes, which were either of the "everything's going to be great" variety, or of the "the world is still a trash fire."
All the meme classics were carted out on either side. Drake was doing the "Hotline Bling" dance to the New Year, while others took to wrestling memes to make their feelings about 2021 known: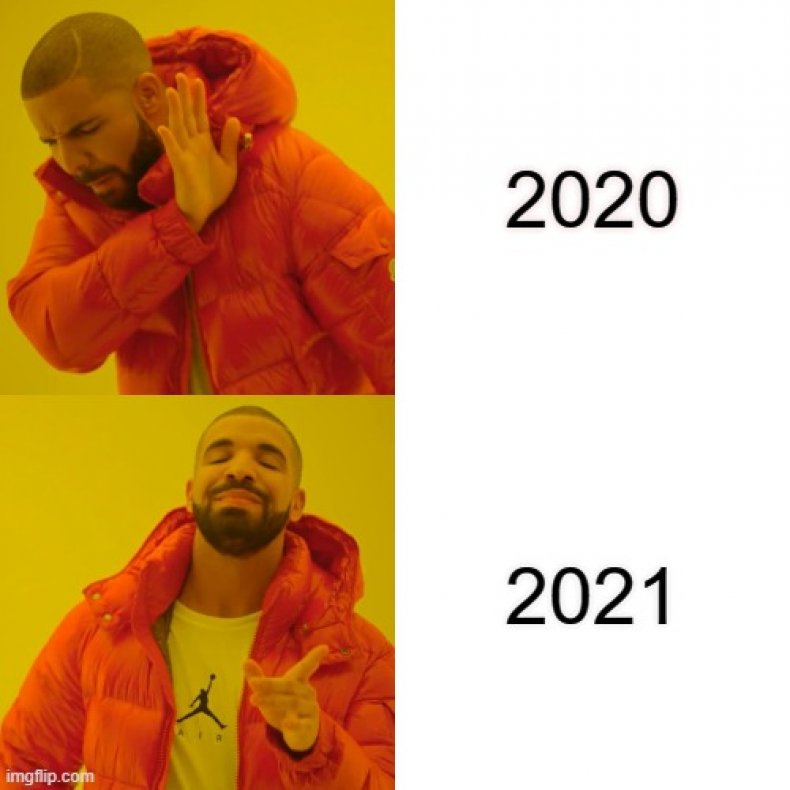 Classic memes, meanwhile, were repurposed for the new times. Particularly popular was this meme from Lady Gaga's time on the Oscar campaign trail for A Star Is Born, which took on new meaning in 2020:
Then, of course, in typical Twitter fashion, the memes started to eat themselves, becoming a comment on the fact that other people were optimistic about 2021:
While some were looking forward to a better 365 days, others were looking back at exactly how wretched 2020 had been for them—and they did it via the classic sitcoms many have been binging as comfort watching all through the year:
Twitter, however, did find a new way to see out 2020. The term "Jumanji" started trending on the social media site worldwide, as people said they were going to shout out the term at midnight—a reference to the movie franchise of the same name, in which if a character shouts the term at a certain time then the game and its many nightmares end.
This then led to its own stream of memes, split between those who liked the idea of saying Jumanji at midnight and others trolling those people:
This then got tied up to a trend that has emerged over the last few New Year's Eves: People starting movies at certain times so that relevant scenes played out as midnight struck.
Here's one group who managed to time the Jumanji reboot so that the cast said the word as January 1 began.
Though some worried that 2021 would just be the year equivalent of Zathura, the lesser-known sequel to Jumanji that saw the cast having to go through a different but equally traumatic ordeal.
It remains to be seen whether 2021 will be a fresh start for the world, or whether it will be the same as the last year but somehow set in a futuristic space world. Either way, Twitter is sure to be there with new and rehashed memes right through to 2022.