Behind the Scenes of China's Magical City of Ice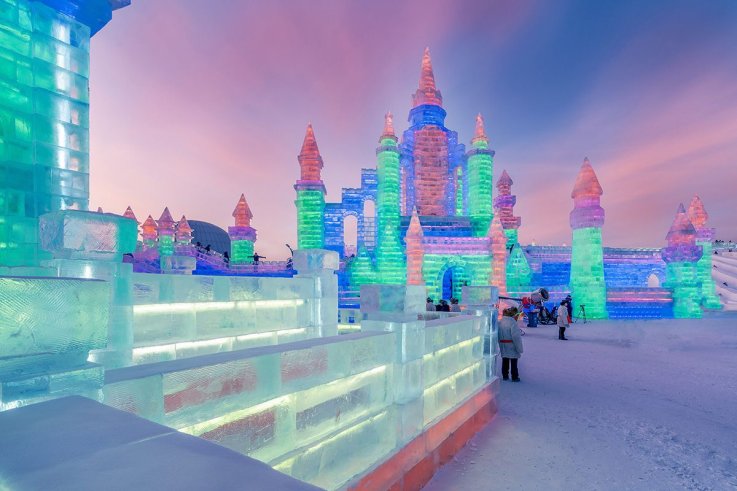 Every year, a magical illuminated city of ice rises on the banks of a frozen river in far northern China. Thousands of blocks of ice are sculpted into crystal palaces and glittering towers that attract over a million visitors a year to the Harbin Ice and Snow Festival.
Award-winning photojournalist Kevin Frayer spent several days in Harbin documenting the back-breaking work that goes into constructing the shimmering city of ice.
For weeks ahead of the festival's opening day, around 10,000 laborers worked day and night in temperatures that could plunge as low as minus 35 degrees Fahrenheit (-37 Celsius).
Hired workers cut blocks of ice from the frozen Songhua River and transport the blocks, which can weigh up to 1,500 pounds each, to the site. Most of the cutters are farmers from nearby villages who start work before dawn at bitterly low temperatures to earn about $35 per day.
The blocks of ice are carved with chainsaws and then sculpted into temples, animals, famous landmarks and ice slides. Computer-controlled LEDs bring the icy architectural wonders to life.
The ice sculptures in the festival's Ice and Snow World area will open to the public on January 5, 2019. Two other areas feature monumental snow sculptures and around 1,000 smaller ice and snow sculptures for children.
The annual Harbin Ice and Snow Festival usually runs for around one month, depending on weather conditions.
Read more: Enormous ice and snow sculptures go on public display
Following is Frayer's look behind the scenes of the world's largest ice festival.