Hard Cider, Drink of Presidents, Makes a Comeback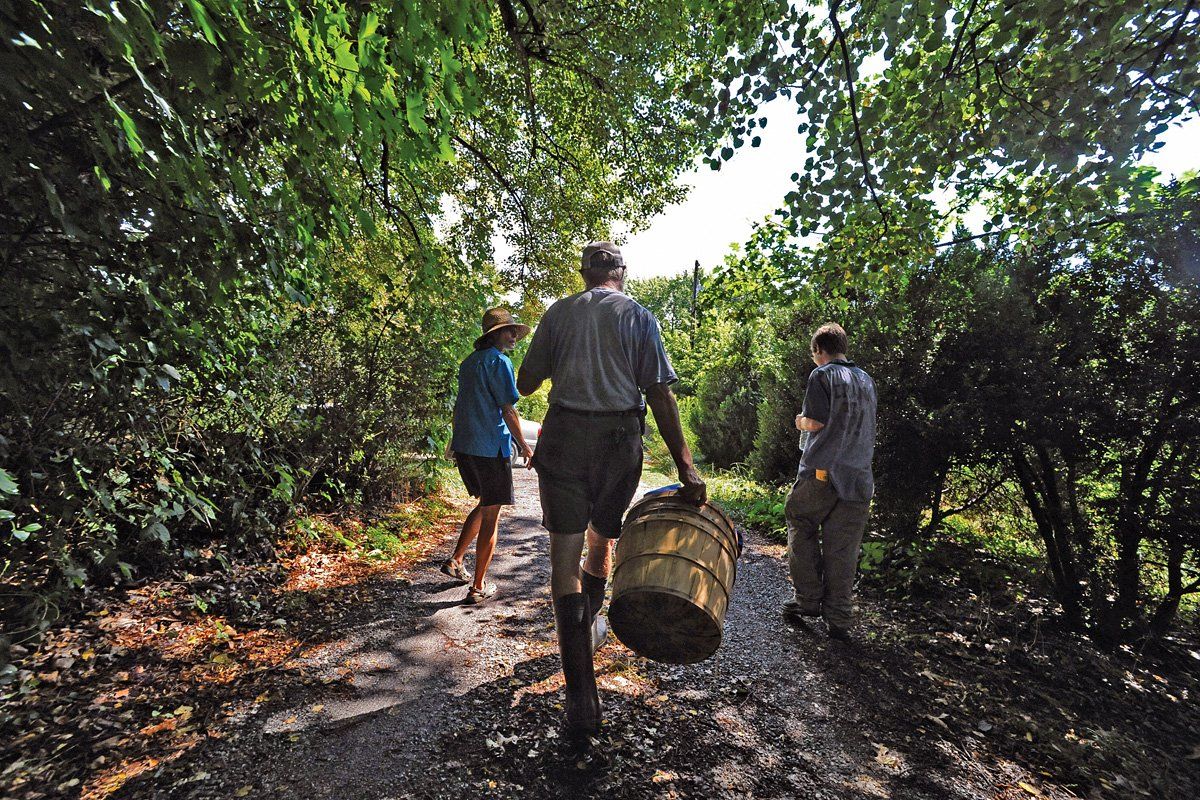 Hard cider has tried to stage a comeback so often, it's practically moldy. Yet finally, after many years of false starts, the drink is showing signs of a true renaissance. According to industry belwether Shanken News Daily, an online wine, spirits, and beer trade newsletter, cider is the drink of the moment: in August, the publication ran a lead story entitled "U.S. Cider Segment Showing Torrid Growth." Torrid growth? Perhaps that's a little sensational. But casual evidence does show terrifically energetic flowering. Small hard cideries are blossoming in the Northeast, as well as in Virginia, Michigan, and the Pacific Northwest. There is a new abundance of cider weeks and conventions. Many top restaurants are offering hard ciders by the glass.
Cider: it's delicious and thirst-quenching, our Founding Fathers' favorite tipple. It has also been absent from the American drinking scene since it experienced the double whammy of Prohibition and a hard frost in the 1930s, which killed many apple trees. All of those lovely hard, tannic cider apples became the stuff of abandoned orchards, while McIntosh and Macoun varieties were replanted and flourished.
The first signs of cider's rebirth twinkled when Terry and Judy Mahoney landed in western Massachusetts from California in the early 1980s. They had intended to make wine—but when they looked around and saw their new wet, cool climate, they ditched grapes for apples. They bought a fruit press and barrels, and planted antique apple varieties. Along with their colleagues at Farnum Hill in New Hampshire, they revived traditional, tannic cider using strains such as Tremlett's Bitter and Dabinett.
Growth came at a turtle's pace. Restaurants didn't know where to place the hard ciders—on tap with the beer or on the wine list? And how could a cidery hope to make a living? Hard cider, from 5 to 8 percent alcohol, is cheaper than wine and more expensive than beer. While Terry was still alive, his ciders, although successful, did not bring in enough income for him to quit his day job as an ER doctor. Forget niche—cider was microniche. Compared with beer, the giant of soft booze, it still is.
The facts are familiar to former master brewer Greg Hall. With the sale of Goose Island brewery to Anheuser-Busch in 2011 for $38.8 million, Hall chose to sink his portion of the take into Virtue Cider, an Illinois-based brand sourcing Michigan fruit. When he told friends he was going into cider, they thought he meant the kids' drink.
Hall is ready to change America's assumptions about hard cider. Having fallen in love with the beverage, he traveled to Normandy to study with cider masters, and is poised to become the poster child of the revolution. He hopes to bring the same success to cider as he did to his Goose Island brews. He reflects on how the big breweries were slow to recognize that craft beer was a force on the market. "It took them 20 years to get it. With cider, they were early." He cites Michelob and Boston Beer Co.—the maker of Samuel Adams—as two of the big names that have recently ventured into the cider fray.
Cider historian Ben Watson cautions that a distinction should be made between artisanal and commercial brands. "I doubt anyone has accurate statistics on strictly 'craft cider' producers," he says. "Most of them are so small that they fly underneath the industry's radar. But I've seen various figures on sales of cider in supermarkets—sales up 72 percent over last year. That is a stunning growth but of course this is virtually entirely industrial 'draft cider' brands."
Those mass products, while refreshing and statistics boosting, have as much in common with artisanal cider as fresh- squeezed orange juice does with concentrate. The nature of true draft cider is closer to wine than to beer. Made from fresh apples, it has one natural vintage. Conversely, commercial cider uses juice, sometimes from concentrate, and is made year round.
One factor driving cider's success is that it is an extremely local, agricultural product. The locavores, bringing the same zeal to the drink as they do to heirloom and seasonal vegetables, were out in force at a recent New York City event at the Astor Center, where consumers paid $35 a piece to mingle and swig 15 ciders. The old guard, West County and Farnum Hill, made the trip down from New Hampshire and they gazed with pride out at the new crop of artisan cideries. Among the fine newcomers were Vermont's Eden Ice Ciders, makers of unctuous, concentrated ciders from frozen apple juice, and Aaron Burr from Wurtsboro, N.Y. This small operation is headed up by Andy Brennan and his wife, Polly Giragosian. They grow their own apples to make a ginger-spiced cider that would be a fantastic cocktail ingredient, as well as a bone-dry cider from beautifully gnarled, foraged fruit. Whether it is the locavore passion, or just the growing understanding that cider should take its place at the American table, the rebirth of cider is finally upon us.
Alice Feiring is the author of Naked Wine: Letting Grapes Do What Comes Naturally.