Hard Evidence That Putin Is Targeting Syrian Civilians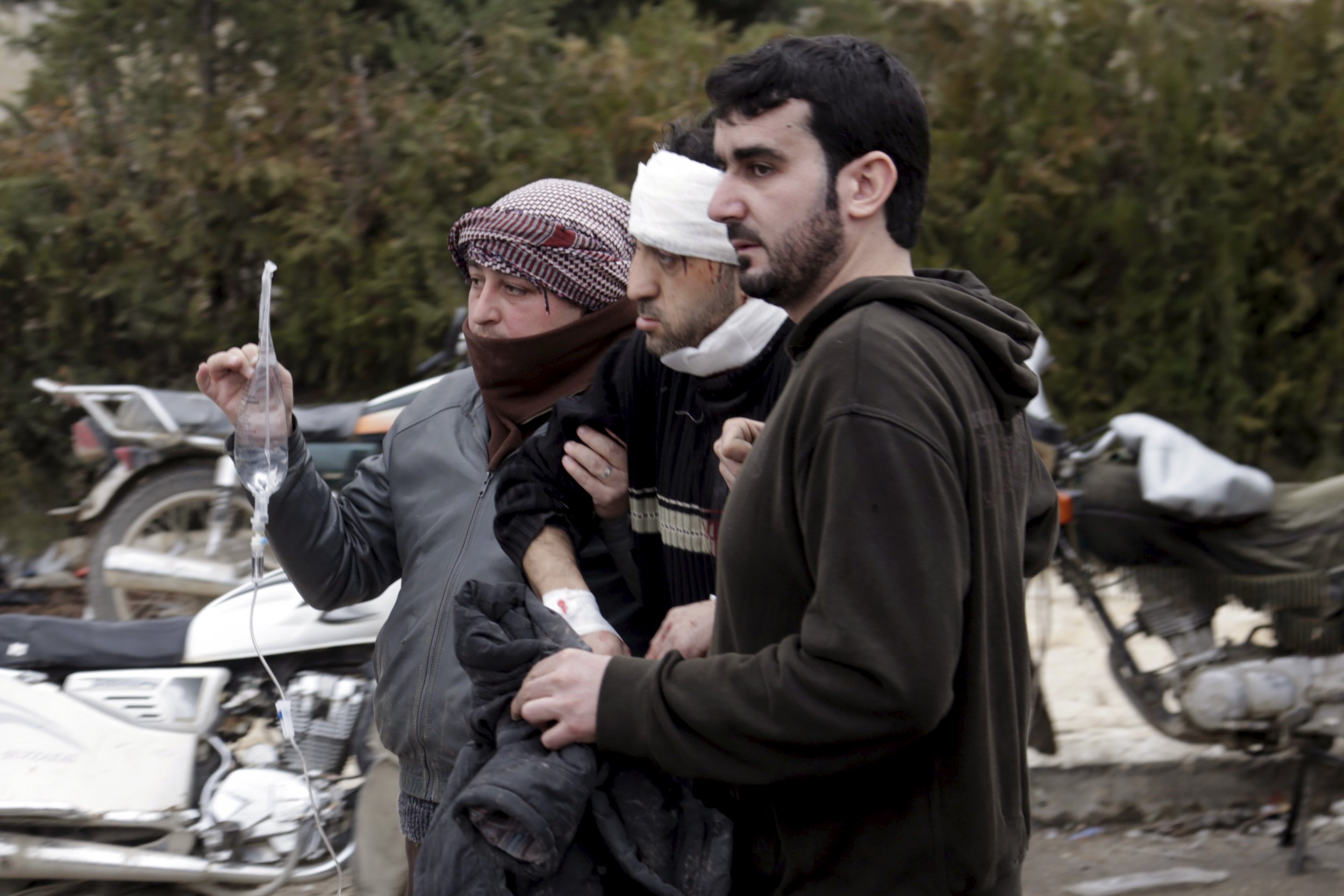 This article was first published on the Atlantic Council site.
Since their start at the end of September 2015, Russian airstrikes have displaced over a quarter million Syrians.
According to Amnesty International, civilian harm attributable to Russia is on the rise. "We ran for our lives. We didn't get to take anything with us. No blankets, nothing," said Fatima, who fled Kafr Nboudha in Hama governorate to a makeshift camp called Jabal Harem on the Syrian side of the Turkish border.
With borders more tightly sealed than ever before, temperatures dipping to 23°F and airstrikes continuing, newly displaced Syrians have nowhere to go. As one U.N. official told me, "Every day there is a new displacement…new arrivals…new needs."
Kafr Nboudha is a town that experienced relative calm until three months ago when squadrons of Russian jet fighters began bombarding it. "It seems like the Russians are finishing the job that the [Syrian] regime started in 2011," said Abu Qusai, a former resident.
Prior to this bombardment, Kafr Nboudha—nestled next to a regime-held Allawi village—had negotiated a truce with the government in the summer of 2014. As a result of the extended ceasefire, those displaced by fighting in other areas moved there for safety. When the Russian strikes began, residents I interviewed stated that well over half the population of Kafr Nboudeh were displaced persons from other areas of Syria.
Russian airstrikes on opposition-controlled cities such as Kafr Nboudha are displacing Syrians who thought they were safe and reactivating frontlines in Hama, Latakia, Aleppo and Deraa. Makeshift internally displaced people (IDP) camps in Syria are struggling to survive with the new influx.
Jabel Harem is an IDP camp in northwest Syria on the border with Turkey where Syrians have been fleeing. It is overcrowded, hosting two to three families per tent across a muddy olive orchard, and does not have enough toilets, water or bread.
Anas, a farmer turned IDP camp director, told me that conditions are hard and people are losing hope. Armed groups such as the Nusra Front have also interfered with the camp's organization, demanding certain perks from the camp managers for their own families.
As regime forces advance north and airstrikes occur closer to the Syrian-Turkish border, residents fear that the relative security they found in the camp will not last.
Since the Russians also strike towns that have been experiencing a relative lull in violence due to truces with the regime, like Kafr Nboudha, residents are not as acutely aware of the dangers of daily life under regime airstrikes and how to protect themselves.
Of the opposition-held areas, Kafr Nboudha is one of the only rebel-held towns where residents had not entirely replaced glass windows with plastic sheeting or dug simple trench shelters to protect themselves from airstrikes and shelling.
When the Russian fighter jets arrived, residents were completely unprepared. "We fled without blankets, without anything. The attacks started at one in the morning. We were not used to night attacks because they [Syrians] usually attacked during the daytime in this area," one former resident said.
The Islamic State (ISIS) has no presence in Kafr Nboudha, contrary to Russian claims that they are bombing the extremist group. As Izdihar, another former resident and mother, said, "We had many children and older people. They [Russian airstrikes] hit the Hawarneh family. They killed an entire family of eight people. Only a 3-year old girl is left. She is with her uncle now. God protect her. Before, there were students and schools and now nothing. Nothing is left. Everything is gone. The houses, the local council, schools."
The attacks on Kafr Nboudha, a town that had a truce with the Syrian government, highlights the motives of Russian airstrikes. Russians are not hitting ISIS as a primary or even secondary target, but rather their main focus is non-ISIS areas such as the Latakia countryside, Aleppo and Deraa. Russian airstrikes are weakening Free Syrian Army (FSA) forces, who are defending civilians against ISIS.
Rami Jarrah, who runs the Syrian media station ANA Press, observes that ISIS fighters who are being bombed by U.S.-led strikes will move into FSA-held territory at a time when Russian and regime airstrikes have weakened them. This vacuum of local defensive forces could be disastrous for civilians.
Many civilians in opposition areas are now terrified of being critical of ISIS in case the group successfully takes over new territory or infiltrates their previously ISIS-free area as they move into Aleppo from Raqqa and Deir Ezzour.
Kafr Nboudha is not the only city where regime and Russian forces target civilians.
In December, Syrian regime and Russian airstrikes were responsible for two-thirds of all civilian deaths. Even prior to Russia's intervention, the medical journal The BMJ asserted that air bombardments, including barrel bombs, missiles and other explosive weapons, were the leading cause of death for children, signifying their inherently indiscriminate nature.
Since September 30, 2015, Russian armed forces have launched thousands more of these attacks. Human Rights Watch has also documented Russia's use of cluster munitions in Syria, which international law bans as an indiscriminate weapon.
Russia has not abided by U.N. Security Council Resolution 2254, which "demands that all parties immediately cease any attacks against civilians and civilian objects." Just three days after the U.N. adopted UNSC 2254, Russian airstrikes on Idlib city hit health and public services centers and apartment buildings, killing 50 civilians and wounding 170.
The rise in violence against civilians is clearly a humanitarian disaster, but Russian airstrikes are also destroying any chances for a lasting peace.
As Abdelaziz Kanaan, a colonel who defected from the regime to join the FSA, said, referring to attacks on civilians and moderate armed opposition groups, if the plan was to "kill anyone that could have come to the negotiating table," it appears to be working.
No one is left in Kafr Nboudha who can represent the people in future negotiations. The inability of Syrians to stabilize their lives, build local governance systems and provide some normalcy for their children means the displacement, extremism and psychological and physical scars of this generation will only worsen.
Natasha Hall is the Middle East North Africa program officer for Center for Civilians in Conflict (CIVIC).