'Hard Knocks' 2019 Recap: Jonathan Abram Emerges as New Oakland Raiders Star and Everything Else That Happened in the First Episode
The first episode of the new series of Hard Knocks lived up to expectations, as the Oakland Raiders showed they have all it takes to make the show a compelling watch this year.
From Antonio Brown's foot ailment, to Jon Gruden's abrasive approach and his disdain for dreaming, the first episode delivered plenty of interesting talking points. Add to that a number of rookies with intriguing personalities and all the right ingredients are in place for a must-watch series.
Here's what you might have missed in the premiere on Tuesday night.
Jon Gruden doesn't do dreams
One of the trailers posted before the season premiere featured Raiders coach Jon Gruden instructing his players to "end somebody's dream." In the first episode of the series, Gruden reiterated the point in emphatic style.
"Everybody in the NFL, 'I have a dream of making it in the NFL. I got a dream of winning the Super Bowl. I got a dream of being in the Pro Bowl,"' he told his players.
"I'm really not into dreams anymore, OK? I'm into nightmares. You guys with me on that? You've got to end somebody's dream. You gotta take their job. You gotta take their heart."
If the Raiders begin the season 3-0, just don't call it a dream start.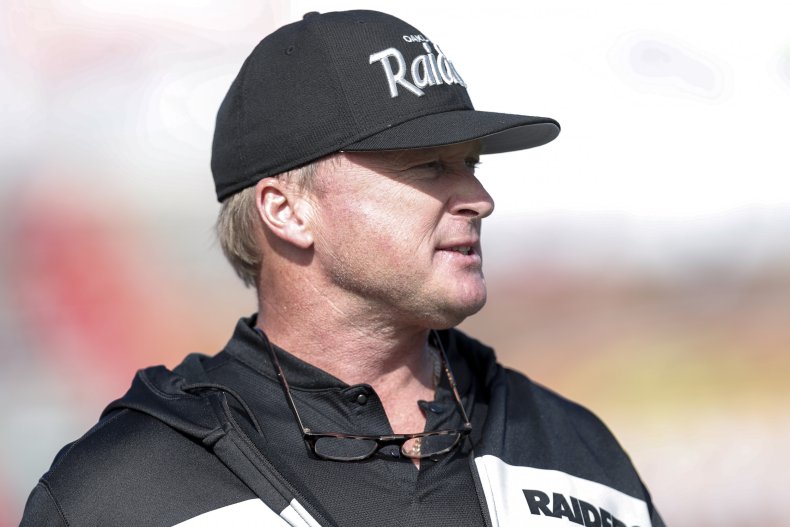 Antonio Brown has some tough questions to answer
Antonio Brown has had to face some difficult questions throughout his career, but he probably didn't expect to be quizzed by his kids about his decision to leave Pittsburgh.
The star receiver was traded to Oakland after eight years with the Steelers and for the first time in his career he finds himself in a training camp without Ben Roethlisberger throwing him the football.
While Brown has seemingly taken to life in Oakland seamlessly, his kids were left perplexed by Roethlisberger's absence.
One of them asked his dad why he wasn't playing with the "black team" anymore and where Roethlisberger was, to which Brown replied: "We don't play with Roethlisberger no more," before explaining his new quarterback was Derek Carr.
Luckily for Brown's kids, Carr is much easier to pronounce then Roethlisberger.
Johnathan Abram makes his mark
Rookie safety Johnathan Abram made a big impression in the first episode, telling Derek Carr exactly what he thought of his contract and having a lengthy debate on how to correctly pronounce the word "salmon."
He also hit some of this teammates when they weren't wearing pads, which didn't particularly please Jon Gruden.
"He's hitting too many of our guys in shorts," the Raiders head coach said. "He even hit some coaches the other day by accident. But he loves to play and if we had three-a-days like we used to, he'd be first in line for all of those."
Ronald Ollie takes some Hard Knocks
Ronald Ollie was one of several players featuring on Netflix's Last Chance U show hoping to make it in the NFL, but his stay with the Raiders was short-lived.
In the pilot episode of Hard Knocks, Ollie is confronted by defensive line coach Brentson Buckner, who insists he has to make the most of the opportunity with the team. Buckner also tells Ollie he has watched Last Chance U, prompting the 23-year-old to describe his performance on the show as "embarrassing."
Later in the episode, Buckner criticized Ollie for his poor technique and when the defensive lineman mentions he has an Achilles injury, Buckner reprimands him for not seeking treatment.
The former EMCC star is eventually cut by the Raiders, with head coach Jon Gruden explaining the team can't carry passengers. "We haven't seen Ollie do anything. We need to get something done here. We're in the business of getting better. Ollie didn't participate much when he did."
Richie Incognito is a big Guy Fieri fan
Richie Incognito featured only in passing in the pilot episode, where he is introduced as "a talent with a history, some of it ugly."
That is something of an understatement given that only a year ago he was suspended by the NFL for threatening the staff of a funeral home and earlier in his career he was found guilty of using racist and homophobic language towards a teammate and a trainer while with the Miami Dolphins.
At least we now know he is a big fan of celebrity chef Guy Fieri, who attended practice last week. "Oh really? Where's he at?" Incognito asks a teammate when he points out Fieri is an attendance. "That's my guy."