Hard Knocks 2019: Which Team Will Be on the HBO Series This Year?
The release date for the new season of Hard Knocks has grown to be into a quintessential staple for the NFL offseason. The HBO series might not have the same on-field impact as free agency week and the NFL draft, but an offseason without Hard Knocks would feel very weird indeed.
This year is no different and speculation over which team will be the focus of the 14th season of the series has already begun. Curiosity, however, might not be satisfied for another couple of weeks at least.
Last year, HBO announced the Cleveland Browns would be the focus of the new season on May 17, while a year earlier the announcement came on April 19.
HBO can choose from just five franchises—the Oakland Raiders, New York Giants, San Francisco 49ers, Detroit Lions and the Washington Redskins—for the 2019 series of Hard Knocks. Because of NFL regulations, teams are exempt from consideration if they have played in the postseason in the past two years or have been the focus of the series in the previous decade. Teams who have a first-year coach are also not considered.
That leaves the filmmakers with a relatively small pool of options and their choices appeared to shrink even further on Tuesday, when Raiders owner Mark Davis made clear he wanted nothing to do with the documentary.
"It would be disruptive," he said at the NFL owners meetings in Phoenix, according to ESPN. "We've got a lot of business to take care of, get ready for the season. I appreciate that they might think we'd be great TV, but we got something to accomplish."
Davis went on to jokingly add that he would be rather fire head coach Jon Gruden than have his team feature on Hard Knocks. "I'll just fire Jon and then hire him back [after another team is chosen]," he said.
Earlier this month, Gruden also suggested the Raiders should not appear on the HBO series, suggesting Lions' head coach Matt Patricia would be a perfect choice for the show.
"That beard that Patricia has, he's going to be a star," Gruden, who is entering the second season of a 10-year deal with the Raiders, told NBC Bay Area. "I mean he's going to be one of the future television stars. I'd be surprised if Monday Night Football doesn't put him upstairs in the future."
Gruden's quip came after Patricia had made clear he felt the Raiders by far the best option for HBO.
"I think Jon Gruden is an excellent choice for that show," Patricia said at a Lions season-ticket holder event in February, as reported by CBS. "I think the Oakland Raiders and everything they've got going on right now would be fantastic viewing for everybody to watch."
With Gruden's larger-than-life personality, the arrival of Antonio Brown and a final season in Oakland before the impeding move to Las Vegas, the Raiders would definitely not be short of narratives this season.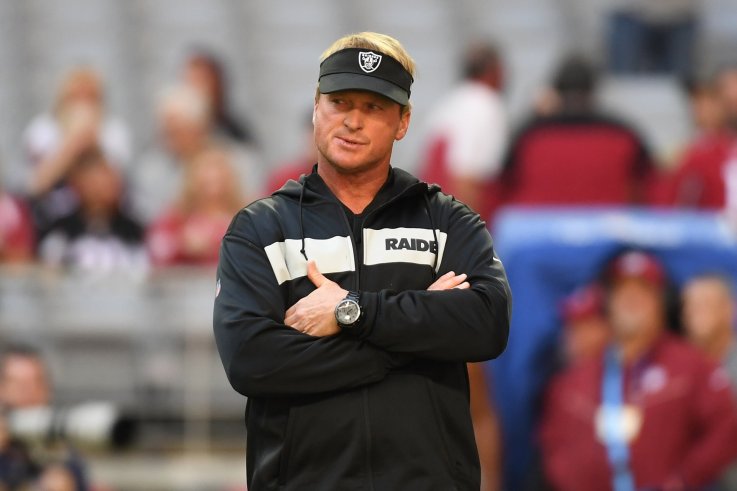 Hard Knocks 2019: Which Team Will Be on the HBO Series This Year? | Sports