'Hard Knocks' 2019 Schedule: When Is Episode 3, How to Watch, Live Stream HBO Series
The second episode of Hard Knocks confirmed the feeling that HBO has backed a winning horse by choosing to focus this series around the Oakland Raiders.
From Antonio Brown shedding light on his foot injury, to head coach Jon Gruden's admission the franchise was concerned by the star wide receiver's prolonged absence and broken hands, there was a lot to unpack in Episode 2.
If the Hard Knocks has caught your attention, here's everything you need to know about the third episode of the series.
When is the next 'Hard Knocks' episode?
The third episode of the new season of Hard Knocks will air at 10 p.m. ET on Tuesday, August 20, on HBO.
An hour-long episode will air each week on Tuesday at the same time, culminating in the season finale on September 3. The Raiders open their NFL campaign six days later against the Denver Broncos.
Where can I watch 'Hard Knocks'?
Hard Knocks will be available on HBO, HBO on Demand, HBO NOW, HBO GO and HBO partner streaming platforms.
Why has HBO chosen the Raiders?
Because of NFL regulations, teams are exempt from consideration if they have played in the postseason in the past two years or have been the focus of the series in the previous decade. Teams who have a first-year coach are also not considered.
That left HBO with just five franchises to choose from —the Oakland Raiders, New York Giants, San Francisco 49ers, Detroit Lions and the Washington Redskins.
So far, viewers can have few complaints about HBO picking the Raiders.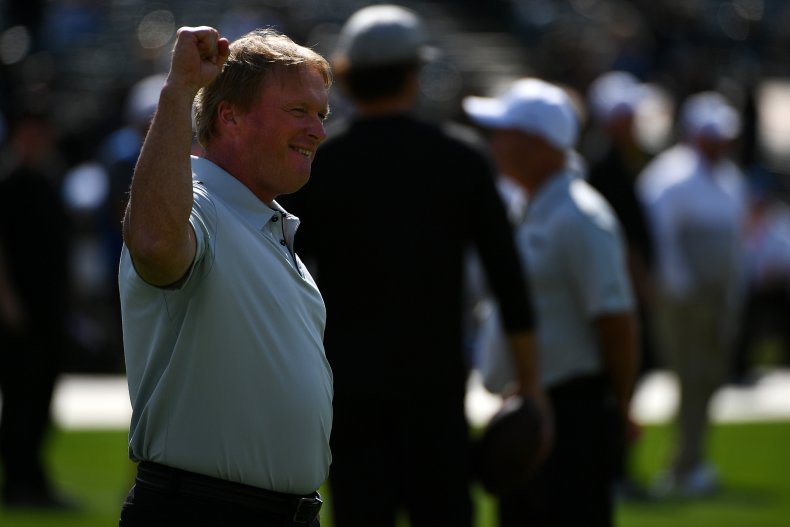 What did we learn from Episode 2?
A fair bit. First and foremost, Antonio Brown shed light on his foot injury. The former Pittsburgh Steelers star suffered extreme frostbite on his feet after wearing inappropriate footwear in a cryotherapy chamber in France last month.
In Episode 2, the 31-year-old showed the blisters and cracks that cover the bottom of his feet and gave a pretty graphic description of the treatment he underwent to address the issue.
"I couldn't really walk or put pressure," he explained.
"The doctor came over, drained a little out. Scalpel the next day. Freaking scissors the next day. Just kind of let it leak all out."
Due to his injury and his threat of pulling out of football if the NFL insisted on making him wear a new helmet, Brown has practiced just once since July 30. That is a source of concern for coach Jon Gruden, who is desperate to have the team's star recruit at his disposal as quickly as possible.
"I'm concerned," the Raiders head coach said. "We're missing time here. I've always said, 'Time spent; value received.' You've got to spend time at this. So we're concerned. We're optimistic, but we're concerned."
Brown returned to training camp on Tuesday and has withdrawn his threat to walk away from professional football. For now, anyway.
Aside from being concerned about Brown, viewers also got a glimpse of Gruden's love for similes.
"So casual! Like a house mouse!" he yelled at backup quarterback Nathan Peterman after being distinctly unimpressed by his decision-making.
On the subject of being without Brown, Gruden raised the bar even further. "It's like playing the Masters with one golf ball."