'Hard Knocks: The Dallas Cowboys' Episode Two Date, Time, How to Watch HBO Show
The Dallas Cowboys returned to Hard Knocks for the first time since 2008 this year and there were plenty of talking points in the season premiere, which aired last week.
From Dak Prescott's friendship with Ezekiel Elliott, his recovery from last season's grueling injury and Mike McCarthy's motivational speeches and Jerry Jones' breakfast choices, there was plenty to analyze from Episode 1.
Since then, the Cowboys have suffered a second consecutive defeat, losing 19-16 against the Arizona Cardinals on Friday in Week 1 of the NFL preseason, after being beaten16-3 by the Pittsburgh Steelers in the Hall of Fame Game earlier in August.
The second installment of HBO's five-episode behind-the-scenes documentary airs on Tuesday at 10 p.m. ET and here's all you need to know.
When Is
Hard Knocks
Episode 2?
The second episode of the new season of Hard Knocks: The Dallas Cowboys, to give its full title, airs at 10 p.m. ET on Tuesday, August 17, on HBO. An hour-long episode will air each week on Tuesday at the same time, culminating in the season finale on September 7.
The Cowboys open their NFL season two days later when they travel to Florida to take on the reigning Super Bowl champions Tampa Bay Buccaneers on Thursday Night Football.
How to Watch Hard Knocks on TV and Online
Hard Knocks will be available on HBO, HBO on Demand, HBO NOW, HBO GO and HBO partner streaming platforms.
Replays will be available every Wednesday night and can be streamed on HBO via HBO Max and partners' platforms.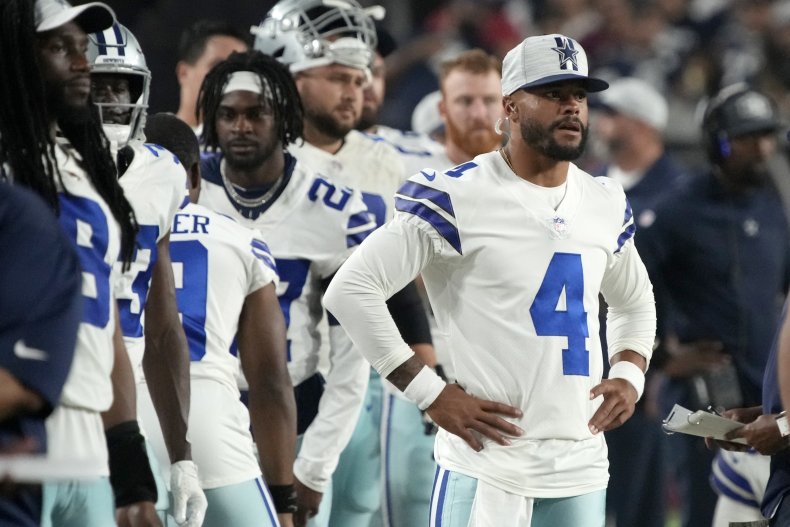 What were the main talking points of Episode 1?
From Dak Prescott discussing his grueling injury, to his friendship with Ezekiel Elliott, there were plenty of talking points in Episode 1 of HBO's behind-the-scenes documentary.
Prescott showed off the scars from the two surgeries he underwent in 2020 after suffering a season-ending leg injury in Week 5 against the New York Giants.
The Cowboys quarterback's fitness was firmly in the spotlight through Episode 1, after it emerged he's been troubled by a shoulder injury.
Head coach Mike McCarthy let it be known the Cowboys can't afford to take risks with their star quarterback, whom they signed to a four-year contract worth $160 million in the summer.
Prescott, however, was frustrated by the setback: "I sat enough last year," he said.
The team, meanwhile, moved to quell fears over the 28-year-old's fitness when he underwent a second MRI scan last week and Prescott returned to practice, albeit on a limited basis, on Monday.
On a more positive note for the Cowboys quarterback, viewers got a valuable insight into his friendship with Ezekiel Elliott.
The series opener showed Elliott wrapping Prescott's present and slamming the door on his teammate's face to prevent him from seeing the present, before stealing his bike for a ride around training camp.
Elsewhere, Micah Parsons, the No. 12 overall pick of the NFL Draft in April, was a near-ubiquitous presence in the series opener. The former Penn State linebacker impressed teammates in training and almost begged defensive coordinator Dan Quinn to put him back in the game after playing just 11 snaps against the Pittsburgh Steelers in the Hall of Fame Game.