'Hard Knocks' for Notre Dame: Will Showtime Kiss and Tell, or Cover Up for Fighting Irish?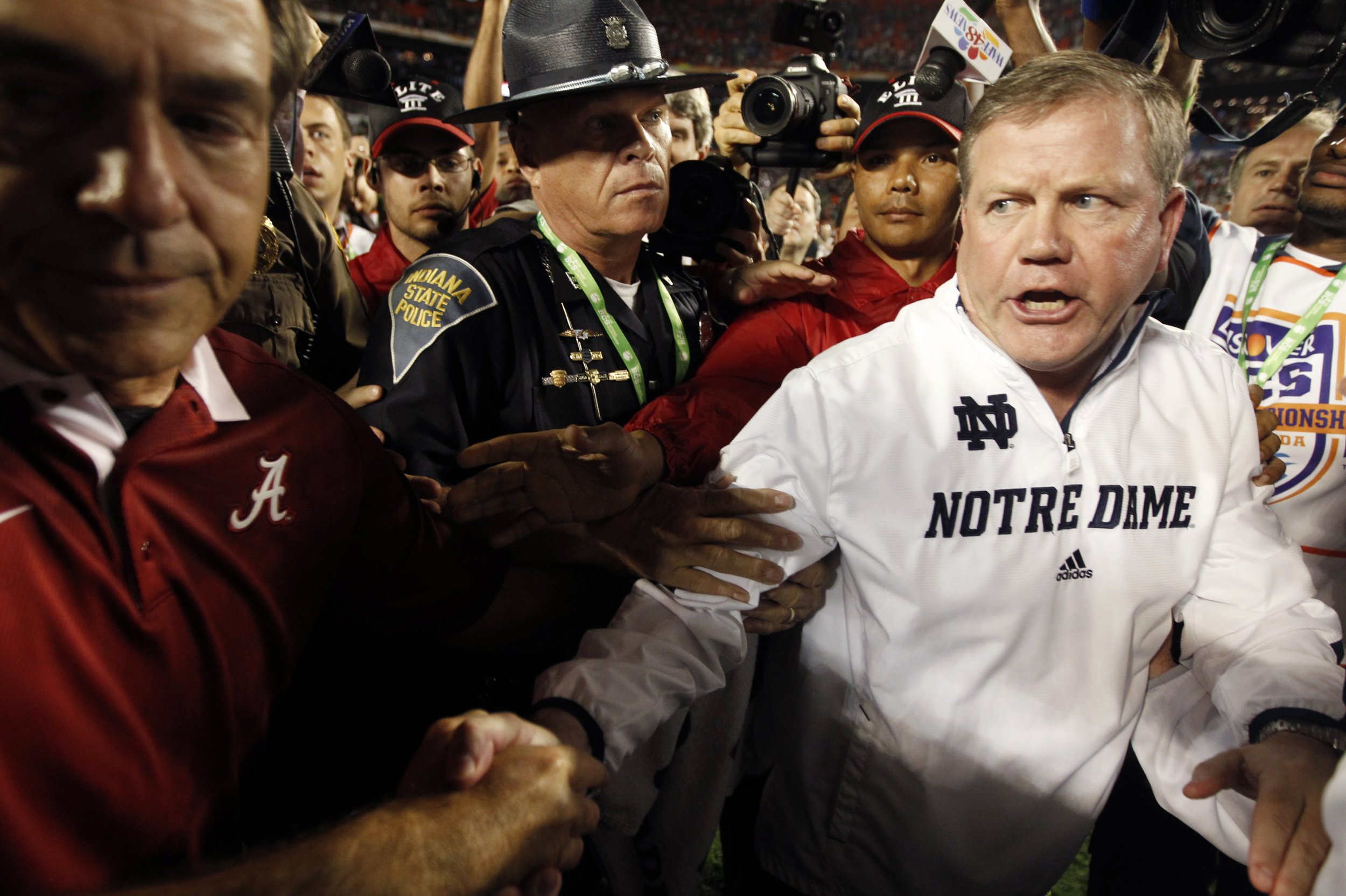 It was the summer of 2010 at the University of Notre Dame, and it was time, yet again, to wake up the echoes. There was a new football coach, Brian Kelly, on campus. There was also an ardent desire from the administration to distance itself from the often fractious and ultimately desultory tenure of Kelly's predecessor, Charlie Weis.
Toward that end, the school's director of sports information, Brian Hardin, persuaded the first-year coach to open practices, in their entirety, to the media on Wednesdays. Yes, it was only one day per week. Still, compared with the cloak-and-dagger that had enshrouded Weis's program, this was gridiron glasnost. The olive branch being extended toward the program's beat reporters, it was presumed, would bear fruit as scribes were given front-line access to the offense-innovative Kelly using the LaBar Practice Complex as his classroom.
That experiment lasted all of one month. After a Notre Dame beat reporter included a note in his column about the status of an injured player—breaking a rule Hardin had laid out to the media at the start of the season—from a practice observation, the invitation was rescinded. The message was clear: Accessibility ends where the program's vulnerability begins.
Five years later, the Fighting Irish and Kelly are about to render themselves more vulnerable than a wide receiver stretching out for a pass thrown over the middle. Notre Dame has inked a deal—for a "modest fee," says Athletic Director Jack Swarbrick—with Showtime to produce a weekly documentary series, A Season With Notre Dame Football, that will premiere on September 8. It's a collegiate version of HBO's enormously popular Hard Knocks, which annually follows an NFL team through training camp. The series will run for 12 weeks or until you toss a brick through your television set, depending on your animus toward this gold-helmeted group.
Unlike NBC, which has a long-term deal to broadcast Notre Dame's home football games, Showtime is not beholden to the school beyond this arrangement. Will Showtime have the latitude to go beyond the blarney? "You want to make sure you're real and it's not a public service announcement each week," Kelly, now entering his sixth season in South Bend, Indiana, said last week. "[But] we never want to embarrass any players, coaches or the university."
Good luck.
"The last thing we want to be is exploitative," says Stephen Espinoza, the executive vice president of Showtime Sports. "We realize that that the things we depict can have a lasting impact."
The dozen or so Showtime staffers who embed themselves in South Bend this autumn will have a plethora of characters and storylines to develop: There's Joe Schmidt, the earnest senior middle linebacker with the Gil Thorp jawline who has evolved from walk-on to team captain; or true freshman defensive tackle Jerry Tillery, a 6-foot-6, 300-pound behemoth who should be in the starting lineup for the September 5 season opener against Texas and who had a 3.8 high school GPA (Tillery took official recruiting visits to both Louisiana State University and Dartmouth).
In fact, Showtime could devote an entire 30-minute episode to the scions on the Notre Dame roster. Wide receiver Corey Robinson, a budding star, is the son of NBA Hall of Famer David Robinson, walk-on cornerback Jesse Bongiovi is the progeny of rocker Jon Bon Jovi, and freshman defensive back Nicco Fertitta is the son of Lorenzo Fertitta, the CEO of Ultimate Fighting Championship.
And yet, as every documentary filmmaker from the men who made Hoop Dreams to the one who shot Capturing the Friedmans knows, the most intriguing stories plumbed are the ones you never set out in search of. What if, and I understand that such a scenario beggars the imagination, Notre Dame's most charismatic player, a legitimate Heisman candidate, were to open up to Showtime's cameras about his deceased girlfriend…until one bright bulb on the production crew discerned that perhaps she never truly existed?
What if a student at neighboring St. Mary's College were to commit suicide early in the season, and it was later learned that just 10 days before taking her life she had accused a Notre Dame football player of sexual assault? What if, on an afternoon whose bright sunshine seemed to mitigate the danger of gusting torrents eclipsing 50 mph, a student videographer were to fall to his death from a lift while filming practice?
The above three hypotheticals, all of them highly unlikely, have in fact transpired in the shadow of the Golden Dome since Kelly's arrival. In fact, the death of videographer Declan Sullivan took place on a Wednesday, just a few weeks after Kelly had closed those practices to the media.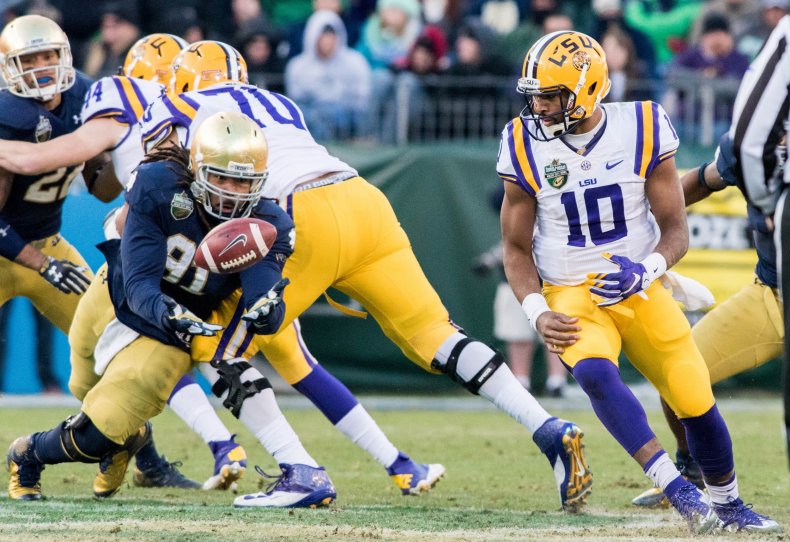 And in each situation, to varying degrees, Notre Dame went into lockdown mode. In the case of Manti Te'o, the Heisman candidate linebacker who was catfished about an online girlfriend, the athletic administration was aware of the truth three weeks before it broke on the site Deadspin.
"I have no doubt," Swarbrick told The New York Times, "that there'll be an occasional thing we'll be uncomfortable with."
How will Showtime handle any such development? And how stilted might the relationship between the documentary film crew and their hosts become if such a salacious story, one that overtakes wins and losses in the public's imagination, were to become a part of the 2015 team's footprint?
"We have a responsibility to our audience and our reputation to cover things in an authentic manner," says Espinoza, who notes that Showtime did not shy away from covering former Miami Marlins' manager Ozzie Guillén's inflammatory comments regarding Fidel Castro ("I love Castro!") during the 2012 edition of its Major League Baseball documentary series, The Franchise. "The Notre Dame coaching staff is aware that we cannot put our head in the sand if a major story comes out."
Unlike Hard Knocks, a partnership between HBO and the NFL, Showtime is partnering directly with the team it is covering. Also unlike Hard Knocks, the characters are technically amateurs. "When Chad Johnson was cut by the Miami Dolphins after he was arrested for domestic violence, we showed him walking out of jail and in the meeting when [Dolphins coach] Joe Philbin cut him," says a former Hard Knocks producer who wished not to be identified.
That may have been a bitter and humiliating pill for Johnson to swallow, one rendered slightly less so by the $45 million he had already pocketed as a professional athlete. Should a student-athlete, one who has signed a contract to play football at Notre Dame in exchange for a free education, be under any obligation to open a window into his off-field existence?
(Consider the plight of De'Andre Johnson, a highly recruited prep quarterback who was kicked off the team at Florida State before ever suiting up for a game after punching a female student at a bar and being caught on videotape doing so. A few days later, Johnson and his mother appeared on Good Morning America to issue a national mea culpa.)
"That's a fair question," says Espinoza. "We would honor any player's request if he does not want to be depicted in the series."
But how many college football players are willing to be iconoclasts? Besides, every millennial wants to be a reality TV star—until he doesn't.
As a national brand, Notre Dame has transcended the realm of college football in terms of popularity—and unpopularity—for nearly a century now. The Fighting Irish were drawing 123,000 for a game at Soldier Field in 1927, back when the NFL still had franchises in Duluth, Minnesota, and Pottsville, Pennsylvania.
And while the Fighting Irish have not won a national championship since 1988, they have never been irrelevant—Sports Illustrated just slapped them on one of four regional college football preview issue covers, even though the USA Today/Coaches preseason poll ranks them No. 11. Last October's game at Florida State was the second-highest rated game of the regular season (13.25 million viewers).
For Showtime, then, the decision to go Truman Show on the Fighting Irish is irresistible. Here is a major college football program with unique aspects (e.g., no conference affiliation, no athletic dorms) that inspires, among sports fans, every range of emotion, save apathy. For Notre Dame, one of just two schools, along with Stanford, that regularly finishes in the top 20 in both the USA Today poll and the U.S. News & World Report's "Best Colleges" ranking, the partnership is an opportunity to further promote itself.
Just three seasons ago, Notre Dame finished 12-0—before being body-slammed by Alabama, 42-14, in the Bowl Championship Series national championship game while also finishing first amongst all the 120-plus Football Bowl Subdivision schools in terms of graduation rate of its players. If any big-time football program should be eager for a documentary crew to inspect under the hood, it should be the Fighting Irish.
And yet, with every college football season comes unpredictable, and often awkward, plot twists. Six games into last season, heading into that Florida State contest, Notre Dame's starting quarterback, Everett Golson, was being mentioned as a viable Heisman Trophy candidate. Since that night in Tallahassee, Golson has not only lost his job, but has also transferred (and graduated). He's now the starting quarterback at…Florida State.