Hard-Boiled Eggs Linked to Deadly Listeria Outbreak, CDC Says
A cross-state outbreak of Listeria starting in a hardboiled egg production plant is currently under an investigation led by the U.S. Centers for Disease Control and Prevention (CDC).
There have been seven cases related to the outbreak reported across five states, including four hospitalizations and one death (in Texas) since April 10, 2017.
While cases have been reported across Texas, Maine, Pennsylvania, Florida and South Carolina, the source of the outbreak has been traced to Almark Foods in Gainesville, Georgia, which produces and distributes plastic pails of eggs that have been hardboiled and peeled.
"These products have not been recalled," the CDC reports. "However, because Listeria can cause severe infections, CDC is warning against selling, serving, or using these eggs to make other food products."
Listeria is a potentially deadly infection caused by Listeria monocytogenes, a foodborne bacteria sometimes found in meat, dairy and vegetable products. Most people who contract listeria will fever and flu-like symptoms one to four weeks after eating contaminated food, but severe cases can result in organ damage as well as hospitalization and death.
The announcement says that while retailers and food service operators should be able to tell who provides their hardboiled eggs, customers might not be able to tell if the food they have bought contains produce that might be affected by the outbreak.
They are therefore advising people who might be at a higher risk of contracting listeria throw away hardboiled eggs bought in-store as well as any products that might contain hardboiled eggs.
"If you have these products at home, don't eat them," the CDC advises. "Throw them away, regardless of where you bought them or the use-by date."
"Wash and sanitize drawers or shelves in refrigerators and freezers where the products were stored."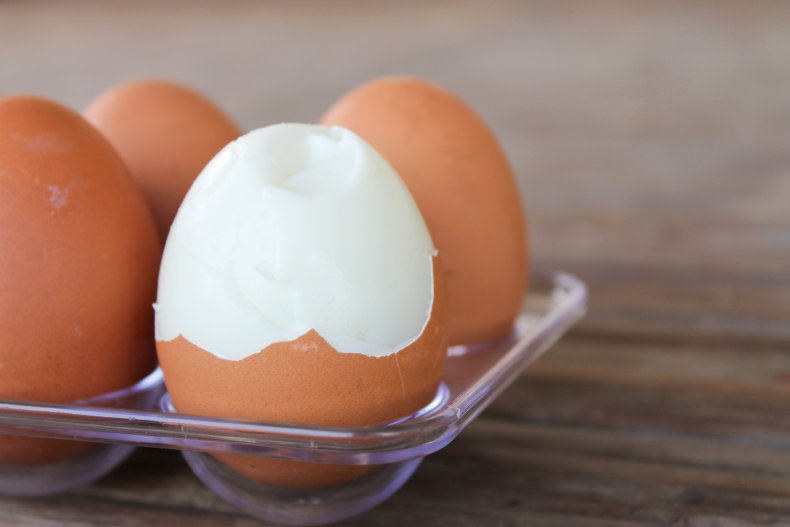 People at high risk of listeria are also advised to check with staff where their eggs have come from if they order a meal with hardboiled eggs at a restaurant. If staff cannot say, the CDC says do not buy or order that particular item.
The investigation remains ongoing as the CDC continues to look into the source of the outbreak and find out if there are any other products involved.
Who is at high risk?
According to the CDC, there are around 1,600 cases of listeria every year and approximately 260 people die as a result of their illness.
Certain groups are more at risk than others—people with cancer and pregnant women, for example, are ten times more likely to contract Listeria than the general population, while over 65s are four times as likely to become ill. Others at greater risk include newborns and those with a weakened immune system.