Is 'The Harder They Fall' A True Story? The Real-Life People Who Inspired The Netflix Movie
At first glance The Harder They Fall may seem like it is purely a work of fiction, but there may be more truth to Netflix's Western than viewers may realise.
The film opens with the promise that "While the events of this story are fictional... These. People. Existed." This is because while the story is made up, many of the characters included are based on real people who lived in the Wild West. They may not have all met in real life—many of them weren't even alive at the same time—but the film certainly draws inspiration from these figures.
First time writer and director Jeymes Samuel leads the cast, which includes Idris Elba, Regina King, Jonathan Majors and LaKeith Stanfield. Behind the camera Jay-Z is credited as a producer and also contributed original songs to the soundtrack.
Here's a run down of the characters in The Harder They Fall and the real-life inspiration behind them.
Jonathan Majors as Nat Love
Majors leads the cast as the heroic Nat Love, who was a real cowboy born in Tennessee in 1854. Known as "Deadwood Dick," he moved to the West when he was 16 to herd cattle.
He released an autobiography in 1907 called, Life and Adventures of Nat Love, Better Known in the Cattle Country as 'Deadwood Dick,' by Himself. The book recounts events in his life, including how he became an expert marksman and crossed paths with other famous cowboys like Pat Garrett, Billy the Kid and more.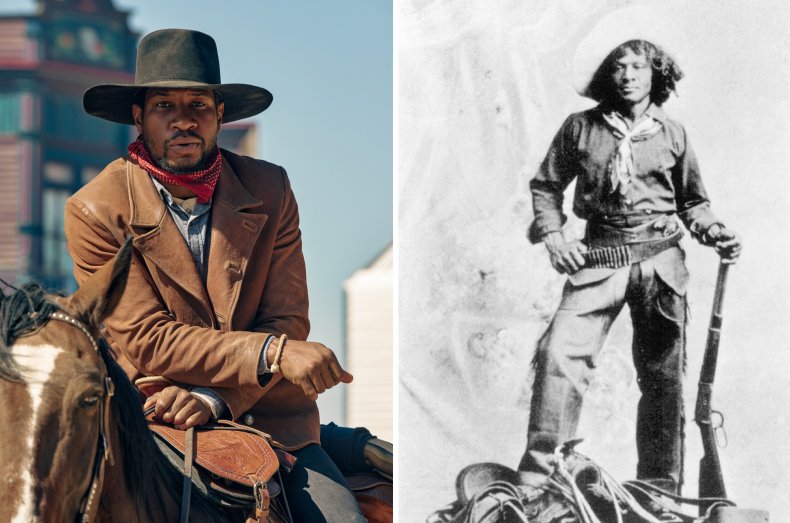 Majors researched the real Nat Love before playing him and said in the movie's production notes, "In my mind, The Harder They Fall is just a chapter in the extraordinary journey of Deadwood Dick, and I just built it from there."
Reflecting on the whole cast which are based off of Black historical figures, Majors said: "And the diversity, it's not just a Black cowboy. No. We're talking about Black cowpeople.
"We've [got] Trudy Smith, Stagecoach Mary, Cuffee and her gang. They all have their own storylines, it's set up beautifully."
Idris Elba as Rufus Buck
Elba plays the menacing Rufus Buck who was just as feared in real life as he is in the movie. The real-life Buck led the Rufus Buck gang, which was made up of African American and Native American members. They are credited with a number of crimes across 1895 and 1896, including multiple murders and rape.
They were eventually captured and hanged for their crimes in July 1896 in Fort Smith, Arkansas.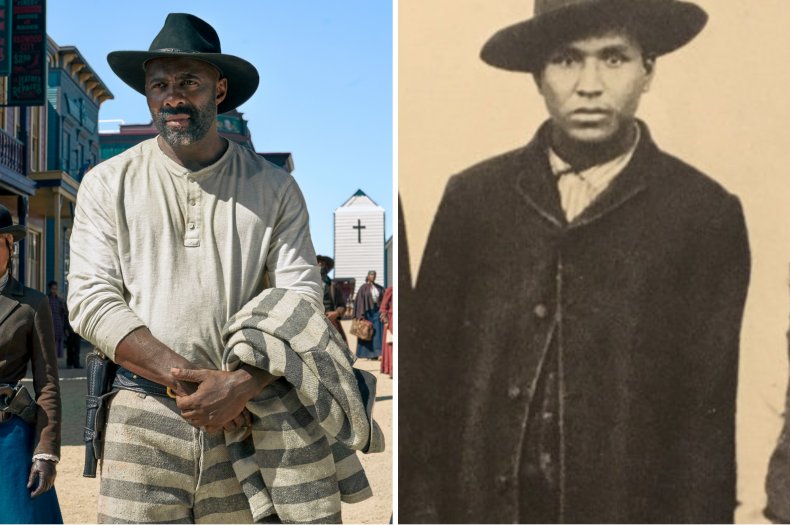 Elba said he's glad the movie is bringing Black characters and communities onto the screen. He commented: "One thing that Jeymes and I spoke about was the history of Black towns in America. It's so deep and people don't know, they've been wiped off the face of the map, practically, and so this movie explores that."
Zazie Beetz as Stagecoach Mary
In The Harder They Fall, Stagecoach Mary is a singer and performer, but the real-life version of the character had a much different life.
Born into slavery, she was emancipated after the Civil War and worked several jobs. In 1895, at the age of sixty, she became the first African American woman to work for the U.S. Postal Service, and she got her nickname Stagecoach Mary because of her mode of transportation.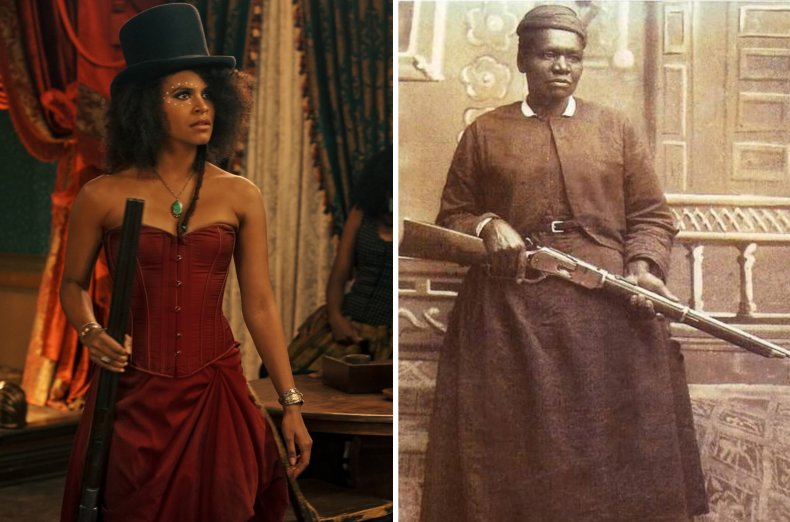 Though the interpretation of the character is different, Beetz researched the woman she was playing. She said: "Mary was one of the first Black women mail carriers in the U.S..
She owned a restaurant and was known for carrying a shotgun, smoking cigars, and being a very strong woman."
Regina King as Gertrude "Treacherous Trudy" Smith
Less is known about King's character Treacherous Trudy, but legend has it she was a very dangerous woman. An integral part of the Rufus Buck gang in The Harder They Fall, the real-life woman is described as a gangster, a thief, and a killer, making her way through a male-dominated world.
King said: "For this time period both she and Stagecoach Mary were anomalies. Trudy will say something with venom and won't smile, and leave you there to wallow in her verbal assassination."
LaKeith Stanfield as Cherokee Bill
Cherokee Bill may be one of the most recognisable historical figures used in The Harder They Fall, as he was known as one of the most vicious outlaws in the West.
Crawford Goldsby lived to be just twenty years old as he was hanged for his many crimes. He earned his nickname through his mother, who was part Native American, and a Cherokee Freedman. He was responsible for murdering eight men, including his brother-in-law, and with his accomplices went on a crime spree robbing banks, stagecoaches and stores.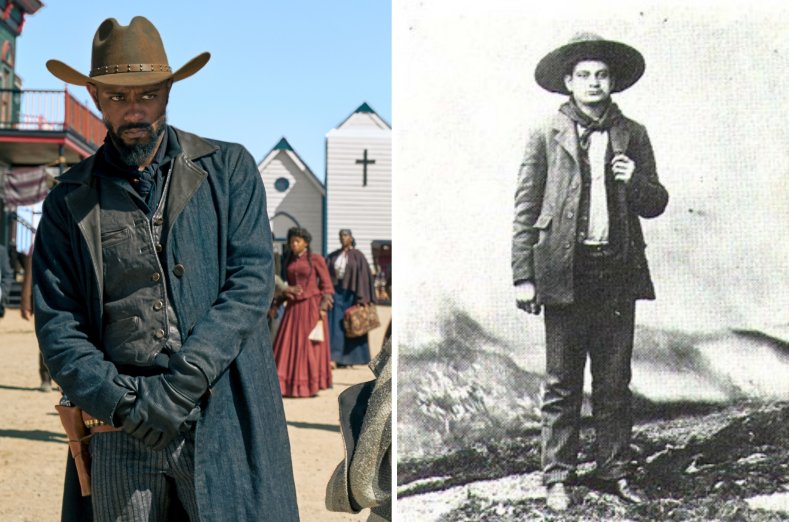 Stanfield was interested in Cherokee Bill's heritage, saying "Cherokee Bill was Black and Native American, which I think is a beautiful thing."
He continued, "There were so many people with mixed lineage at this time and it's not discussed very often. It's interesting how his culture and religion might tie into his politics on the street."
Delroy Lindo as Bass Reeves
Contrasting all of the outlaws featured in The Harder They Fall, Lindo plays Bass Reeves who was a famed lawman in the 1800s.
Originally born into slavery, Reeves became one of the first Black deputy U.S. marshals, in the West. He worked in law enforcement for over 30 years and reportedly made over 3,000 arrests of felons, killing 14 outlaws in self defense. He even had to arrest his own son Bennie Reeves after he was charged with the murder of his wife.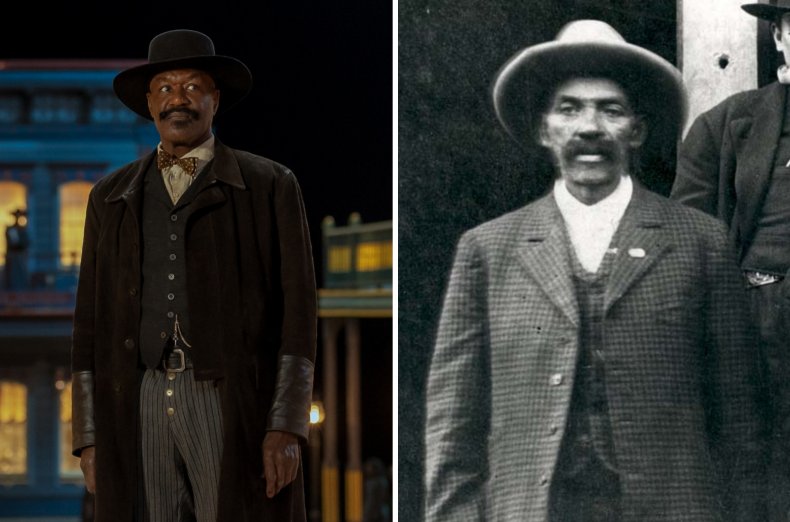 Lindo admits he was astounded by what he found out about Reeves when he started his research, "When I received the script and typed in the words 'Bass Reeves' into my computer, I was stunned to discover how significant a historical figure Bass Reeves really is. The fact of Reeves' significance, and the irony of his relative obscurity, is in large part why I wanted to play Reeves, in this film," he said.
Danielle Deadwyler as Cuffee
Writer and director Jeymes Samuel based Cuffee on Cathay Williams, an African American soldier who enlisted in the United States Army under the pseudonym William Cathay. She was reportedly the first Black woman to enlist, and the only documented woman, to serve in the United States Army posing as a man.
The character of Cuffee brings up questions of gender identity in the West. Although born a woman, she dresses like men did back at that time, and Deadwyler can understand her motivation. She said: "Cuffee isn't doing what she's doing to be conniving. She's doing it because that is how she feels she needs to express herself. It's not about hiding. It's just about being oneself and accessing freedom in a certain way to define oneself."
Edi Gathegi as Bill Pickett
Depicted as a member of the Nat Love gang, Bill Pickett was actually a rodeo performer and actor, and in 1989 was inducted into the ProRodeo Hall of Fame. He's also credited with inventing the technique of bulldogging which is when ranchers grab cattle by the horns and wrestle them to the ground. His family's ancestry is African American and Cherokee.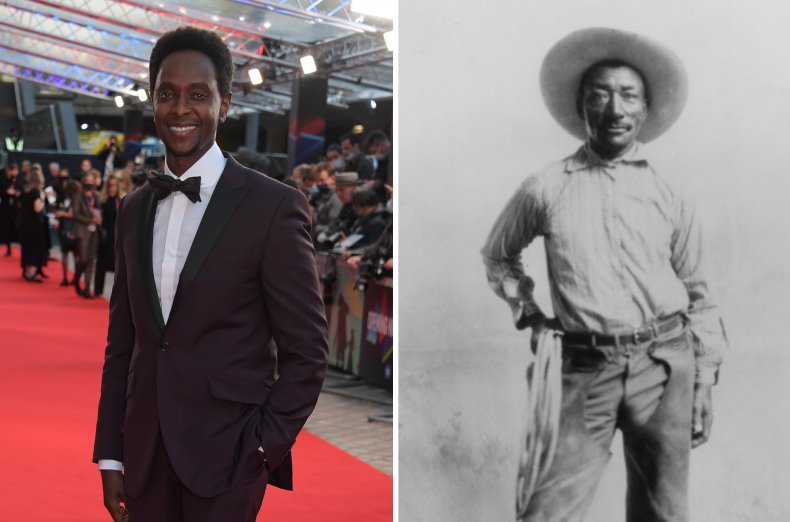 Gathegi wholly supports the intention of Samuel to emphasize the multicultural realities of the West. He said: "There has been a systematic erasing of Black people in the
Old West, and this film is attempting to right those many wrongs."
RJ Cyler as Jim Beckwourth
The real Jim Beckwourth was born into slavery in Virginia but went on to become an American mountain man, fur trader and explorer -- different from the gun-slinging version of the character we see in The Harder They Fall.
Credited with discovering the Beckwourth Pass in the Sierra Nevada between Nevada and California. He led a varied life and allegedly wrote his autobiography in 1856, The Life and Adventures of James P. Beckwourth: Mountaineer, Scout and Pioneer, and Chief of the Crow Nation of Indians.
Cyler's version of Beckwourth differs from the historical figure, as he describes his onscreen character as "a rambunctious hothead, who's really sweet." He continued: "He talks a little too much. He's fast with his two guns, one on each hip."
The Harder They Fall is available to watch on Netflix now.