Who Stars in 'Harley Quinn: A Very Problematic Valentine's Day Special'?
It's Valentine's Day in Gotham City and everyone has a special someone to celebrate with in the Harley Quinn adult animated series, including some of Batman's most famous adversaries.
Titled Harley Quinn: A Very Problematic Valentine's Day Special, the new episode sees Harley and girlfriend Poison Ivy enjoy their first Valentine's Day together with unexpected results.
But it's not only Harley and Poison Ivy who are celebrating, as other characters like Bane and Clayface have romantic ideas of their own.
Here is everything that fans of the show need to know about the special, including who stars in it.
Who Stars in the 'Harley Quinn: A Very Problematic Valentine's Day Special' Voice Cast?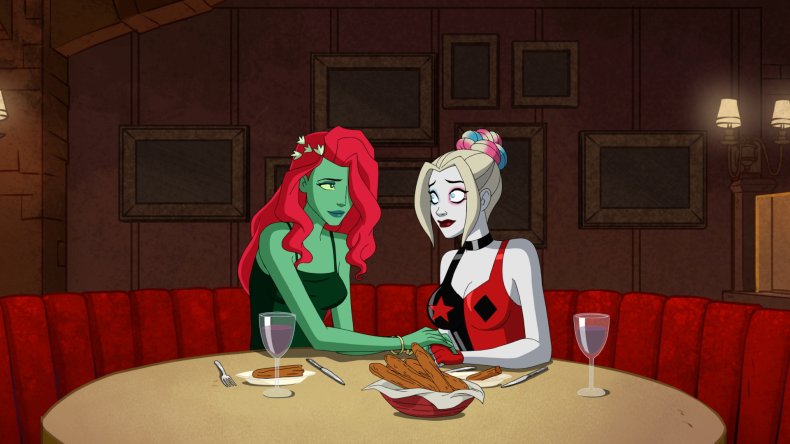 The Harley Quinn adult animated series has proven to be a hit with DC fans, and spawned the special following three successful seasons.
It was recently announced that the original show had been renewed for a fourth season in August 2022, with the Valentine's Day special acting as a story set in between the third and fourth seasons.
Several key voice actors are back for the series including Kaley Cuoco as Harley Quinn, Lake Bell as Poison Ivy and Alan Tudyk as characters like The Joker and Clayface.
The special will also have an array of guest stars lending their voices to famous DC characters, such as James Wolk and Natalie Morales who will voice Superman and Lois Lane in the episode.
Actors like James Adomian, Vanessa Marshall and Jim Rash are also returning to the franchise to reprise their roles as Bane, Wonder Woman and The Riddler, respectively.
Abbott Elementary co-stars Quinta Brunson and Tyler James Williams will also cameo as couple Hawkgirl and Hawkman in the special.
Sharing a statement about joining the special on February 6, per Deadline, Brunson said: "As a Harley Quinn fan, I'm thrilled to lend my voice to the special and to team up with my Abbott Elementary creative partners, Justin Halpern and Patrick Schumacker and co-star Tyler James Williams for this fun episode."
Williams added: "Harley Quinn is such a brilliant series and it is an honor to lend my voice to this special. I think the cameo is something both Abbott Elementary and DC fans will enjoy."
Here is the full voice cast of Harley Quinn: A Very Problematic Valentine's Day Special:
Kaley Cuoco plays Harley Quinn
Lake Bell plays Poison Ivy
Alan Tudyk plays The Joker and Clayface
Matt Oberg plays Kite Man
James Wolk plays Superman
Natalie Morales plays Lois Lane
Chris Diamantopoulos plays Aquaman
James Adomian plays Bane and the Clock King
Jim Rash plays The Riddler
Vanessa Marshall plays Wonder Woman
Rachel Dratch plays Nora Freeze
Quinta Brunson plays Hawkgirl
Tyler James Williams plays Hawkman
Josh Helman plays Captain Boomerang
Michael Ironside plays Darkseid
Janet Varney
Casey Wilson
Leila Birch
Harley Quinn: A Very Problematic Valentine's Day Special is out on HBO Max now.