'HarmonQuest' Season 3 Will Travel Back In Time, Premiere Date Announced
HarmonQuest Season 3 will debut on Sunday, August 18 on VRV, a streaming service aimed at anime and gaming fandoms.
Following an ongoing Pathfinder campaign — a tabletop roleplaying game similar to Dungeons & Dragons — HarmonQuest is an idiosyncratic blend of live performance and animation, with each episode jumping back and forth between the actors arrayed on-stage before a live audience and an animated depiction of the fantasy adventure they're sharing.
Created by Rick and Morty co-creator Dan Harmon and expert Dungeon Master Spencer Crittenden, HarmonQuest features regular adventurers played by Harmon, alongside comedians Erin McGathy and Jeff B. Davis. In each episode, their characters fight and talk their way through a contained adventure, which also adds to the ongoing story.
At the end of last season, Harmon's character Fondue was killed and his soul trapped inside an enchanted sword. McGathy's warrior Buer and Davis' goblin rogue Boneweevil must start by undoing the damage done to the world in Season 2, hunting down the "Beast of Beginning" to change the past.
"Fans should get ready to travel with us through time and space on HarmonQuest Season 3," Crittenden said. "The difficulty class is higher, the campaign arcs are crazier and the dice rolls always keep the team on their toes."
Like in previous seasons, the ten new episodes of HarmonQuest will feature a bevy of guest adventurers. Season 3 special guests include musician and actor Kate Miccuci, SpongeBob SquarePants voice actor Tom Kenny, Comedy Bang! Bang!'s Reggie Watts and D'Arcy Carden of The Good Place. Additional guest stars include Carl Tart, Jared Logan, Jessica McKenna, Joel Kim Booster, Matt Gourley and Tawny Newsom.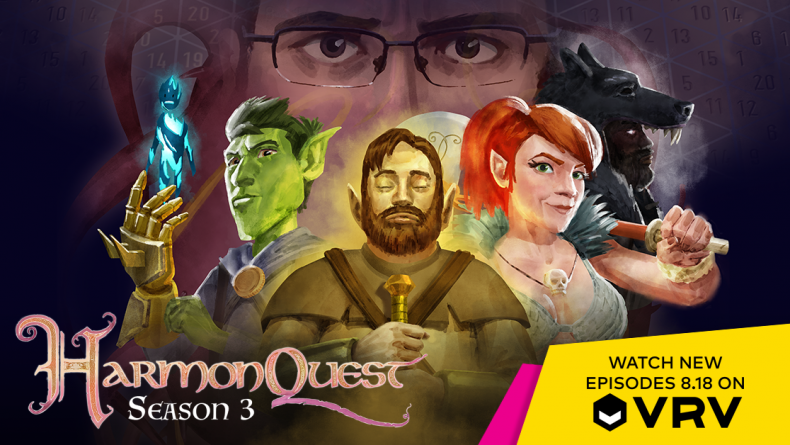 "We had a blast filming this new season, and we have an awesome lineup of special guests who decided to quest with us," Harmon said in a press release announcing the third season premiere. "I'm sure everyone is also very concerned about the future of Fondue, so fans will have to tune in to the premiere to find out what comes next."
Rather than premiering all at once, new episodes of HarmonQuest will debut every Sunday on VRV, beginning August 18. All previous episodes of HarmonQuest are also available to stream exclusively on VRV. The service also includes content from Crunchyroll, Cartoon Hangover, Rooster Teeth, Mondo, Geek & Sundry, Nerdist and Shudder.