'Harper Lee And I Became Pen Pals After My Dog Died In Her Hometown'
In September of 2008, I was struggling with depression and decided to take a solo trip for my 36th birthday. What I needed was a couple of days to relax, recenter and get ready for the year ahead.
I had narrowed my choices down to Manhattan or Monroeville, Alabama. There's nothing like New York in the fall—the chill in the air and the sound of saxophones from street musicians echoing off sidewalks. But being from Alabama, I'd always been curious about Monroeville. It's the literary capital of Alabama, where both Harper Lee and Truman Capote both grew up—there had to be magic in the air.
In the end, I couldn't decide, so I flipped a coin and let fate make my decision. Heads, I would travel to Alabama. Tails; the Big Apple. Seeing George Washington's silver profile, I began slinging clothes into a neon pink duffle bag. I hugged my three kids, Levi, Oscar, and Lola, goodbye and scooped up my French bulldog, Harper, who would be my travel companion.
My husband, Chris, followed me outside and checked the air pressure in the tires. He kissed me goodbye and said, "Promise me you won't get arrested trying to stalk Harper Lee." "I won't," I told him. I didn't share with him that I had packed a dress and knew where she went to church.
Harper Lee is one of my favorite authors, and I had done my research. I knew that although she was a legendary recluse, on Sundays, she attended First United Methodist Church, and she usually went out to eat at some place called Dave's Catfish Cabin after the service. I had this fantasy of us sitting at a booth in that seafood restaurant, drinking sweet tea, and talking about writing. I imagined her giving me advice on how to finish the book I was writing. I knew she spent years and had multiple drafts before she finished her classic novel, and I wondered if we would find a kinship in our literary struggles.
Out on the interstate, it was just me and my furry sidekick, Harper. In honor of my destination, I listened to the audiobook of Lee's To Kill a Mockingbird, narrated by Sissy Spacek.
When I arrived in Monroeville, the sky was orange and violet, and the sun was just about to set. I pulled into one of the only motels in the tiny town, and the first thing I noticed was a little mockingbird sitting alone on a telephone wire as if it was there to greet me. In my room, I spread my notebooks, snacks, chocolate, and soda out on the bed and snuggled up with Harper, ready to get to work on my book. Everything seemed peaceful and perfect.
I'm a night owl, so after all the chocolate, I was extra wide awake. Then, at around 3 am, Harper had a massive seizure. Watching her, I instantly knew she was having a grand mal seizure—the worst kind. I burst into tears and tried to hold her until her seizing stopped. Frantically, I searched for the phone book while clasping Harper close to me.
I began waking up every vet in town. My best bet, I was told, would be to drive to Pensacola or Auburn. My car didn't have GPS back then, and it was 3.30 am. I tried to call my husband Chris over and over, but he didn't wake up.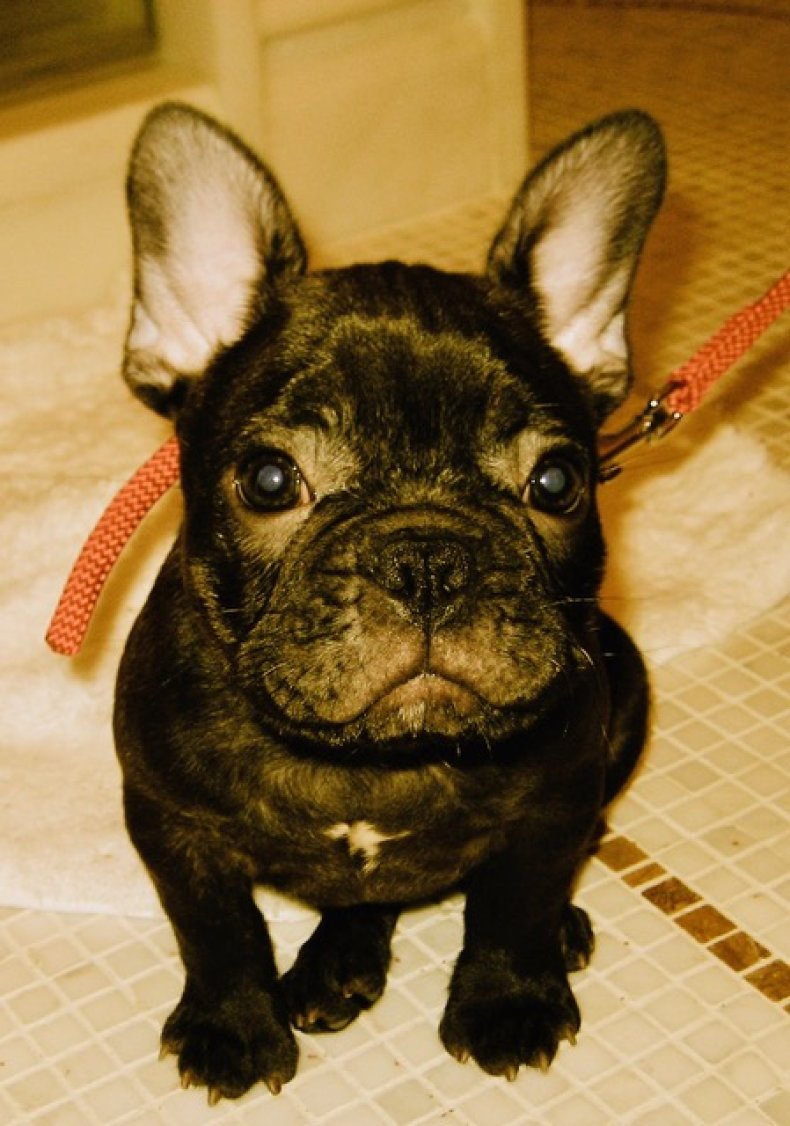 Then, I remembered a short story I had read by Augusten Burroughs—he had a French bulldog with health problems. Panicked and willing to try anything, I logged on to MySpace—the popular social media site of the time. By this point, it was 3.45 am, and I saw that Augusten was awake and online. I did not know him, but I messaged him: "My French bulldog is having seizures, and I don't know what to do!!!"
Then I saw a message flash back on my screen. "Aimee, it's Augusten. What's going on?" I told him what was happening and my location, and a few minutes later, he sent me three links to the closest veterinary hospitals. They were all almost two hours away. Harper was still asleep, but Augusten said, "I think you should go now."
So I gathered up my things, and we got in the car. We had only been on the road for a few minutes when I felt something warm on my leg and saw that Harper was foaming at the mouth, leaving a long, white beard of suds. Then she began having diarrhea. Another seizure came, and then another. I was driving a hundred miles an hour, screaming, hoping that a cop would pull me over and help me. It was two hours before I made it to the animal hospital.
I raced inside, shouting: "Somebody help. Somebody, please help me!" A man came out and took her from my arms.
"Is she gonna be ok?" I was crying so hard I was almost hyperventilating.
"If you want to do what's best for your dog, you need to leave so the doctor can work on her," a woman who had appeared by my side said. I walked over to Harper and told her that I loved her. As she tried to walk towards my voice, she fell over.
I don't remember driving to a nearby hotel or checking into it. But two hours later, the vet called and said that Harper had a massive seizure and died. I spent my birthday in shock. Augusten sent me a message on MySpace to check on me that morning. I told him what happened and thanked him for helping me. As much as I loved him as an author— I loved him even more as a person. Chris rented a car, came to get me, and took care of everything, from Harper's funeral to cleaning my car.
Back in Nashville, I could not digest what had happened. Harper was like a soulmate in a dog, and the whole thing felt like a surreal nightmare. I decided to write Harper Lee a letter. She was 84 years old and notoriously private, so I didn't expect to hear back from her. I was just trying to give myself some kind of closure. I thought if anyone could tell me why this happened, it was her.
My letter didn't make much sense; I was still kind of in shock. I told Ms. Lee that I didn't really know what the hell I was doing in Monroeville. I talked about just the trauma of what happened and the senselessness. And about how the whole thing was like a surreal nightmare. How I got lost on a road called Mockingbird Lane— and went from praying my dog would live to praying she would die—to thinking I might have to kill her to stop her suffering. And I talked a lot about not knowing how to finish my book— that I had worked on it so long all the words looked the same. I told Harper Lee that I felt a deep connection to her. At the end of the letter, I kept going over how if I had stayed in Nashville or went to New York, my dog would still be alive.
A week later, Chris walked into our bedroom and woke me up, holding an envelope. The handwriting was slanted and running off the page. My heart knew it was from Harper Lee.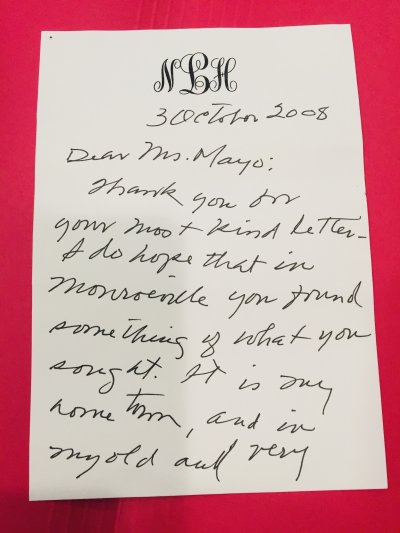 I tore into it. She said she liked my letter and thanked me for writing it. At the conclusion of the letter, she wrote, "I do hope that in Monroeville, you found something of what you sought. It is my hometown, and in my old and very infirm age, I hope to finish my life here. It is not only a good place to live, it's a good place to die. Sincerely, Harper Lee"
My heart jumped reading that last line. It sounded just like her famous character Scout. I felt my spirit let go of some of my sorrow as I read her words. She seemed to understand more than I did about how I felt. Lee had had a stroke in 2007 and her health had slowly declined afterwards. We corresponded for about a year until she could no longer write to me.
The connection for me wasn't just because we were both from Alabama, but because of how she struggled for years and years on To Kill A Mockingbird.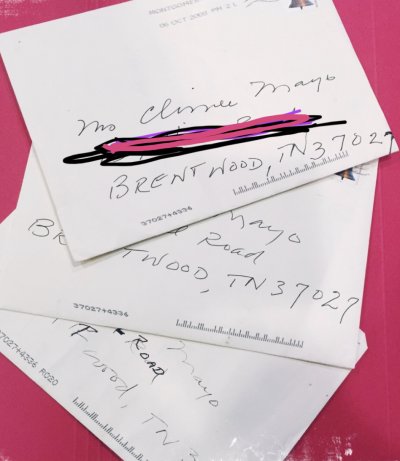 I knew she had thrown her whole manuscript out the window of her apartment in New York City and had to chase the pages down the snowy street. And that she had thrown it in an incinerator once. I ached for her to tell me what to do, how to fight past the fear that it wasn't good enough.
But in those letters, she mostly talked about getting older, and she repeated herself in some of them, perhaps she had forgotten that she had already written me back.
And I learned she fought the same battle with self-doubt and fear that I had. That is why it took her 55 years to release the sequel to her classic novel. It was her second and final book, Go Set A Watchmen. I noticed her style of writing letters was the same as her books. There was a depth that lingered in her words.
But I slowly realized she didn't have the answers I needed, and I believe she was instead kind of nudging me to find them myself.
Nothing we love ever lasts as long as we want it to. My dog Harper brought me so much joy and light. I came to realize that just like every other time in my life, when something traumatic happened that I could not make sense of, I had to decide what I would take from it.
And what I decided was that I loved Harper every day of her life, and when she left me, she brought two of my favorite authors into my life. I decided to let the pain go and to hold on to all the memories we had together. I know that even though she is gone, I will always have Harper in my heart.
Aimee Mayo is a Grammy-nominated songwriter who has received both BMI's Country Song of the Year and BMI's Country Songwriter of the Year, putting her in the elite company of Loretta Lynn, Dolly Parton and Taylor Swift. Her songs have been recorded by Tim McGraw, Blake Shelton, Carrie Underwood, and Faith Hill. Her memoir, Talking To The Sky, is out now.
All views expressed in this article are the writer's own.