Harriet Hageman Plays Up 'Rigged' 2020 Election Claim in Victory Speech
Republican congressional candidate Harriet Hageman, who was endorsed by former President Donald Trump, held firm to her stance on the 2020 presidential election in her primary victory speech, promoting Trump's claims of a "rigged" election to the crowd in Cheyenne.
"Wyoming has spoken on behalf of everyone who is concerned that the game is becoming more and more rigged against them," Hageman told an excited crowd on Tuesday night.
Hageman successfully ousted Representative Liz Cheney from her House seat after she clinched the Republican nomination for Wyoming's at-large district. The former Cheney aide is projected to go on to win November's general election, given that Trump carried the state with more than two-thirds of the vote in both the 2016 and 2020 presidential election.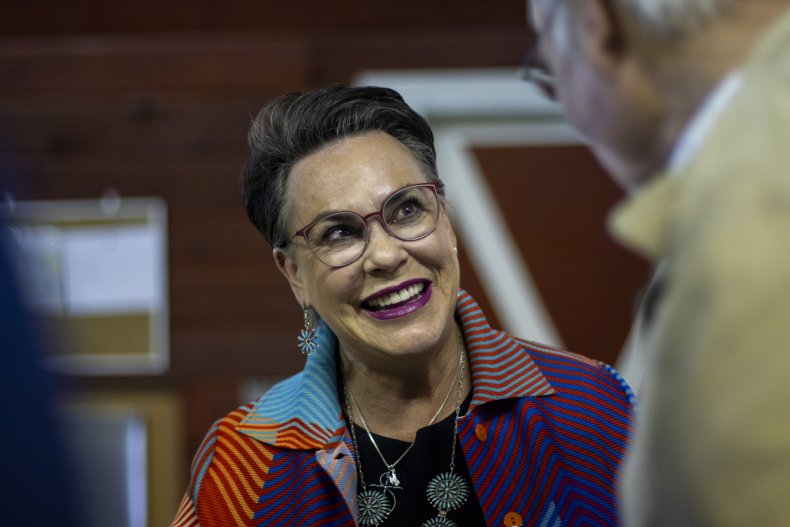 The GOP primary had largely been seen as a referendum on Cheney, who many Wyoming voters have argued failed to represent them when she broke with the House GOP to vote in favor of Trump's impeachment in January 2021.
In her victory speech, Hageman declared, "What Wyoming has shown today is that while it may not be easy, we can dislodge entrenched politicians who believe they've risen above the people they are supposed to represent."
At the same time, Trump has made it his mission to ensure that the congresswoman would not see a fourth term, quickly jumping into the race to endorse Hageman, despite her previous criticisms of the former president during his 2016 campaign.
"Congratulations to Harriet Hageman on her great and very decisive WIN in Wyoming," Trump wrote on his social media platform Truth Social on Tuesday. "This is a wonderful result for America, and a complete rebuke of the Unselect Committee of political Hacks and Thugs."
"Liz Cheney should be ashamed of herself, the way she acted, and her spiteful, sanctimonious words and actions towards others," the former president added. "Now she can finally disappear into the depths of political oblivion where, I am sure, she will be much happier than she is right now. Thank you WYOMING!"
In her victory speech, Hageman said her primary victory was a sign that Wyoming Republicans believe that "we can and do control the levers of power when we engage, when we participate and when we hold our elected officials accountable for their actions."
"Wyoming has spoken on behalf of everyone all across this great country who believes in the American dream, who believes in liberty and who recognizes that our natural rights—the freedom of speech, freedom of religion, equal protection and due process—come from God," she told the crowd. "They do not come from government and the government cannot take them away."