The Harriet Tubman Biopic is Here and It's Already Generating Oscar Buzz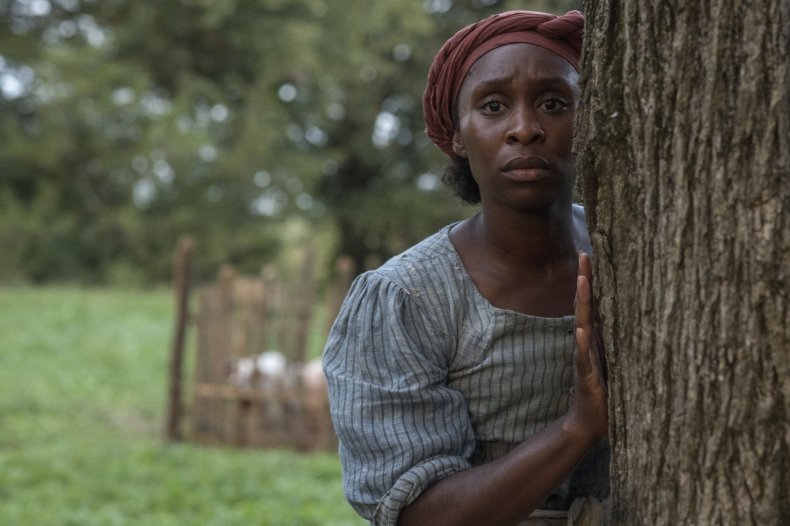 Harriet Tubman finally got the biopic treatment that's been long overdue thanks to the upcoming film, Harriet. Moviegoers now have a trailer for the eagerly anticipated movie. The Focus Features film starring Janelle Monáe, Hamilton's Leslie Odom Jr. and Cynthia Erivo as Harriet Tubman is already getting early Oscar buzz, especially for Erivo.
The film follows Harriet Tubman's daring escape from the slave South to Philadelphia and her subsequent return trips to the South where she rescued her family and other slaves on what came to be known as the Underground Railroad. It also shows her involvement in the early days of the Civil War as a member of the Union Army. Tubman was the first woman to lead an armed expedition in the war, freeing 700 slaves in the raid of Combahee Ferry.
"The story is such an important one to tell, and it's crazy that it hasn't been told yet," Erivo told NME.com in February. "I think that everyone needs to learn about this woman. There's always a fear when you're portraying a woman who means a great deal to a lot of people, and you want to make sure that you do her justice."
The casting of Erivo, a British actress of Nigerian heritage, was initially met with resistance because many felt Tubman should be portrayed by an American actress. Some Twitter users noted that a British actress and non-descendent of slavery was disrespectful to black Americans. Erivo addressed the backlash in an Instagram post.
"I guess there is a bigger conversation to be had about heritage and experience, also about who Harriet really was," she wrote on Instagram. "That can not be had in an Instagram post, what I will say is that my journey to this woman has been long and detailed and one I have not taken lightly. Nothing has been given to me without me first putting the work in, people speak of foreign privilege and truthfully life would be unbelievably easy if that were applied to me but that is not my portion. I fought for the role of Celie [in the Broadway musical The Color Purple], and spilled blood sweat and tears playing her, the same applies for every role I've earned, this will be no different. I hope that I do everyone, even those who are in doubt or are upset, proud."
If the reaction to the trailer is any indication, Erivo has certainly done the part justice, with many on Twitter calling her performance a serious Oscar contender.
If Erivo does take home the Oscar, she'll join the exclusive EGOT club, having already won a Tony, Grammy and Emmy for her work on the Broadway musical The Color Purple.
Harriet is directed by Kasi Lemmons (Eve's Bayou) with a screenplay by Lemmons and Gregory Allen Howard (Ali). The film is scheduled for release on November 1, 2019.