Man Mauled to Death by Dogs During Bike Ride: Deputies
A Texas man was killed by dogs early Friday, according to the Harris County Sheriff's Office (HCSO).
Deputies believe the man, whose identity has not been released, was attacked while riding his bike. They were called when a person driving home from work at 1:45 a.m. local time found the man lying on the road. The victim, who was in his late 30s, was unresponsive and had multiple dog bites. He was pronounced dead at the scene.
KHOU-TV reported that the man appeared to have been dragged away from his bicycle, which was found nearby. Investigators aren't certain how many dogs were involved. HCSO Sheriff Ed Gonzalez said the area is known for packs of stray dogs.
The body was found on Garlang Street near Sheldon Road in Channelview, Texas. There were multiple puncture wounds, and it was not clear how long the body had been there.
No witnesses saw the attack. Deputies said it is unclear where the dogs came from, and no animals were found on scene.
"This area is known for having lots of dogs. I haven't seen any recent reports, but it is known to have stray dogs in the area," HCSO Homicide Detective Wallace Wyatt told ABC13.
It's not the first Harris County lethal dog attack this year. Another Texas man, Nicolas Vasquez, was mauled by dogs in June and died a week later.
Newsweek reported that Vasquez, 51, succumbed to his injuries in a Harris County hospital after spending a week on life support. The dog attack was so severe, Vasquez had both legs amputated and also suffered organ failure.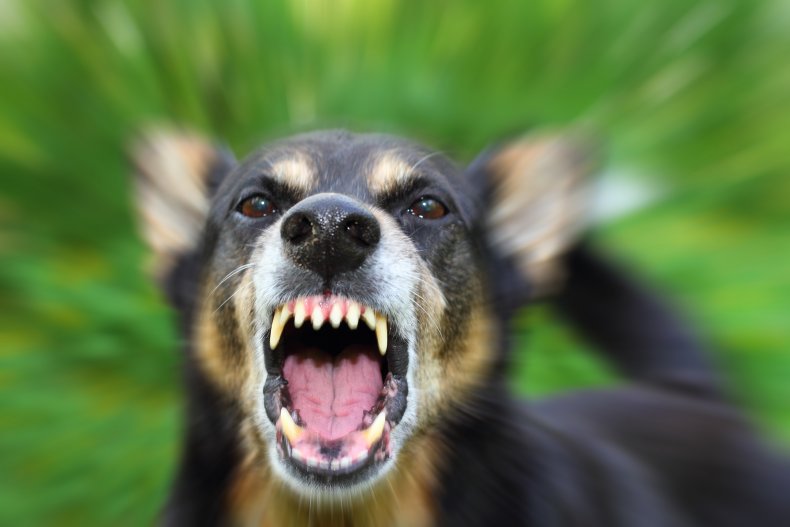 Neighbor Calvin Stoy found Vasquez laying in a ditch and moaning. Stoy fought off the dogs. He said one of Vasquez's legs was torn down to the bone and that he lost "a lot" of blood during the attack, ABC 13 reported.
Three dogs, later determined to be pit bull mixes, had attacked Vasquez. The dogs were seized by Harris County Animal Control. They were reported to be "covered in blood," according to the New York Post.
Vasquez's niece told Newsweek that the dogs were eating Vasquez alive.
Gonzalez said the Harris County Institute of Forensic Sciences will determine the manner and cause of death of the man who died Friday morning. HCSO is asking residents in the area to review surveillance cameras. Anyone with information is encouraged to call HCSO Homicide at 713-274-9100.
Dog attacks are responsible for an average of 33 fatalities every year, according to Centers for Disease Control and Prevention data. The National Canine Research Association of America reports that 4.5 million dog bites occur each year.