Vice President Kamala Harris gave her husband Doug Emhoff a goodbye kiss on Wednesday, and video of the moment soon lit up social media with reactions. What had everyone talking is the fact that the two kissed while wearing masks, despite both are fully vaccinated.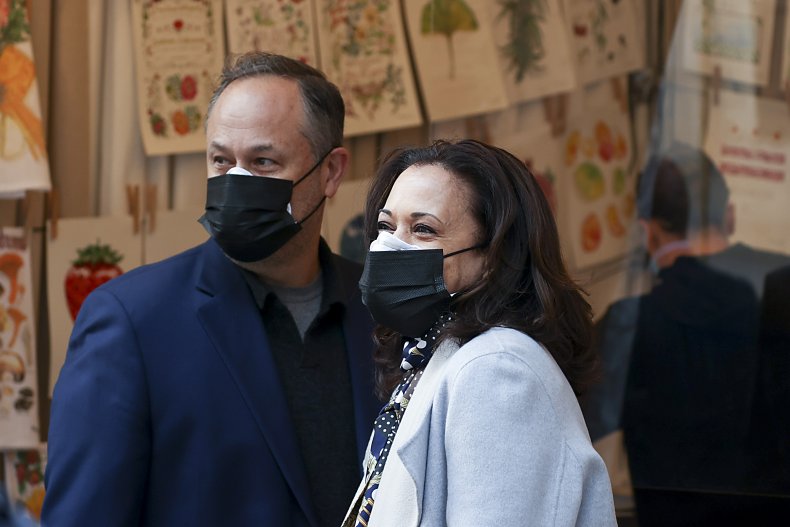 Former professional baseball player Brandon McCarthy was among the first who criticized the message sent by the couple's masked kiss. He wrote on Twitter on Wednesday night: "Lunacy and I honestly think this is harmful to the larger message. Vaccines are the answer and it's time to act like they are."
Harris and Emhoff both received their first doses of the Moderna COVID-19 vaccine at the end of December and got their second shots in January.
Many critics of the masked kiss point out that the Centers for Disease Control and Prevention (CDC) released guidelines that advise the following: "Fully vaccinated people can participate in many outdoor activities without a mask at low risk to themselves or to others."
However, the CDC warned against of an increased risk of infections around "[a]ctivities that involve behaviors such as singing, shouting, physical exertion or heavy breathing, inability to wear a mask, or inability to maintain physical distancing."
Wearing masks in crowded settings where maintaining physical distance isn't possible is also still recommended, but as some social media users pointed out, the tarmac at Joint Base Andrews where Harris and Emhoff parted ways did not appear to be full of people.
Writer Molly Jong-Fast shared a clip from the Wednesday night edition of Tucker Carlson's Fox News program, during which the host criticized the couple. Jong-Fast wrote: "Tucked is mad at the Veep for kissing her husband."
Some tweets about the matter including messages like, "What's the point of the vax if a vaccinated, married couple still kisses with masks on?" Others wrote that the couple weren't "following the science," as mask proponents have encouraged people to do throughout the pandemic.
Many people did approve of Harris and Emhoff not removing their masks while kissing outdoors, though. As one writer noted, "there may be people around them that aren't vaccinated so they don't take their masks down out of simple respect."
A third take on the subject is why people were making a big deal about the kiss in the first place. As this Twitter user asked, "Is this the most important news happening in America right now? Kamala and Doug kissing each other with masks on?"
Newsweek contacted Harris for comment but has not heard back as of press time.