Harris Has Routine Doctor's Visit, Wasn't in Close Contact With Texas Democrats: White House
Vice President Kamala Harris visited the Walter Reed National Military Medical Center Sunday morning for a scheduled "routine doctor's appointment," a White House official told Politico.
The visit comes one day after a spokesperson for Harris said the vice president does not have to quarantine because she wasn't in close contact with Texas Democrats, who later tested positive for COVID-19, during a meeting.
Three fully vaccinated Texas House Democrats tested positive for the virus Saturday after having fled the state to Washington D.C. earlier this week in an effort to block the passage of a restrictive GOP elections bill.
Two of the state legislators who tested positive met with Harris and several Democratic U.S. senators, including Elizabeth Warren and Kirsten Gillibrand, during their trip.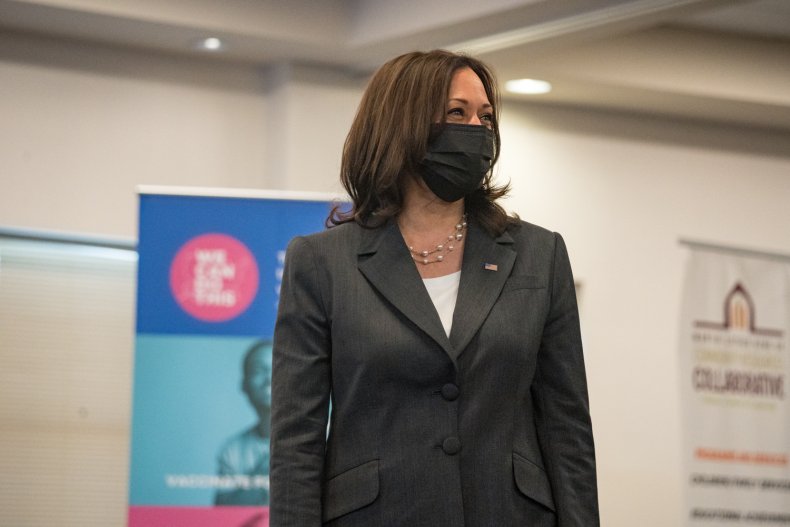 Harris had a meeting with members of the Texas state legislature who were temporarily in Washington D.C. Tuesday, Symone Sanders, a senior adviser and chief spokesperson for the vice president, confirmed in a statement Saturday.
"Based on the timeline of these positive tests, it was determined the Vice President and her staff present at the meeting were not at risk of exposure because they were not in close contact with those who tested positive and therefore do not need to be tested or quarantined," Sanders said, adding that Harris and her staffers are "fully vaccinated."
People who have been in close contact with someone who has COVID-19 are not required to quarantine if they have been fully vaccinated against the disease and show no symptoms, according to the Centers for Disease Control and Prevention (CDC).
The Texas House Democratic Caucus confirmed three unnamed members of the group tested positive from rapid tests and all other members tested negative on Saturday.
"The House Democratic Caucus is following all CDC guidance and protocols. This is a sober reminder that COVID is still with us, and though vaccinations offer tremendous protection, we still must take necessary precautions," said Chris Turner, a state representative and chairman of the caucus.
During their meeting earlier this week, the Texas Democrats urged Harris and congressional lawmakers to prioritize passing the federal For the People Act, which would enforce uniform voting laws across the country.
The GOP-led Texas state Senate passed their elections bill a day after Democrats left Austin for Washington, D.C. Republicans have defended the bill as necessary to bolster the security of elections, while critics and rights activists say it will make participating in elections harder for marginalized voters.
Newsweek reached out to the White House for further information.