How Kamala Harris' Approval Rating Compares to Mike Pence's in First 100 Days
Vice President Kamala Harris reached the 100-day point into her tenure in office with a favorability rating that's nearly the same as her predecessor Mike Pence's rating at the same point four years ago.
A recent Fox News poll found 49 percent of Americans say they have a favorable opinion of Harris, while 50 percent said the same of Pence at his 100-day mark four years ago. Both polls have a margin of error of plus or minus 3 points.
Thirty percent of respondents said they had a "strongly" favorable opinion of Harris, compared to 19 percent who said their opinion of her was "somewhat" favorable.
Negative feelings about Harris were more definitive, with 38 percent saying they held a "strongly" negative opinion of her, and 8 percent responded with "somewhat" unfavorable for a net overall 46 percent unfavorable rating.
This time four years ago, then-Vice President Mike Pence received a 50 percent favorability rating, but negative opinion of him was lower. Only 33 percent disapproved of Pence in that 2017 Fox News poll, while 16 percent did not rate him with either favorable or unfavorable marks.
The Fox News poll's findings were similar to that of a CNN poll conducted by SSRS. Harris received an approval rating of 53 percent in that poll, with a disapproval rating of 37 percent. In April of 2017, 46 percent of respondents said they had a favorable opinion of Pence in a CNN/SSRS poll, and 39 percent said their view of him was unfavorable.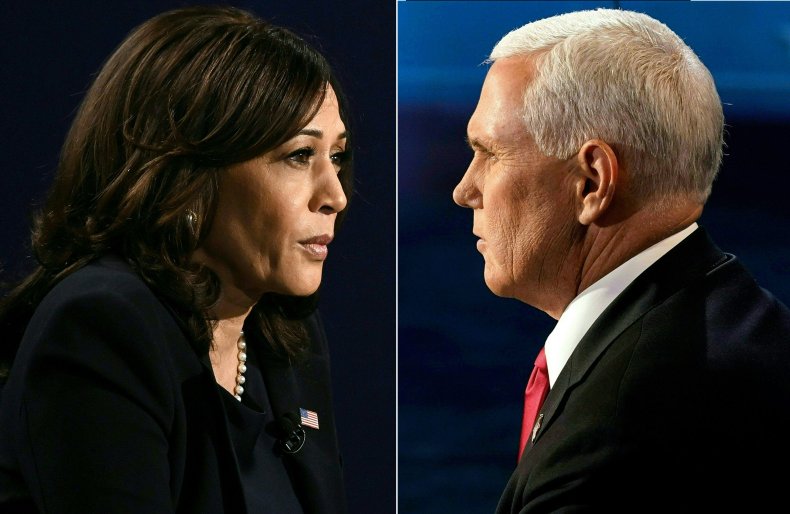 The Economist/YouGov polling, however, found lower marks for Pence at 100 days into his term than other outlets. His numbers in April 2017 in their poll were 43 percent favorable to 41 percent unfavorable. Harris placed higher with 47 percent favorable and 46 percent unfavorable respondent scores from the most recent The Economist/YouGov poll.
The recent Fox News poll also found 54 percent of people had a favorable opinion of President Joe Biden. Public perception of Harris may have experienced a dip recently due to criticism she has received for the crisis along the country's southern border. Last month, Biden appointed her to be the point person in efforts to slow the rush of immigrants coming into the country, a situation that hasn't appeared to be improving.
A separate poll from Rasmussen Reports found even worse ratings for Harris. In that survey, 51 percent of likely U.S. voters had an unfavorable impression of Harris, while 46 percent had a favorable one. In addition to that, the poll showed 50 percent of respondents said Harris is not qualified to become president.
In a similar poll in April 2017, Rasmussen Reports found 63 percent of voters said Pence was qualified to become president. However, Rasmussen has been accused by many other outlets over the years for having a conservative bias in its surveying.