As Democratic nominee Kamala Harris takes the debate stage tonight against Vice President Mike Pence, Asian American Pacific Islanders across the nation are showing support for Harris by tweeting images and the stories of their mothers and grandmothers.
Harris, the daughter of Indian and Jamaican immigrants, made headlines in August after being selected as Democratic nominee Joe Biden's running mate, making her not only the first Black women to be on a major party's ticket, but the first Asian American woman, too.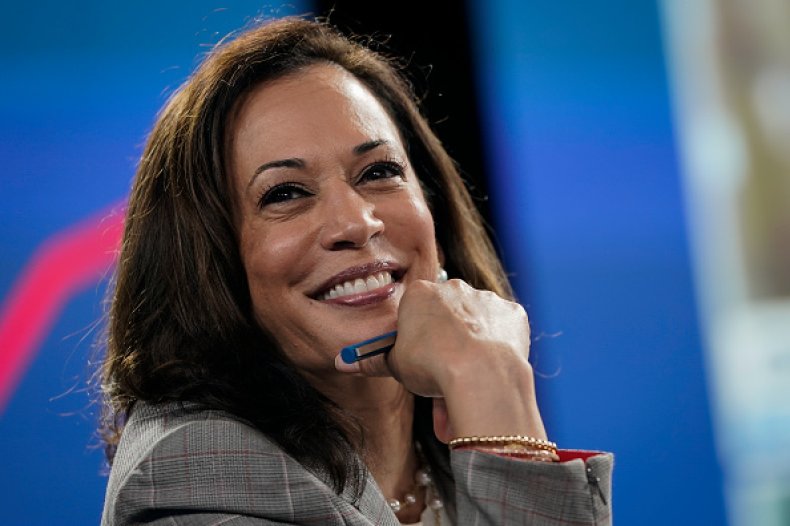 For many women who share the same cultural identity, Harris has been able to close the gap between societal expectations of Asian American women and the women many of them were raised by.
"It's so exciting for me to see Kamala because for so long APIDA women have been so invisible and dehumanized in American society," Naomi Ko told Newsweek. "We've always lived in this really interesting binary where American society has expected Asian American women to be quiet, to be submissive. To see someone like Kamala Harris, who is intelligent, well-spoken, but also outspoken and true to her beliefs take such a national leadership role is so encouraging for us. We've never seen someone like Kamala Harris before."
Chung Seto, who has supported Harris since she ran for Attorney General of California, told Newsweek she likes using the word "resolve" to describe the senator—a word Seto doesn't think is often associated with Asian American women. She also uses the word to characterize her own mother.
"I saw that tiger in [my mom], that resolve and determination to do better for her and her family," Seto said. "For many of us, immigrants in particular, who struggle and know what struggle means in terms of not having resources or education or any of the support growing up, we see inspiration in Kamala."
On Wednesday, Ko also tweeted an image of her mom, who immigrated to Minnesota from South Korea, writing, "Like Kamala Harris, I am the daughter of a strong immigrant Asian woman."
"[My mom] was the first person in her family to immigrate to the United States, which is something that I see myself in Kamala because her mom immigrated to the United States on her own too," Ko told Newsweek.
Harris' nomination has been celebrated as a milestone for many Asian American women who had not previously see themselves represented in politics.
"Because of her visibility and her advocacy, I definitely feel more included and a greater determination to make actual change for people of color in this country." Michele Ang told Newsweek.
Joining Ko and Seto, Ang also posted a photo of her mom, who moved to the U.S. after facing ethnic violence in her native of Indonesia.
"Having more high profile Asian Americans on the national stage, in terms of political power, will encourage more young Asian Americans to not just participate in the political process but also run and hopefully win," Nancy Yuen told Newsweek.
But Ko argued that Harris being the Democratic nominee will create a ripple effect that extends beyond politics.
"[Harris] being the VP nominee is just going to inspire more AAPI women to run for office. It's going to inspire more AAPI women to pursue higher leadership roles and I don't think that's just going to be in politics. It's going to be in the for-profit and nonprofit sectors as well," Ko said.
"It's going to be harder for everyone to ignore us because of Kamala Harris," she added.
Harris' image has also raised the question of what it means to be a woman of color in the U.S., even for Asian American women who have not always identified as Democrats.
Cindy Shih, who grew up conservative in a suburban pocket of Los Angeles, said Harris' nomination amid the coronavirus pandemic has forced many Asian Americans to reckon with their own life experiences.
"The last time I went to visit [my mom], we did have this conversation and I said, 'You realize that if you weren't in California, you might not have been able to buy a home. You might not have been able to qualify for a loan.' I think she was taken aback by that because I don't think she had considered it," Shih told Newsweek.
"She kind of saw California as the microcosm of America and because of coronavirus and things that have happened in the last four years, it's very clear that we don't necessarily have all the benefits of being American in this country," she added.
Yuen, who herself immigrated at a young age, said seeing Harris on the national stage validates the American identity of many immigrants, especially during such a tumultuous political landscape.
"It's also a way to feel like we're truly American because Asian Americans, often times, are portrayed, framed or even insulted in the COVID-19 era as not American, as foreigners, being told to go back to our country, being accused of bringing diseases—all these things are stereotypes that we have to confront as Asian Americans," Yuen said.
"Having someone (of Asian descent) who is potentially the next vice president will dispel that hopefully."
Biden's decision to select a woman of color as his running mate scored the approval of many who were thrilled to finally see someone like themselves run for the highest office in the land, in a way that some argue didn't transpire when Hillary Clinton ran on the Democratic ticket to be the first female president four years ago.
"Kamala being up there means a lot. Just the optics—her and Mike Pence with all the other old, white men. She's this energetic, brilliant fireball up there. I think that that is energizing. I was super energized by Hillary, but seeing this is a whole different thing," Shih said.
"It definitely hits home in a different way and I think I'm going to get emotional at the debate," she added.
Correction 10/07/20 5:47 This story was updated to reflect the correct acronym for Asian Pacific Islander Desi Americans.
Correction 10/07/20 5:57 This story was updated to say that Shih lived in a suburban area. An earlier version of this story said she lived in a rural area.
Correction 10/07/20 6:23 p.m. This story was updated to say that Seto supported Harris early on in her career as California AG. An earlier version of this story said Seto worked with Harris.