Bernie Sanders, Kamala Harris, Cory Booker Make Campaign Visits to Preacher Who Says Being Gay 'Enough to Send You to Hell'
Three Democratic presidential candidates are facing criticism for making campaign stops at a Nevada church whose minister has claimed being gay is "enough to send you to hell."
Over the weekend, Senators. Kamala Harris (D-CA) and Cory Booker (D-NJ) attended services at the Victory Missionary Baptist Church in Las Vegas. Senator Bernie Sanders (I-VT) held a town hall at the church in July.
But Victory Missionary's pastor, Rev. Robert E. Fowler Sr., has made comments regarding homosexuality that members of the LGBT community would bristle at: On a 2013 episode of KNPR's State of Nevada show he claimed that, at Victory Missionary, "we don't believe that there's any one sin that's greater than anything else."
"Whether you commit adultery, whether you commit fornication, whether you're a child molester, you gossip, you lie, you cheat on your taxes, you don't pay your tithes, things of that nature," he elaborated. "All of that is wrapped together as sin, along with homosexuality."
In an interview with the Bay Area News Group this week, Fowler doubled down on his view, equating homosexuality with other "sins."
"Homosexuality, adultery, fornication, those are all sexual sins addressed in scripture," he said. "Any sin, if you break the law in one area, you've broken it in all areas. If you mess up in one area, that's enough to send you to hell—so any sin is pretty bad for me."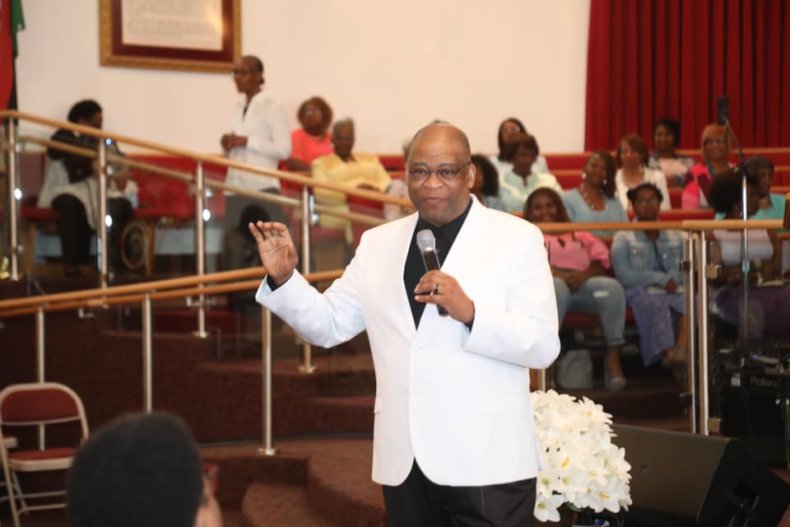 Fowler said LGBT rights didn't come up in his talks with Harris or Booker, adding that the nation is facing bigger issues.
"I don't believe in being a one-item voter that everyone has to agree with me on this particular item," he said. "I support those who present the best platform for the United States of America, even if I disagree with them on some things and they disagree with me on some things. Anybody who is seeking to serve in the highest land in the nation is welcome in my church."
On Wednesday, a spokesperson for Harris told the Advocate, "She does not share his views."
"Senator Harris' support and advocacy for LGBTQ equality has been unwavering throughout her career and will continue when elected President."
Booker similarly distanced himself from Fowler.
"Cory does not share these views," his team said in a statement to the LGBT newsmagazine, "Throughout his career, Cory has been a consistent fighter for the rights of LGBTQ people and even refused to officiate weddings as Newark mayor until same-sex couples were granted the same rights as everyone."
Former Nevada State Senator Aaron Ford and Assembly Speaker Jason Frierson regularly attend services at Victory Missionary Baptist Church, the Las Vegas Review-Journal reports, and Fowler has offered the opening prayer for sessions of the Nevada state legislative.