Harris Hits Trump on COVID-19 in Battleground Nevada, Where Biden Leads Polls
Democratic vice presidential candidate Kamala Harris took aim at Donald Trump over COVID-19 during a roundtable in Nevada, just days after the president hosted a rally in the state.
Harris referenced comments made by Trump in interviews with journalist Bob Woodward earlier this year, in which he said he downplayed coronavirus.
He has defended this stance, suggesting he did not want to panic people and has since said he "up-played" the virus when it came to his response.
"We have a president in Donald Trump who has misled the American people, who has deceived the American people about the seriousness of the virus," she said.
Harris also criticized Trump for his in-person rally in Nevada. The Nevada Independent quoted Harris: "He knew it was deadly and yet still even most recently here in Nevada, in Henderson, where I have been, he brought thousands of people together and wasn't concerned about whether they were wearing masks or socially distanced."
The president has faced backlash over his rally and the potential spread of COVID-19, though has commented that he was not concerned about a risk of infection to himself at such events. Nevada Governor Steve Sisolak said the president showed "callous disregard" in hosting the event.
Trump campaign communications director Tim Murtaugh previously told NBC News: "If you can join tens of thousands of people protesting in the streets, gamble in a casino, or burn down small businesses in riots, you can gather peacefully under the 1st Amendment to hear from the president of the United States."
Health officials in the state have indicated they expect to see an uptick in COVID-19 cases in coming weeks.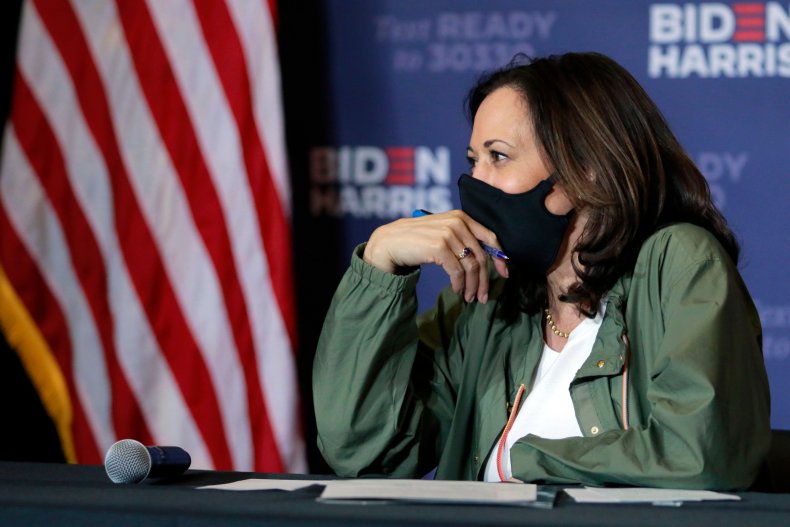 Nevada COVID-19 response director Caleb Cage told The Associated Press: "We're anticipating to see a growth in cases over the next few weeks, which is really unfortunate, because, right now, we're just beginning to experience—over the last couple of weeks—a decrease in positivity and cases statewide, and a decrease in the burden on our hospital infrastructure."
There have been more than 74,000 confirmed COVID-19 cases in Nevada, according to figures from the state's department of health.
With both campaigns targeting Nevada, polling puts Biden in the lead across the state.
According to FiveThirtyEight's poll tracker, Biden is 5.6 points ahead of Trump on average.
A New York Times/Siena College poll, conducted among 462 likely voters in Nevada, put Biden up by four points.
Of those asked September 8 to 10, 46 percent said they would vote for Biden, compared to 42 percent for Trump.
Former Democratic presidential candidate Hillary Clinton won the state in 2016, but by only just more than 27,000 votes.
Newsweek has contacted Harris and the Trump and Biden campaigns for comment.
The graphic below, from Statista, shows the number of COVID-19 cases confirmed in states across the nation as of September 14.