Harrison Bailey, 4-Star QB for 2020 Class, Commits to Tennessee Over Michigan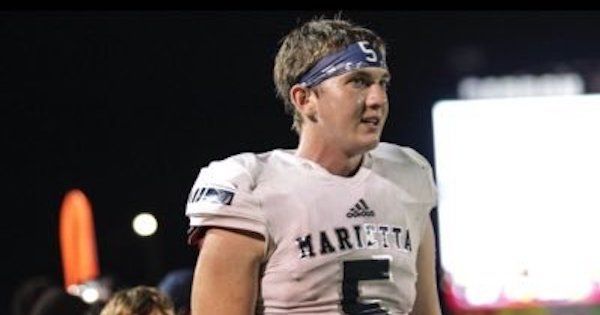 Tennessee made a huge addition to its 2020 recruiting class.
Four-star quarterback Harrison Bailey committed to the Vols over Michigan during a ceremony at Marietta High School on Thursday.
"About three weeks ago, I kind of had an idea before I visited Tennessee that I want to go there. But one day I was just sitting at home, talking with my Dad and that was really it," Bailey told 247Sports.
Bailey ranks as the No. 3 pro-style quarterback, No. 7 player from the state of Georgia and the No. 59 overall prospect for the 2020 national recruiting cycle, according to the 247Sports Composite.
The 6-foot-4, 217-pound junior chose the Vols over 18 other scholarship offers including Alabama, Florida, Georgia, Miami, Ohio State and Oklahoma.
The 4-star junior said he wants to join a program he believes is "on the rise" and intends to be a big part of the Vols' rebuilding process.
"If you know anything about me, I like to build stuff. I like taking a program that is not where he needs to be and taking it to where it should be," he said. "I like building stuff around me, I like to be the one, I want that responsibility."
Bailey also said that head coach Jeremy Pruitt also played a major role in his decision, adding that he trusts the first-year head coach and his staff.
"Coach Pruitt has won those national championships where he has been," Bailey said. "He has coached a lot of great players. I know and I believe that he is going to recruit really good players there, and I am not worried about that. I trust him that he is going to bring in somebody good with the OC job."
Tennessee finished with a 5-7 record in 2018, but improved its win total by won game during Pruitt's first season. The Vols also picked up two wins against ranked opponents with upsets against Auburn and Kentucky.
Bailey said he plans to use his commitment to help Tennessee recruit potential teammates and already had a pitch prepared for targets considering the Vols after announcing his decision.
"Come be great, come play with some great coaches, some great players. We are going to get it turned around," he said. "I am coming to win championships. We are going to win. I believe that much in Coach Pruitt, too."
Bailey is Tennessee's fourth known committment to its 2020 recruiting class, which also includes 3-star wide receiver Antonio Barber, 2-star longsnapper Will Albright and unranked JUCO defensive end Jordan Davis.