How Harrison Ford Made Indiana Jones an Icon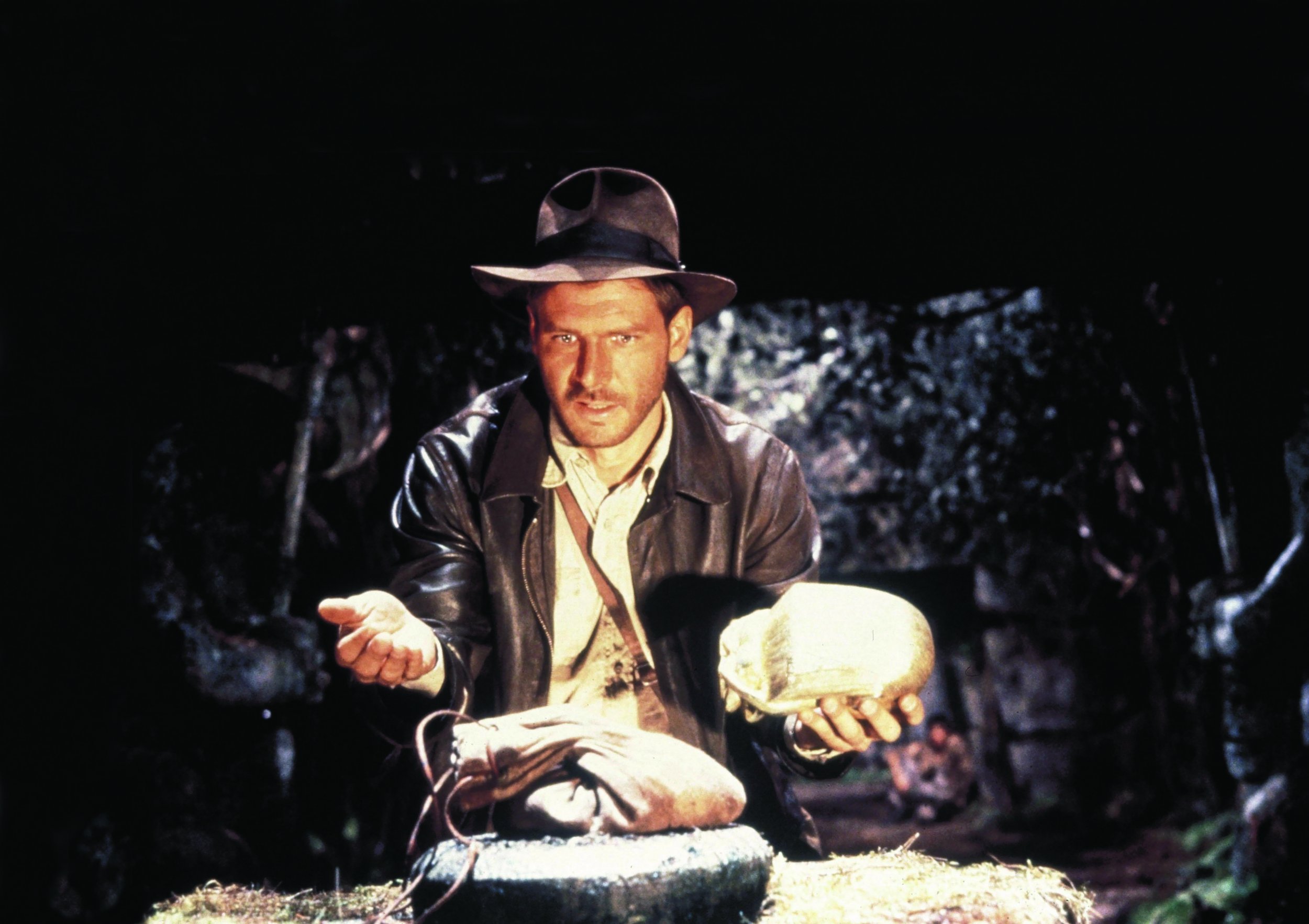 This article, and others about Harrison Ford and his iconic roles, are featured in Newsweek's special edition, Harrison Ford—50 Years of Hollywood's Greatest Hero.
Harrison Ford had blown audiences away with his portrayal of loveable rogue Han Solo in A New Hope and The Empire Strikes Back, but the actor's role—while a critical reason for the franchise's success—was still a supporting one. To find his footing as a leading man, Ford traded in his blaster for a bullwhip to bring to life a character that likely inspired a generation of thrill seekers to major in archeology—Indiana Jones. "I didn't want to confuse it with Star Wars," Ford told James Lipton in an episode of Inside the Actors Studio. "[Jones] is a lot smarter than Han Solo, and just the breadth of the character is so much greater."
The creative team giving Ford yet another opportunity to craft an iconic performance was a familiar one to the actor. George Lucas first batted around the idea with director Steven Spielberg in the wake of A New Hope's financial and critical success. "[Lucas] sprung on me this concept he had called Raiders of the Lost Ark, about this intrepid gravedigger archeologist going after paranormal antiquities around the world," Spielberg said at a Q&A hosted by the Los Angeles Times for the film's 30th anniversary. "We didn't have the story, but he had the genre, the idea and the homage it would pay to all the Republic serials." When the two men started searching for a modernday version of the handsome, lantern-jawed actors oozing charisma that anchored those old adventure films from the 1930s, they didn't have to look much further than the set of Star Wars. Ford not only possessed all of the typical leading man qualities in spades, but he also brought to the role of Indy a few characteristics that took the character to the next level—vulnerability and a wry sense of humor. "I always thought the whole idea of acting was to try and establish an emotional relationship with the audience," Ford told Lipton. "I wanted fear to be an element. I wanted vulnerability. I also thought it would be more fun, and there would be humor in it. That's something I've always been ambitious for." Viewers of Raiders of the Lost Ark don't have to wait long to see how effective Ford is at communicating those feelings to an audience. In the movie's seminal opening sequence, Indy rushes to escape a collapsing temple after swiping its most precious treasure. Not quite making a leap across a chasm, Indy's face lights up with a big grin as he gets a firm grip on a piece of vine—then that same face drops in dismay as his literal lifeline starts unraveling. The spirit of Indy's unique appeal can best be summed up with his line later in the film: "I don't know, I'm just making this up as I go." Ford's greatest feat with Indiana is making us believe the protagonist of the multi-million dollar blockbuster might actually fail once in awhile, helping evoke more thrills, laughs and gasps than a more conventional action flick.
The levity Ford brought to the role of Indiana was subdued in his next outing with the character in Temple of Doom. The prequel would end up being the franchise's moodiest and most divisive entry. "Part of it was I was going through a divorce, Steven had just broken up and we were not in a good mood, so we decided on something a little more edgy," Lucas told Empire magazine in a retrospective on the film. "It ended up darker than we thought it would be." The movie, rated PG upon its release in 1984, featured a man ripping the heart out of a hapless victim and copious amounts of blood in many of its action sequences. The gore and tone of Temple of Doom (along with Gremlins, another Spielberg project released that year) is widely credited with spurring the creation of the PG-13 rating. Despite the grim tone of the plot onscreen, Ford did his best to keep the atmosphere light, playing practical jokes on Spielberg with his fellow actors. "There's one shot where the mine car pops up into frame," Jonathan Ke Quan, who played Indy's sidekick Short Round, told Empire. "Right before we did it, Harrison got ice-cream cones and gave some to me and Kate [Capshaw]. When Steve said, 'Action,' we all popped up with ice-cream smeared all over our faces."
The last film of the original Indiana Jones trilogy, Indiana Jones and the Last Crusade saw a return of both Nazis and levity to the series (an unusual combination). In true Indiana Jones fashion, the film featured jaw-dropping stunts and spectacular set pieces, but the true draw of the movie was the back and forth between Indiana Jones and his father, Dr. Henry Jones, played by Sean Connery. Despite both actors belonging firmly at the top of Hollywood's A-List, Ford and Connery worked hand-in-hand to create one of the most delightful father and son relationships in cinema. "It was just really great to work with an actor who doesn't give a s**t," Ford told Empire. "I don't mean about the craft, but about his ego. We just clicked." Audiences clearly responded to the magic happening on-screen, and Last Crusade brought in a world-wide box office of $474,171,806—the most of any Indiana Jones movie to date. In the end, both Indy and Ford found the fortune and glory they were searching for.
This article, written by Senior Editor James Ellis, was excerpted from Newsweek's special edition, Harrison Ford — 50 Years of Hollywood's Greatest Hero. For more on Harrison Ford's legacy, pick up a copy today.