What Has Harrison Ford Said About Sean Connery, Who Played His Dad in 'Indiana Jones'?
Harrison Ford has paid tribute to Sean Connery, who played his father in the 1989 hit Indiana Jones and the Last Crusade, with a personal memory of the legendary actor.
"He was my father...not in life...but in Indy 3," Ford said in a statement shared on Monday. "You don't know pleasure until someone pays you to take Sean Connery for a ride in the sidecar of a Russian motorcycle bouncing along a bumpy, twisty mountain trail and getting to watch him squirm. God we had fun—if he's in heaven, I hope they have golf courses. Rest in peace dear friend."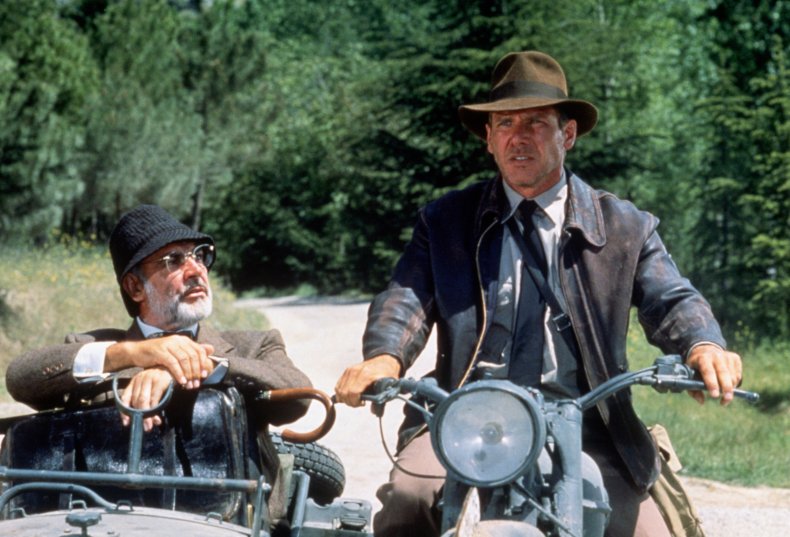 In the film, the third installment of one of the 1980s most popular movie franchises, the father and son have a frequently bickering repartee, with the elder often intentionally embarrassing Indiana. For fans, Ford and Connery's on-screen chemistry was one of the most memorable highlights of Last Crusade—if not the single most rewarding element.
Like the preceding Indiana Jones films, the third installment was directed by Steven Spielberg. Connery was said to be the director's only choice to play Indiana's dad, Henry Jones, Sr.
The creator of the Indiana Jones franchise, George Lucas, also released a heartfelt statement about the icon. It reads: "Sir Sean Connery, through his talent and drive, left an indelible mark in cinematic history. His audiences spanned generations, each with favorite roles he played. He will always hold a special place in my heart as Indy's dad. With an air of intelligent authority and sly sense of comedic mischief, only someone like Sean Connery could render Indiana Jones immediately into boyish regret or relief through a stern fatherly chiding or rejoiceful hug. I'm thankful for having had the good fortune to have known and worked with him. My thoughts are with his family."
Of course, Connery will always be remembered for being the big screen's first James Bond, and he was justifiably honored by some of those who followed him in the role. Daniel Craig, the latest Bond, said, "He will continue to influence actors and film-makers alike for years to come. My thoughts are with his family and loved ones. Wherever he is, I hope there is a golf course." Craig's immediate predecessor, Pierce Brosnan, released a statement that reads, "You cast a long shadow of cinematic splendor that will live on forever."
Along with playing James Bond and Indiana Jones' dad, Connery will be known for many other unforgettable roles, including Juan Sánchez-Villalobos Ramírez in the cult classic The Highlander (1986) and Jimmy Malone, the tough Irish-American cop in Brian De Palma's The Untouchables (1987). He won the Academy Award for Best Supporting Actor for the latter part.
Connery died peacefully on November 1 in the Bahamas after a long illness at the age of 90.