Harrowing Video Captures Moment NY Teen Was Fatally Shot Outside Deli
A new video captured the harrowing moment a 16-year-old New York teen was fatally shot outside of a Bronx deli on Wednesday.
The surveillance video, which was obtained by WABC-TV in New York, shows the victim outside of the King Deli and Grocery on Boston Road in the Bronx neighborhood of Morrisania.
In the video, the suspect, wearing a white face mask, can be seen patting the victim on the back as the two are near the side of the deli. The victim then begins to walk toward the deli entrance, and the suspect puts his hand into his jacket. The suspect, along with three others then surround the victim. Shortly after, the suspect can be seen pulling a gun from his jacket and pointing it at the victim.
According to WABC-TV, the victim was shot in the neck once outside the deli. The video shows the suspects running away after the shooting, while the victim chased after them. The victim then stumbled back toward the deli and eventually went inside.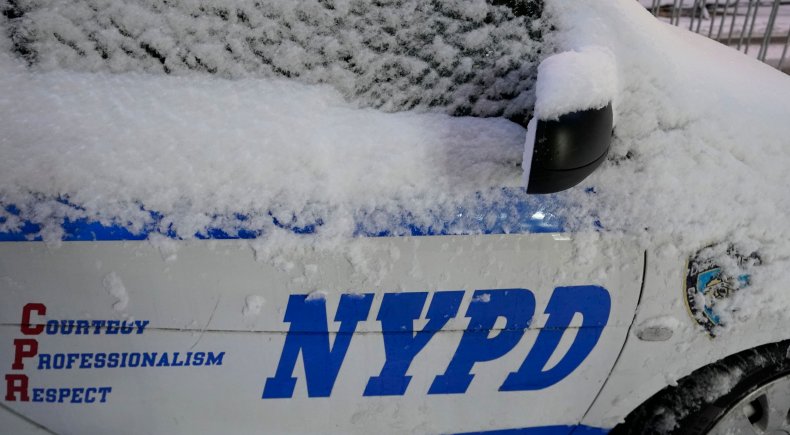 In an email sent to Newsweek, the New York Police Department said that at around 12:02 p.m. local time, officers responded to a 911 call of an assault in progress in front of 1097 Boston Road.
"Upon arrival, officers encountered a 16-year-old male with a gunshot wound to the neck," the NYPD told Newsweek. "EMS also responded to the scene and transported the male to NYC Health and Hospitals/Lincoln where he was pronounced deceased."
The victim was identified by the NYPD as James Solano, a 16-year-old male from the Bronx. The NYPD told Newsweek it has yet to make any arrests for the shooting and the investigation is currently ongoing.
While speaking with WCBS-TV in New York, the deli's owner, Wal Sultan, said that he was still catching his breath after the shooting occurred.
"I can't even explain to you how I feel," Sultan said. "I feel so bad for him."
Luis Hernandez, who works at the supermarket next-door to the deli where the shooting occurred, also spoke to WCBS-TV and said, "When I saw him, he was on the floor, man, and just bleeding out I guess and I was scared for my life, I was shocked."
New York City has seen a continued increase in shootings in 2020 as compared to the previous year. According to data from NYPD Commissioner Dermot Shea, as of last Thursday there have been at least 1,480 shootings in New York City, which is nearly double the 748 recorded during the same period last year.