Harry Kane Hopes Tottenham Can Score Psychological Victory Over Chelsea in FA Cup Semifinal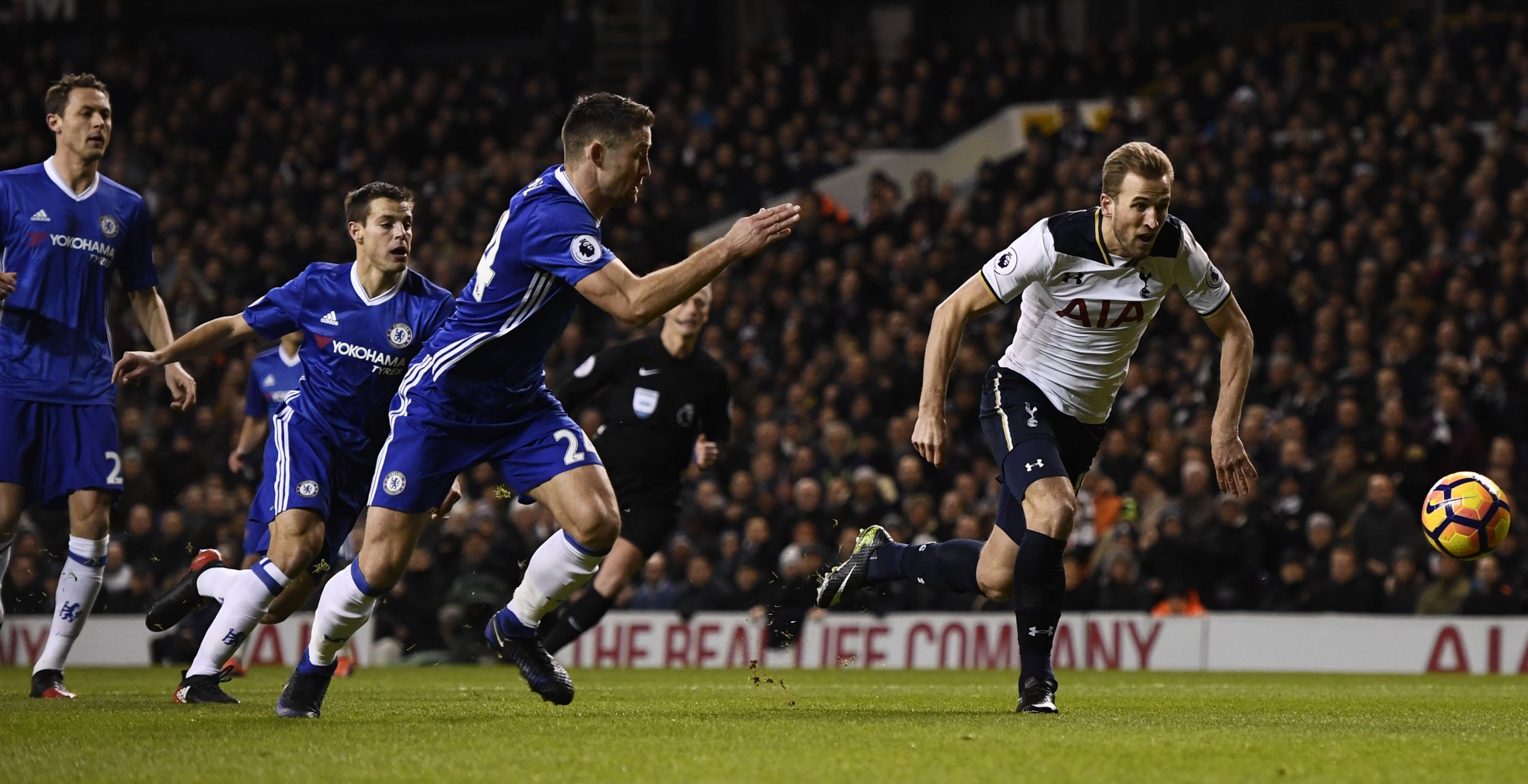 "It's a big game for us, a big game for the club." Harry Kane, Tottenham Hotspur's top scorer this season, has a natural inclination toward understatement off the pitch but this may have been his finest effort yet.
Kane, who scored in Tottenham's 4-0 stroll over Bournemouth at White Hart Lane on Saturday lunchtime, was talking about this coming Saturday's FA Cup semifinal against Chelsea at Wembley.
There is an irony of sorts here that English football's governors may readily accept—that a venerable cup competition seeking meaning in the Wurlitzer of the modern game has come to be defined, this season at least, by the stomping, stonking Premier League.
Chelsea looked to have the league title sealed and delivered to Stamford Bridge in a hermetic bag but that has begun to change as Tottenham picks up speed. On Saturday, for the second week in a row, Tottenham played in the early game, at home, and won comfortably. This time Chelsea could not respond; its former manager Jose Mourinho built a tactical fort and trapped Eden Hazard and Diego Costa inside, starving Chelsea's attacking duopoly of possession. The 2-0 loss to Manchester United was its second defeat in the league in four games, after the defeat to Crystal Palace at home on April 1.
"We can't control what Chelsea do," Kane told Newsweek after the Bournemouth win. "They have got a big game tomorrow away from home, hopefully United can get something."
More than something— three points, as it turned out—and now the gap guarded by Antonio Conte's hard-bitten side stands at four points.
And now the hiatus, laden with significance. "It could be a big thing psychologically but of course it's a different competition so it's hard to say," Kane said, understatedly. Two years ago, in the League Cup final, Mourinho's Chelsea palmed off Mauricio Pochettino's Tottenham in a 2-0 victory.
Mourinho has moved on but in the two seasons since Pochettino has built a hard outer shell around this Tottenham team's natural elegance. "I think we are very ruthless at the minute," Kane said. "If we score one we seem to get that second and obviously the third just after halftime [against Bournemouth] killed the game. It's important that we keep doing that, I think we've got some tough games coming up. We're feeling as confident, I think, as we ever have done. We're moving in the right direction and we have to just try and win as many as we can going on."
Conte shifted demurely into an underdog's skin on Sunday, painting Tottenham as the favorite to reach the final also at Wembley on May 27.
"It won't be easy because I think Tottenham are now the best team," Conte told reporters including The Guardian. "They are in good form and they have a lot of enthusiasm. They are feeling the possibility to write history and it is important for us to know this."
Kidology, perhaps, as Conte attempted to take some of the weight on his players onto his own shoulders. But there is no doubt that Tottenham goes into the semifinal in better form, seven league wins in a row ensuring it has more points after 32 games so far this season than it collected in the whole of the last campaign.
Last spring, Tottenham's attempts to chase down Leicester City ended in fractiousness—a bitter 2-2 draw against Chelsea at Stamford Bridge that cost Mousa Dembele a six-game ban for gouging at Costa's eye. Against Bournemouth, Dembele was muscular within the law, scoring the first goal and dominating the midfield against Arsenal loanee Jack Wilshere.
This season has begun to revolve around Chelsea and Tottenham; the implied, unwritten storyline is that Pochettino's kids have grown up in the nick of time, and that is why Saturday's game is so perfectly timed.
Conte, of course, will expect to answer in the manner of so many of Chelsea's meetings with Tottenham in the past—the precocious upstarts laying but a paw on the lordly tenants of the King's Road. "You never know, if we win next week it might put a bit more doubt in their minds for the Premier League," Kane said.
You never know—there is the ineluctable beauty of football—but in all respects other than the final score, Tottenham seems increasingly sure of its destiny.