What the 'Harry Potter' Cast Has Said About J.K. Rowling's Transgender Comments
The cast of the Harry Potter franchise will reunite for a HBO Max special that marks the films' 20th year anniversary.
While many fans still cherish the films and the books they are based on, author J.K. Rowling has courted controversy recently over remarks she has made about transgender people.
In June 2020, Rowling wrote an essay on her personal website in which she shared her views on transgender issues.
In it, she wrote: "When you throw open the doors of bathrooms and changing rooms to any man who believes or feels he's a woman—and, as I've said, gender confirmation certificates may now be granted without any need for surgery or hormones—then you open the door to any and all men who wish to come inside. That is the simple truth."
Doubling down the same month, Rowling shared a reaction to an article referring to "people who menstruate," tweeting: "I'm sure there used to be a word for those people. Someone help me out. Wumben? Wimpund? Woomud?"
The author has denied being transphobic but her comments have led some fans to refer to her as a TERF, which is an acronym for "trans-exclusionary radical feminist."
Following criticism, she tweeted: "If sex isn't real, there's no same-sex attraction. If sex isn't real, the lived reality of women globally is erased. I know and love trans people, but erasing the concept of sex removes the ability of many to meaningfully discuss their lives. It isn't hate to speak the truth."
"I respect every trans person's right to live any way that feels authentic and comfortable to them.
"I'd march with you if you were discriminated against on the basis of being trans. At the same time, my life has been shaped by being female. I do not believe it's hateful to say so."
Her remarks led to a number of the cast members for the films speaking out on the subject, sharing their support for the transgender community.
What have the 'Harry Potter' cast said about J.K. Rowling?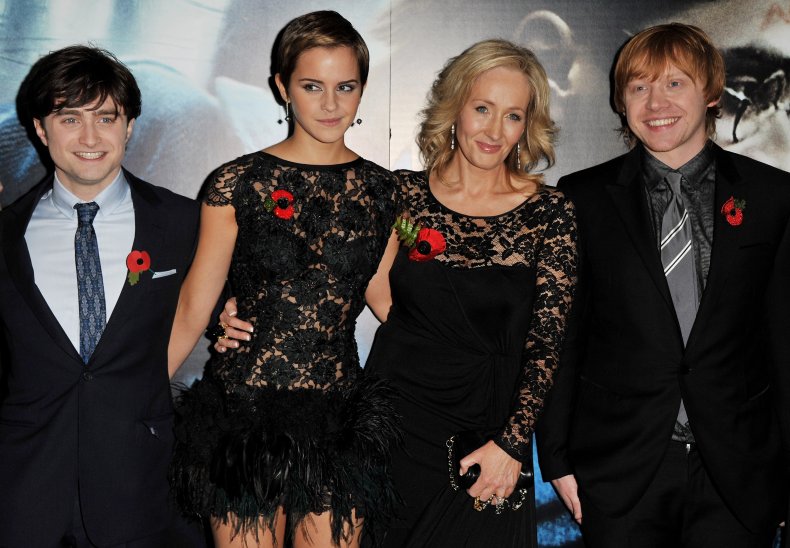 Following Rowling's post Daniel Radcliffe, who played Harry Potter, shared his own essay with transgender charity The Trevor Project.
In it, he said: "Transgender women are women. Any statement to the contrary erases the identity and dignity of transgender people and goes against all advice given by professional health care associations who have far more expertise on this subject matter than either Jo or I.
"If you found anything in these stories that resonated with you and helped you at any time in your life — then that is between you and the book that you read, and it is sacred."
Emma Watson, who portrayed Hermione Granger, shared a tweet amid the controversy, writing: "Trans people are who they say they are and deserve to live their lives without being constantly questioned or told they aren't who they say they are.
"I want my trans followers to know that I and so many other people around the world see you, respect you and love you for who you are."
Rupert Grint, who rounded off the lead trio as Ron Weasley, shared a statement with The Times where he said: "I firmly stand with the trans community and echo the sentiments expressed by many of my peers.
"Trans women are women. Trans men are men. We should all be entitled to live with love and without judgment."
Eddie Redmayne portrays Newt Scamander in the current "Fantastic Beasts" franchise, and he said in a statement shared with Variety: "Respect for transgender people remains a cultural imperative, and over the years I have been trying to constantly educate myself."
Luna Lovegood star Evanna Lynch spoke out against Rowling on Twitter, she has since deleted her account but according to EW she shared with fans: "Feeling like you don't fit in or aren't accepted for who you are are the worst, most lonely feelings a human can experience, and I won't be helping to marginalise trans women and men further.
"I applaud the immense bravery they show in embracing themselves and think we all should listen to their stories.
"I think it's irresponsible to discuss such a delicate topic over Twitter through fragmented thoughts and I wish Jo wouldn't.
"I disagree with her opinion that cis-women are the most vulnerable minority in this situation and I think she's on the wrong side of this debate. But that doesn't mean she has completely lost her humanity."
Bonnie Wright played Ginny Weasley in the films and she shared a statement on Twitter that showed similar sentiments to Radcliffe, writing: "If Harry Potter was a source of love and belonging for you, that love is infinite and there to take without judgment or question. Transwomen are Women. I see and love you, Bonnie x"
Chris Rankin, who portrayed Percy Weasley, also took to Twitter to comment on Rowling's remarks, and he shared his support for his transgender fans.
He wrote: "My beautiful, brave, strong, trans friends and house of #ChrisNess family. We love you. I can't say it enough. You're wonderful, and deserve to be treated as such. Please know that. Be proud of who you are. We are proud of you."
Cho Chang actor Katie Leung took a different route with her Twitter statement, as she directed fans to a number of transgender charities they could give a donation to after writing: "So, you want my thoughts on Cho Chang? Okay, here goes..."
Harry Potter 20th Anniversary: Return to Hogwarts airs on HBO Max on Saturday, January 1.