'Hogwarts Mystery' Duelling Club Tips: Spells to Use to Win Matches
Having trouble winning duels in Harry Potter Hogwarts Mystery? Check out our guide to every spell and tips for using them in duels, here.
The Harry Potter: Hogwarts Mystery Dueling Club feature debuted about a month ago. While many players were excited about the limited-time PvP battle mode, some sizable kinks in the gameplay made the feature less than satisfying. One of the biggest complaints was the limited number of free tickets players were given to participate in the event and the rather sizable diamond investment necessary to purchase extras.
The event has returned, along with a small update to the ticketing system. Players will now receive an extra free ticket every three hours during the event, allowing a better chance of reaching the reward benchmarks. Additionally, there were changes made to the strength of different spells, as well as some balancing of the opponent's stamina.
The Duelling Club is a recurring but limited-time event, so to help you perform your best and choose which attacks are best for you. We've put together a small guide of all the dueling spells, and their updated damage or healing potential, plus information about high stat bonuses as well.
Happy Duelling!
'Hogwarts Mystery' Duelling Club Spells: Best Attacks to Help You Win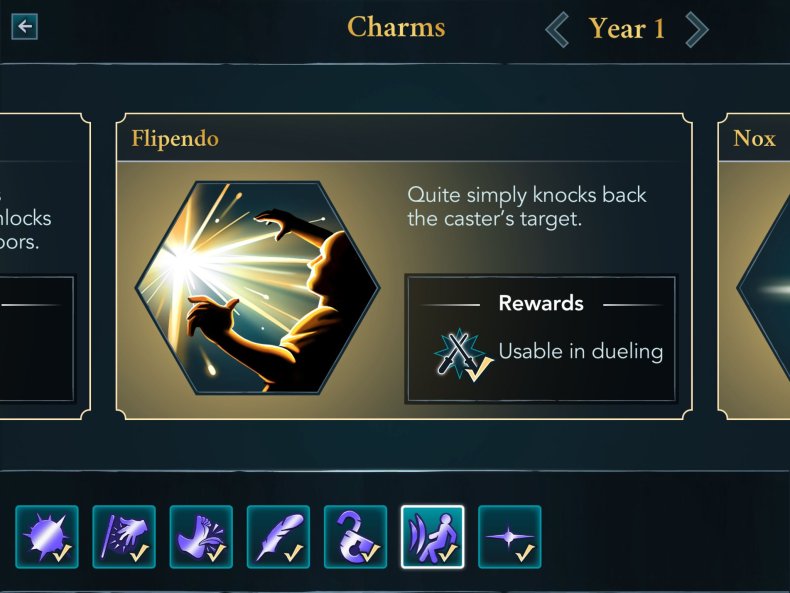 There are three classes of attacks in Duels that correspond to spells you are learning in your Hogwarts Academy lessons. The number of years you have completed will determine which spells you have unlocked. Each spell can add additional damage or healing if you have a higher stat than your opponent in the given area. The boost will give you two bonus points of damage for every level you are higher than your opponent on the bonus stat.
Here are all the different attacks you can unlock and use in Harry Potter: Hogwarts Mystery Duels.
Default Attacks (All Skills)
Throw Vial

Attack Type: Sneaky, Aggressive or Defensive
Damage: 10 Stamina points
Bonus Damage: High Courage
Year Learned: N/A - This is a default duelling spell for all levels of players
Sneaky Attacks
Flipendo

Year Learned: Year One
Damage: 15 Stamina points
Bonus Damage: High Courage

Rictusempra

Year Learned: Year One
Damage: 5 Stamina points plus Stun for one turn
Bonus Damage: High Empathy

Immobulus

Year Learned: Year Three
Damage: 10 Stamina points plus chance of a one turn Stun
Bonus Damage: High Courage

Diffindo

Year Learned: Year Four
Damage: 6 Stamina points and chance of large stamina reduction over time (If successful, -3 for eight turns)
Bonus Damage: High Empathy
Defensive Attacks
Wiggenweld Potion

Year Learned: Year One
Damage: Three Stamina point heal, then six Stamina point heal for next two turns.
Bonus Damage: High Knowledge

Episkey

Year Learned: Year Two
Damage: 10 Stamina point heal, and chance of medium heal over time (if successful five-point heal for two turns)
Bonus Damage: High Empathy

Petrificus Totalus

Year Learned: Year Three
Damage: Five Stamina point and chance of medium Stun over two turns
Bonus Damage: High Knowledge

Bombarda

Year Learned: Year Four
Damage: 10 Stamina points and chance of large stamina reduction over time. Chance of one turn Stun (if successful, 10 stamina points for one to two turns)
Bonus Damage: High Courage
Aggressive Attacks
Expelliarmus

Year Learned: Year One
Damage: 10 Stamina points. Chance of medium burn over two turns.
Bonus Damage: High Knowledge

Incendio

Year Learned: Year Two
Damage: Five Stamina points. Chance of medium burn over two turns.
Bonus Damage: High Courage

Depulso

Year Learned: Year Three
Damage: 17 Stamina points
Bonus Damage: High Empathy

Confrigo

Year Learned: Year Four
Damage: Five Stamina points plus chance of two-turn Stun
Bonus Damage: High Empathy