How to Restart 'Harry Potter Hogwarts Mystery': Reset Game on iOS and Android with These Instructions
Started playing Harry Potter Hogwarts Academy, but you're not happy with how your story is going? Find out how to reset your progress and restart the game anew on Android or iOS.
On Tuesday, Harry Potter Hogwarts Mystery released worldwide after several months in soft launch. While most aspects of the game have stayed the same, there have been some changes to the official version of the game that has some players wanting to lose their old game data and start off fresh. If you've been playing the beta version of the game but now want to restart as a brand new player or you just don't like how your story is going and want to reset everything, there are some tricks you can use to do so. Below we've put together a quick guide for resetting Harry Potter Hogwarts Mystery on both iOS and Android devices. You can also check out our guide to getting Free Secret Energy in the game, here.
Harry Potter Hogwarts Academy Reset: How To Restart With A Fresh Game On iOS and Android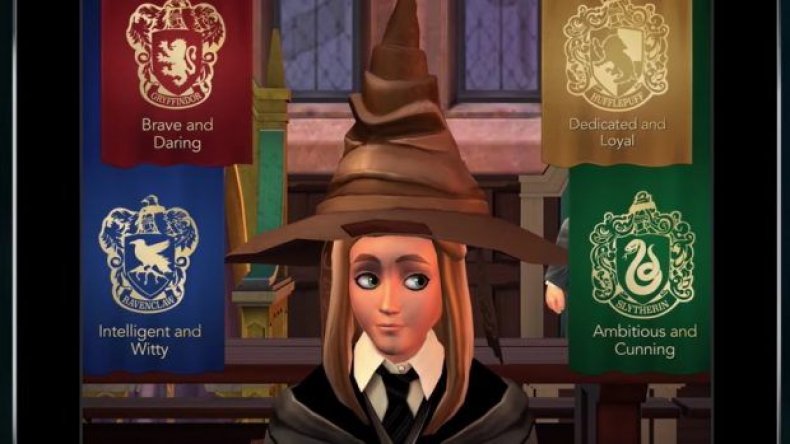 Go To Harry Potter: Hogwarts Mystery Settings - to begin resetting your game, you'll first need to open the app and visit the settings menu. The setting menu can be accessed from the gear icon in the lower left-hand corner of your game screen.
Connect To Facebook - Once in the Settings Menu, you'll want to tap on the "Account Info" option. There you'll see the option to connect your account to Facebook. If you haven't done this already go ahead and connect your account. If you don't have a Facebook account to connect, you won't be able to move forward in this guide.
Log Out of Facebook - Now that you've connected your account, you'll need to do two things: 1) Close out of the game entirely 2) Log out of your Facebook account. Following these steps is crucial to success with this guide so please make sure to do them. If you use the Facebook app on your device, you can log out from the small arrow menu in the upper left hand corner of your feed page. It is next to your profile photo.
Delete Hogwarts Mystery Game - if you've closed the game and logged out of Facebook, you'll now need to delete the Harry Potter game from your device. Don't worry, you'll be downloading it again later.
Clear Cache and Cookies - before you redownload the game, you'll need to clear the cache and cookies from your device's browser. You should be able to do this from your mobile device's Settings menu.
Log Into Facebook - Once the cache is cleared log back into your Facebook account and go to the settings menu (it's in the same place where you logged out.)
Go to Apps and Websites - Once in your Facebook Settings menu, look for "Apps and Websites" on the left of the screen. Click on it and search for Hogwarts Mystery under the Active Apps section.
Remove Hogwarts Mystery From Facebook Apps - Once you find the game tap on the "Remove" option. You'll receive a prompt confirming your decision. In the prompt, select the "Delete All Posts, Photos, and Videos" option and then click "Remove."
Re-Download Game - If you've successfully completed all these steps, all data for your game should be gone. You can now go to the Apple App or Google Play Store and re-download the Harry Potter Hogwarts Mystery game. Once downloaded, open the app and your game should be reset allowing you to restart your game from the Witch or Wizard selection screen.
What do you think of the new Harry Potter Hogwarts Mystery game? Which house did you choose? Share your thoughts in the comments below.