Will Merula Snyde Ever Be a Friend? 'Hogwarts Mystery' Devs Talk Pets, Romance and More Upcoming Features
Harry Potter Hogwarts Mystery has several characters to befriend, but will you ever reach a truce with Merula? What about dating Penny? Hogwarts Mystery devs reveal new social features, relationship updates and more coming to the game.
Harry Potter: Hogwarts Mystery released worldwide on iOS and Android last week and fans of the Potter Universe have been plowing through the current chapter stories. The game is intended to take players through an entire seven-year stint at Hogwarts. You begin as a Year One student learning the rudiments of Spell casting, Broom maintenance and other topics fit for a young Witch or Wizard. Along the way you meet a number of different characters from the series and interact with them in ways that can help or harm your progress.
RELATED: 'Hogwarts Mystery' Year 4 - Devs Discuss Forbidden Forest, Charlie Weasley Friendship and More Upcoming Features
Up to this point, the game only extends through the end of Year Two meaning that a large portion of the game is still ahead. With eyes set on the future, we reached out to the devs at Jam City to get some insight on what's ahead. While the answers remained somewhat cryptic we were able to glean a few valuable nuggets of information regarding friendships, dating and other upcoming features of the game. Check out the Q & A below.
Harry Potter Hogwarts Mystery Dev Team Q & A: On Story Choices, Romance, Pets and More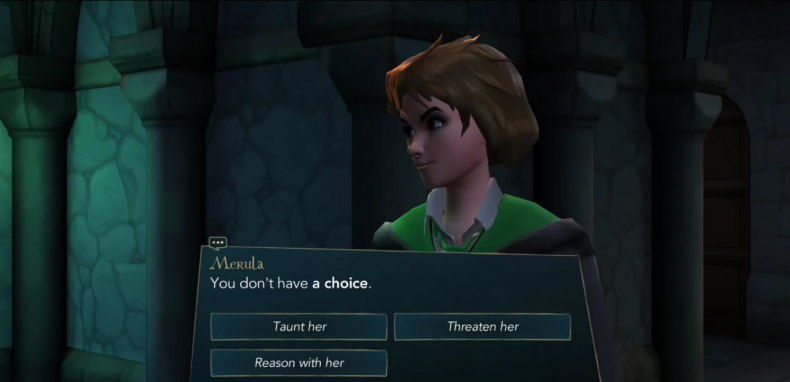 Will the story evolve to where it's more driven by user choices? Currently it feels like all roads lead to the same outcome.
It's difficult to explain without giving away anything, but the short answer is absolutely. With each new chapter and year, you'll be given more choices, and more agency in what you want to do next, and how you want to go about achieving your goals.
What about relationships and dating? Will we ever have the option to befriend Merula Snyde or hook up with Penny Haywood?
We can't give away any spoilers, but all of your relationships will evolve dramatically over time. Friends may become enemies, and enemies may become friends. Either could potentially become a romantic interest. As time passes and the students get older, the world of the game will get much larger, and so will each character's interests and ambitions.
Any plans to make the game multiplayer? The framework seems to be in place for something like houses/guilds and a true global leaderboard.
We are investing in multiple social features, but unfortunately we can't divulge those yet. Stay tuned!
Any fun upcoming features you can discuss that fans should look out for?
Pets are coming soon! We also have more of the storyline that will be released in regular content updates, as well as social encounters for players to repeatedly engage with. There are more places to explore and mysteries to unlock, so keep playing!
What do you think of the updates coming to Harry Potter: Hogwarts Mystery? Which feature are you most excited about? Share in the comments below.