'Hogwarts Mystery' Devs Discuss Year 4, Forbidden Forest, Charlie Weasley Friendship and More Upcoming Features
The 'Harry Potter: Hogwarts Mystery' Year 4 release is right around the corner, says the Jam City dev team. Find out everything we learned about the new characters, settings and more coming to the game, here.
Harry Potter: Hogwarts Mystery released on iOS and Android a little more than a month ago. Despite dropping the first two of a planned seven years of story content during the release, it didn't take long for fans to gobble it down and demand more. Since its debut, Jam City has steadily released more content each week, most recently new side quests and encounters with friends.
With Year 3 coming to a close, we're wondering what's ahead in Year 4. Last month we reported pets and romance were ahead in future chapters, and this week we caught up with Jam City Narrative Designer Allen Warner. He gave us some new insights about the content and interactions we'll be seeing in Year 4.
With Year 4 falling solidly in the middle of our young Hogwarts scholar's academic career, we're expecting to see our character's world and relationships grow and evolve. According to Warner, players will not only unlock a new class called The Care of Magical Creatures," they will also gain access to a large and important new area of the game known as The Forbidden Forest.
"The Forbidden Forest is what we call a hub, similar to the castle. It'll be a big environment with a lot of different areas for players to explore," said Warner. Just as players can roam the halls of the Hogwarts castle to find classrooms and common rooms, the Forbidden Forest will contain new areas to explore, as well as new characters and creatures to interact with as the story unfolds. As players move deeper into the game, the mechanics will change too, said Warner.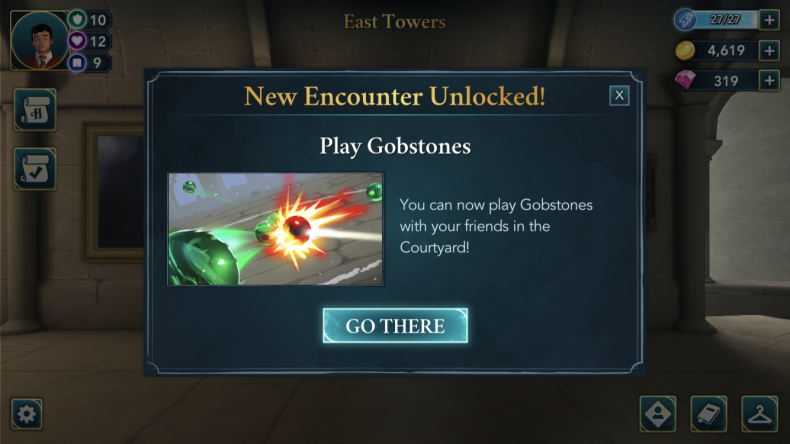 "This week, we added new ways for players to interact with NPCs, such as hanging out at the Three Broomsticks or playing Gobstones. We wanted to give players more choices for what they wanted to do in the game and we wanted those to be things that don't require energy," he said. "In Year 4 we have planned more of these kinds of features, giving players greater agency over what they want to do next and how they want to spend their time in the game."
While some of those features will tweak existing gameplay elements, others will be entirely different. "As the game expands, we'll continue to add features that build off things that already exist in the game, but we're also bringing in brand new things that play off of details from either the books or the movies," Warner told Newsweek. "Things we haven't really introduced in the game to this point, but that will take the player deeper into the story."
Warner also revealed some interesting new characters will join the narrative in Year 4, including fan-favorite Charlie Weasley. Up to this point, Charlie has had a minimal role in the gameplay, showing up occasionally as a background character, but not someone you can truly interact with.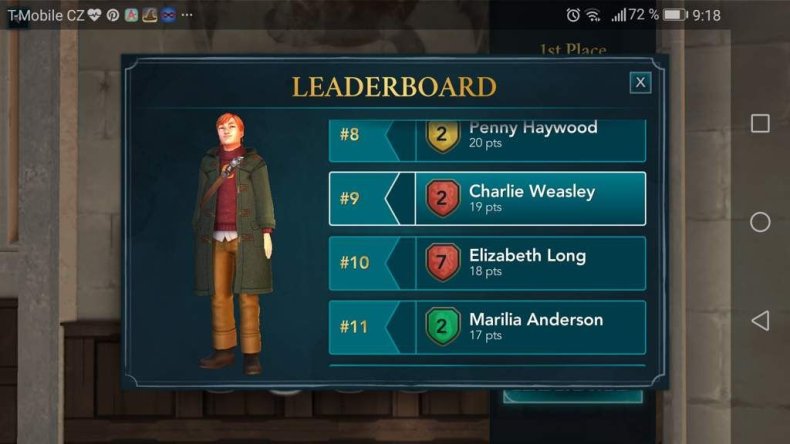 "Charlie a fan favorite that hasn't gotten a lot of screen time in the films, so [we're] excited to get him into the game," said Warner. "A lot of people do love him from the books, and Year 4 is where they finally get to meet him, befriend him and interact with him meaningful ways. We know Charlie has a love of dragons and the outdoors, so he's a good fit for Year 4 which is all about exploring the Forbidden Forest, Magical Creatures and the beasts we know live within the forest."
Warner also alluded to a second new character who will play an important role in next Year 4's narrative:
"Working on Hogwarts Mystery has been such an exciting opportunity. We've been able to touch on several beloved characters and locales from the books and films, while also creating brand new characters for the world, such as Penny and Rowan... and another one coming up in Year 4, who is one of our most important characters for a lot of reasons -- but that I can't talk about yet."
While we couldn't pin Warner down on a date for the Year 4 release, he reiterated multiple times that early chapters will be releasing "very, very soon."
"The story evolves and gets a lot more fun and interesting in Year Four," said Warner. For everyone who is enjoying the narrative up to this point, they're going to be really excited about what's coming next."
'Hogwarts Mystery' Devs Discuss Year 4, Forbidden Forest, Charlie Weasley Friendship and More Upcoming Features | Gaming