Harry Potter Store NYC Location, Opening Date and Other Details About the 'Must-Visit Fan Destination'
The world's first official Harry Potter flagship store is coming to New York City this summer. The Wizarding World store will sell merchandise including exclusive products and will feature a sidewalk cafe.
The Harry Potter store will feature products from both the Harry Potter and Fantastic Beasts franchises, including personalized robes and Bertie Bott's Every Flavor Beans. Additionally, the store will sell its own range of house wands, exclusive to the new location.
The new store will open next to the Flat Iron Building and will span three floors and over 20,000 square feet. It will open on 935 Broadway, in the Flat Iron district, near Madison Square Park.
Sarah Roots, SVP Worldwide Tours and Retail, Warner Bros, said: "This will be the largest dedicated Harry Potter store in the world and will become a must-visit fan destination where Harry Potter enthusiasts can engage with interactive experiences and numerous photo opportunities as they step into the magic.
"We are very excited to be opening in New York. It's the ideal city in which to launch with so many dedicated Wizarding World fans, a cutting-edge retail environment and a community that embraces innovative experiences."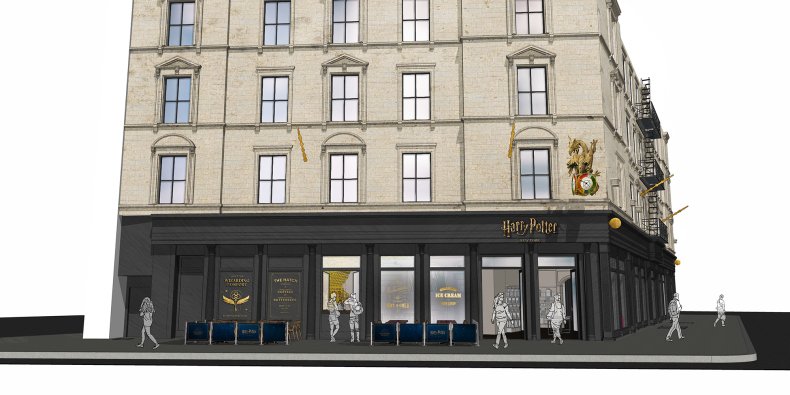 The Wall Street Journal reported that the store has to modify its original design, which was set to feature a dragon and "wand-style" flag poles outside of the building, as a community board meeting denied these modifications.
Layla Law-Gisiko, chair of the committee, told The Wall Street Journal: "Flagpoles are a big no-no. If Harry Potter can put a dragon, then Nike can put a shoe, then the bakery down the block could put a croissant, and then where do you stop?"
But even without Wizarding World-themed dragons and wands, the store is to be a hit with Harry Potter fans. More details are to yet to be announced, but the store will also feature a sidewalk cafe, food and beverages in-store and a service window on Broadway.
Early concept images suggest the cafe may be called The Hatch and will serve coffee, butterbeer, and ice cream. However, final details have yet to be announced, so Potterheads will have to wait and see what the Wizarding World has in store for them this summer.
Currently, fans can shop official Harry Potter merchandise at the Wizarding World of Harry Potter at Universal Studios theme parks, the Warner Bros. Studio Tour in London and Hollywood, the Platform Nine and Three Quarters shop in Kings Cross Station, London, and the House of MinaLima in London. Additionally, while there are stores selling official merchandise across the world, the New York store will be the first official flagship store of the Wizarding World.