Harry Potter Fan Spots Surprise Cameo in New Disney Film: 'Made This Movie'
Harry Potter fans have reacted with delight to the brief reappearance of a popular minor character in Disney's latest big-screen revival Chip 'n Dale: Rescue Rangers.
A continuation of the animated series that first aired back in 1989, this new incarnation features Adam Samberg and John Mulaney as the voices of the titular heroes in a comedy that blends animation and live action.
Released directly to the Disney+ streaming platform on May 20, Chip 'n Dale: Rescue Rangers drew good reviews from critics while social media has been awash with positive reaction to the film.
One of the key components of the film's success so far appears to lie with how writers Dan Gregor and Doug Mand utilize meta-commentary and humor in a way that has drawn comparisons with another classic of this hybrid animation subgenre, Who Framed Roger Rabbit?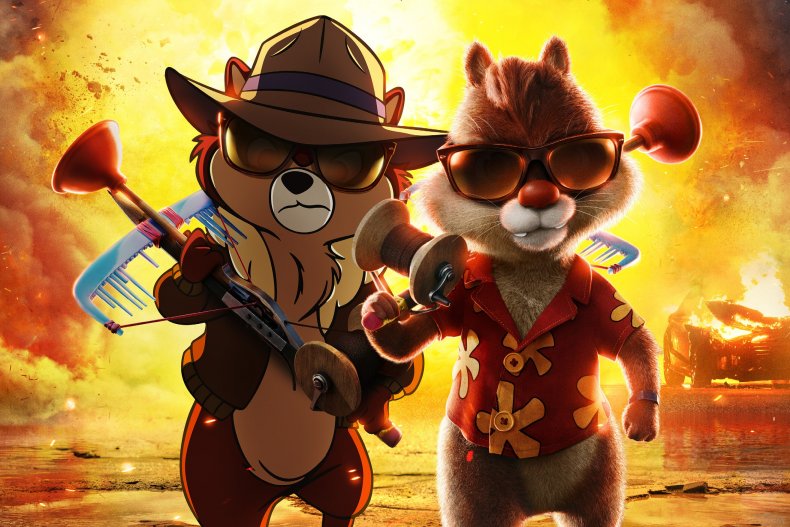 The film's other main strength appears to be the number of familiar characters from the world of film, animation and gaming who appear to pop up in the world of Chip and Dale.
Sonic the Hedgehog, the Teenage Mutant Ninja Turtles and Super Mario all make brief appearances while characters from the likes of The Lion King, Kung Fu Panda and Monsters vs. Aliens also pop up.
There were even appearances from characters existing in the world of South Park and, more bizarrely still, Beavis and Butthead - and that's really only the tip of the iceberg.
Yet, for fans on Reddit, one surprise cameo from an altogether different character has been dominating discussion.
In a post upvoted more than 62,000 times on the discussion-based platform, a user writing under the handle rasta4eye revealed the blink-and-you'll-miss-it appearance.
They wrote: "In Chip 'n Dale: Rescue Rangers (2022) you can see that Dobby the House Elf became a model for Gucci after the Harry Potter series wrapped."
First appearing in Harry Potter and the Chamber of Secrets, Dobby made infrequent appearances in the franchise up until his tragic demise in Harry Potter and the Deathly Hallows: Part 1.
However, despite his tear-jerking finale in the films, it would appear he lives on in the world of Chip 'n Dale: Rescue Rangers and is doing pretty well for himself.
It's an observation that delighted many online.
Jordanlund joked: "Dobby is now a very expensive elf," with kenlubin adding: "Dobby's now a top shelf elf."
ManInBlack829 predicted a "House of Dobby" fashion line while Cbvdd thought the animators did a brilliant job of updating the look of the Harry Potter character, writing "they even made Dobby look better."
Fantastic_sounds_ was one of many to praise these surprise appearances, writing: "The background gags made this movie." LegendaryOutlaw concurred, commenting: "This movie is so chock full of Easter eggs and background details it could fill this forum for a week."
AlmostButNotQuit was similarly effusive in their praise. "They knew the value of having 'third party' cameos and it really paid off," they wrote.
"Instead of feeling like part of one universe it feels really well rounded. So much nostalgia, so many references and blink-and-you'll-miss-it moments."
Newsweek has contacted rasta4eye for comment.