'Harry Potter Wizards Unite' Event: Dark Arts Month Brings a Chill to the Air
The latest Harry Potter: Wizards Unite update brings a new level of fright for players to fend off. Niantic and Portkey Games' mobile experience based on The Boy Who Lived and the magical world he inhabits continues to roll out updates to keep even the most clueless Muggle engaged. October is Dark Arts month, and brings more dementors, werewolves and shrouded threats to the world around you.
There will be three new quests rolled out across the month, giving players more to explore while they are out wearing their wizard costumes and collecting candy.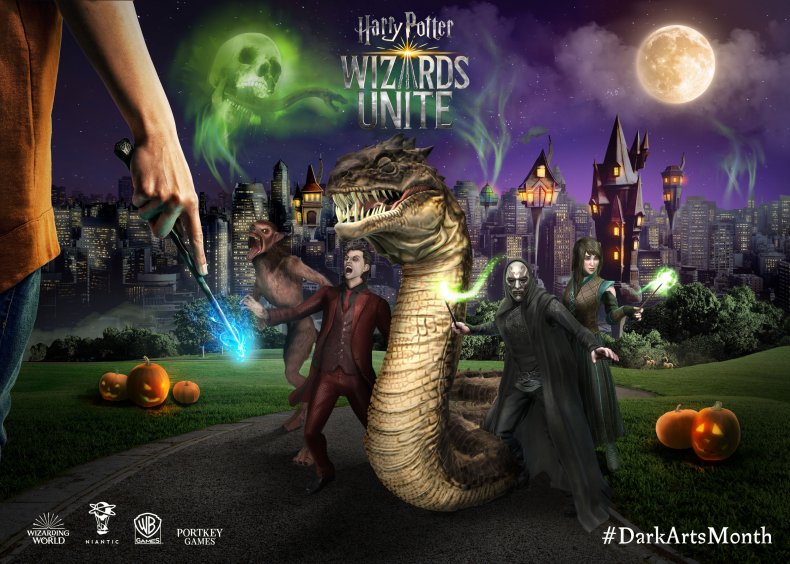 Here are the Quests straight from the press release and blog post.
Harry Potter Wizards Unite Event: Dark Arts Month Quests
Fighting Forces Brilliant Event Part 1: October 8-14
A new quest featuring the spine-chilling Brilliant Death Eater and an Azkaban Escapee
October Community Day: October 19
Expect more uncanny creatures including Vampire, Werewolf and Doxy oddities appearing more frequently in the game
Fighting Forces Brilliant Event Part 2: October 22-28
A new sinister quest featuring the Brilliant Sirius Black and a Dementor
Exclusive Halloween Quest: October 31
Get ready for an exciting and exclusive Dark Arts-themed Wizarding Challenge Fortress Chamber and quest with limited-time rewards
October is the perfect month to fight the hordes of Voldemort and his Death Eaters as well as the dementors that guard Azkaban. Nothing brings you in the spooky spirit more than quashing the evil that infests the magical realm while collecting spell ingredients for your potions. Doxy oddities, or those pesky blue fairies that get into all your stuff, will be taking their usual wands and magical beasts on Community Day.
Harry Potter: Wizards Unite is an augmented reality game that reminds players that werewolves exist in J.K. Rowling's universe. Wizards Unite lacks features like Adventure Sync and smartwatch capabilities like Niantic's other mobile adventure game, Pokemon Go, but that isn't stopping players from engaging.
On August 31 and September 31 thousands of eager wizards gathered in Indianapolis for the game's first Fan Fest. Through the mud and up the hills, players were able to fight the new Dragon raids as well as collect oddities never before seen in the wild. Wizards Unite appeals to the most hardcore Harry Potter fan who already owns a cape, a wand and has visited Universal Studio's Diagon Alley at least once.
Are you still playing Harry Potter: Wizards Unite? Tell us in the comments.