Harry Reid vs. Sharron Angle: Nevada Senate Race Heats Up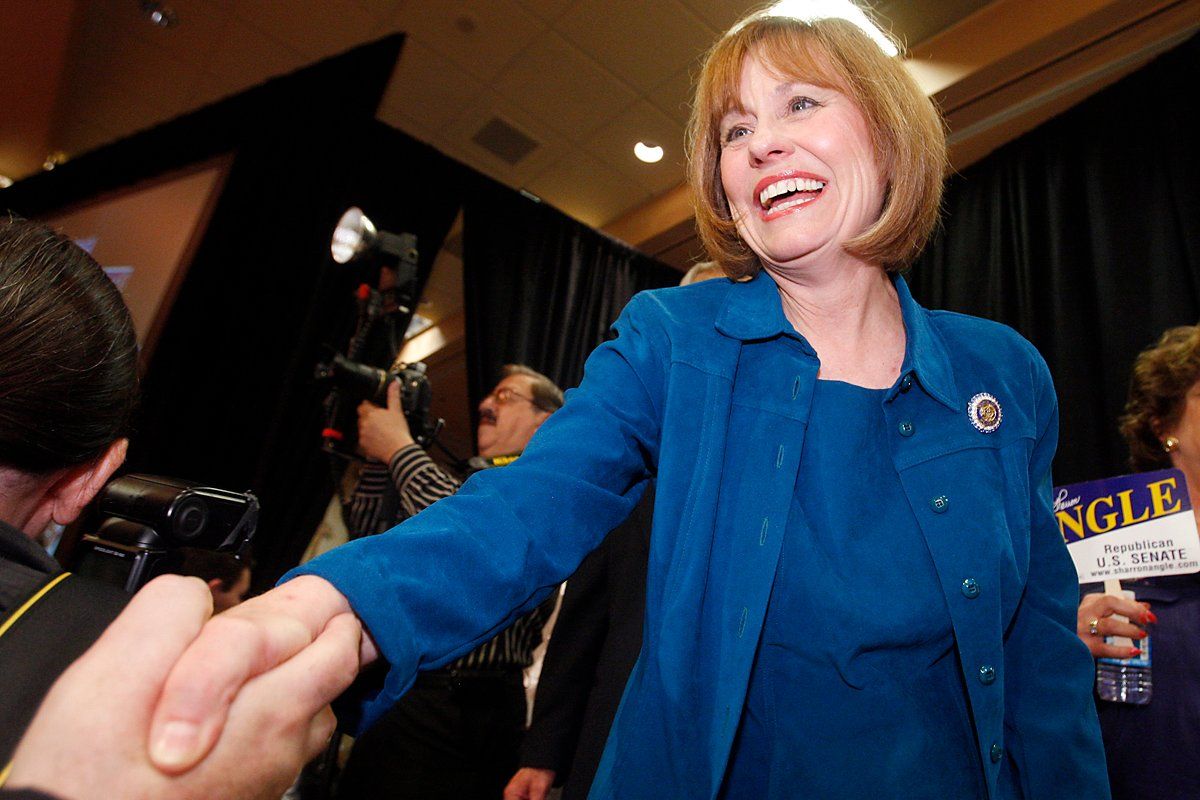 For Nevada GOP Senate candidate Sharron Angle, it's another case of what happens in Vegas doesn't stay in Vegas—especially when you're running to topple Harry Reid.
November's marquee contest between the Tea Party favorite and the dour Senate majority leader flared up again last week when Angle's campaign Web site reemerged from hiatus with a more moderate appearance and many of her old positions mysteriously no longer included. Among the omissions: Angle's controversial ideas to abolish the Department of Education and phase out Social Security in favor of privatized accounts.
Reid's campaign immediately republished a version of Angle's original Web site, accusing the GOP candidate of attempting to "hide her extreme and dangerous agenda." Angle's campaign hit back, issuing a cease-and-desist letter accusing Democrats of misusing copyrighted materials and tricking GOP supporters to enter their contact details under false pretenses.
The offending site was swiftly taken down and rerouted to a spoof called Sharron's Underground Bunker, described by the Reid campaign as "Sharron Angle's positions in Sharron's own words." Visitors are invited to click various links including "Scientology" (detailing Angle's support for a church-influenced drug-treatment program) and another titled "Just Plain Weird."
For Angle, the tit-for-tat is a setback as she struggles to establish her footing in a race Republicans are desperate to win. Since her late-surging triumph against favored opponents in the June 8 primary, the 60-year-old former state legislator has been assailed for her provocative statements and accused of ducking nonfriendly media. (A lowlight was her awkward attempt to evade a TV reporter in a restaurant parking lot. She has since given an extended interview on Nevada's Face to Face program.)
The problem is that there is an awful lot of baggage to dump. As well as airbrushing her Web site and denying she is a "birther," Angle has sought to backtrack from comments (aired on multiple occasions) that Americans are stocking up on ammunition because they are "distrustful of government" and prepared to "fight for their liberty in more Second Amendment kinds of ways." Confronted for the first time with details of Angle's views on Morning Joe today, anchor Joe Scarborough threw up his hands and pronounced the GOP candidate "gone" in November. Panelist Mike Barnicle opined that she "sounds like a mental patient."
Such obituaries are premature, four months out from the election. November's race is still shaping up as a tough battle for Reid, given the toxic anti-incumbent mood in the country. He has been in the Senate since 1986, and for many voters, he embodies a Washington establishment that has pursued high-spending policies, including contentious health-care reforms, yet failed to revive the economy. Nevada is feeling the pain more than most—at 14 percent, the state has the highest unemployment in the nation. This may explain why Reid's job approval languishes in the 30s (normally fatal for a well-known incumbent seeking reelection) and why he continues to trail in general-election poll match-ups against Angle, by 7 points according to Rasmussen and 3 in the latest Las Vegas Review-Journal poll. No matter what Angle's challenges, Reid isn't likely to win in a landslide.
So the strategy for both candidates is clear: make November's race a referendum on the other side. Reid's bet is that he can eke out a plurality, despite his unpopularity, if he turns Angle into a loony right-wing caricature. Angle, in turn, needs to keep the focus on disaffection with Washington and present herself at least as a minimally acceptable Republican—someone who won't embarrass Nevadans and is, contrary to appearances thus far, actually ready for prime time. With the media engaged, the blogosphere ablaze, and money being parachuted in from across the nation, it will be fascinating to see which narrative prevails.