Harry Styles' 'Eternals' Role as Thanos' Brother Eros Sends Fans Into Meltdown
Harry Styles is reportedly joining the Marvel Cinematic Universe and the news has sent fans of the One Direction heartthrob into a frenzy.
The reveal was made at the premiere for The Eternals and the 27-year-old singer is set to play Eros, the brother of Thanos.
Variety confirmed the news on Twitter with writer Matt Donnelly delivering the news to fans.
"Big reveal from #TheEternals premiere -- Harry Styles has joined the MCU as Eros, brother of Thanos," Donnelly tweeted on Monday night.
Not much else has been shared about the upcoming role but it is expected that Styles will star alongside Josh Brolin's Thanos in the Avengers movies
Thanos was decapitated by Thor in Avengers: Endgame so perhaps a history about the villain's origin is in the works.
Eros is also known as Starfox and in Marvel canon, one of his superpowers is "pleasure stimulation."
According to Marvel, he "possesses the psionic ability to stimulate the pleasure centers of the brains of people within 25 feet of himself" and he "can bridge the minds of two people, causing one of them to feel the emotions and feelings of the other."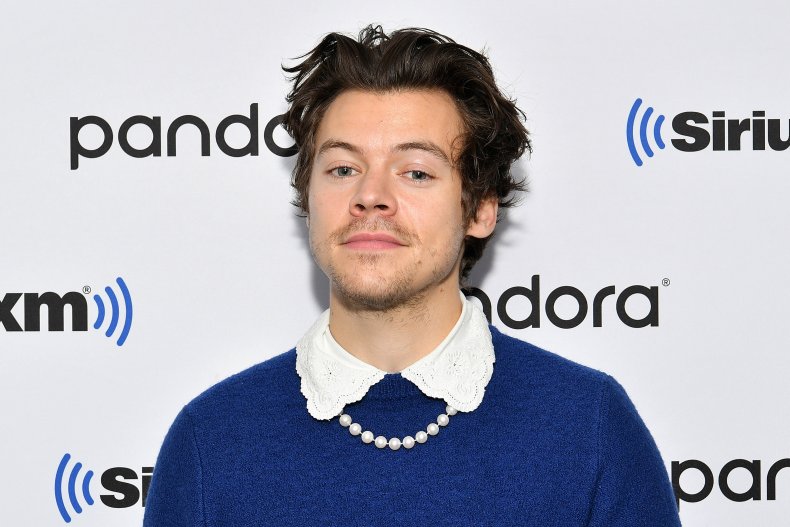 The announcement has unsurprisingly caused a huge stir among styles and Marvel fans.
"When Harry Styles shows up in the MCU. Audience squealed," tweeted an editor at Variety, Mark Malkin.
While another added: "HARRY STYLES HAS JOINED THE MCU AS THANOS' BROTHER: STARFOX IN MARVEL ETERNALS EXTRA SCENE."
Another joked: "NOW I HAVE TO WATCH MARVEL CAUSE OF THIS MAN
OKAY."
"Harry Styles in the MCU? You don't say..." said writer Kris Tapley.
While another added: 'did i just read harry styles mcu and thanos in the same sentence ? i-"
"i apologize in advance for the person i will become if harry styles really is in the eternals movie," reads another tweet.
Another tweet reads: "harry styles was just announced as part of the eternals cast list. i swear if i have to fight girls for tickets who are just there for harry i will rage."
The Eternals was finally unveiled to an audience following its world premiere at the iconic El Capitan Theatre in Los Angeles on Monday night.
Oscar-winning director Chloé Zhao is at the helm of this highly anticipated blockbuster that boasts an all-star cast.
The ensemble cast includes Gemma Chan, Richard Madden, Kumail Nanjiani, Lia McHugh, Brian Tyree Henry, Lauren Ridloff, Barry Keoghan, Don Lee, Harish Patel, Kit Harington, Salma Hayek, and Angelina Jolie.
Styles is also due to star in the upcoming 1950s-set psychological thriller Don't Worry Darling alongside Florence Pugh.