Harry Styles' Haircut Sends Internet Into Meltdown as Fans Say 'Dunkirk' Harry Is Back
Harry Styles has sent his fans into something of a meltdown today and it's all down to a change in his hairstyle.
The One Direction star was photographed with a fan in Los Angeles and his signature flowing locks are noticeably shorter—with many noticing his hair is similar to the cut he had when starring in 2017 film, Dunkirk.
The phrases "HE CUT HIS HAIR" and "DUNKIRK HARRY" both began trending in countries around the world after the photos were posted and fans caught on to the change in hairstyle.
The "Watermelon Sugar" singer, 26, is Harry is currently filming new movie Don't Worry, Darling, so his shorter look could be for the role.
Unsurprisingly, fans have lost it after seeing the boyband heartthrob spotted out and about in the wild.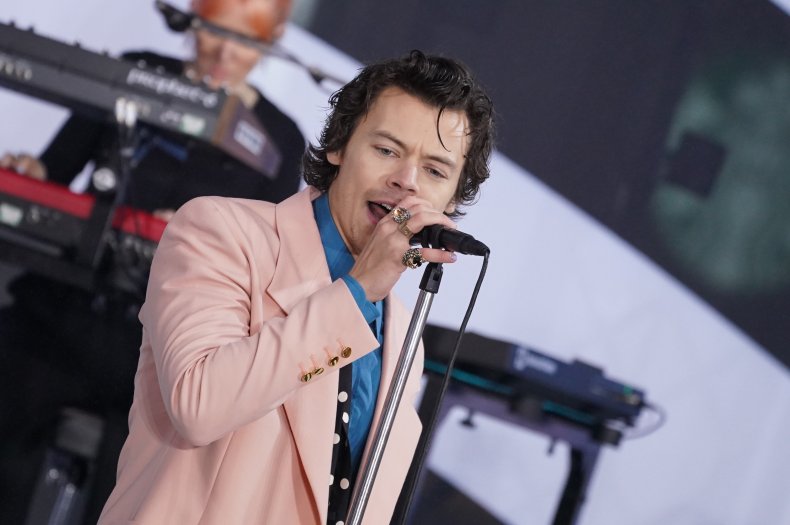 One popular tweet reads: "harry styles just casually going to go get a haircut. little did he know that once he cut his hair, he started A WHOLE ENTIRE NEW ERA."
While another fan added: "in one week we've got frat boy harry,prince hair harry and now dunkirk harry HE CUT HIS HAIR."
Another joked: "all the dunkirk harry stans are freaking out right now i just know it."
"The way we had a full head of curls a few days ago and now we literally have dunkirk harry again but this time it's don't worry darling harry omg omg," another fan wrote.
Movie buffs may remember the 2017 war epic from Christopher Nolan saw Styles make is acting debut as British soldier Alex.
His next role, directed by Olivia Wilde, Don't Worry, Darling also stars Florence Pugh, Gemma Chan, KiKi Layne and Chris Pine.
Although little is known about the plot, Deadline reports that the film is set in an isolated, utopian community in the 1950s California desert. Styles' casting alongside Pugh and the other high profile cast members will no doubt create a huge buzz around the project upon its release.
The singer is also said to be in negotiations to star in an adaptation of Bethan Roberts' LGBTQ+ novel My Policeman alongside Lily James.
For those disappointed that Styles got the chop, fans can rest assure that the hair they love is about to get an airing in the music video "Golden" imminently, which was recently filmed in Italy before the now-infamous haircut.