Harry Styles hosts 'The Late Late Show,' Plays Game with Ex Kendall Jenner, Performs new Single 'Adore You'
Harry Styles delighted fans by hosting James Corden's The Late Late Show on Tuesday night. Styles interviewed guests including his former girlfriend, model Kendall Jenner, and the actress Tracee Ellis Ross; played the popular game Spill Your Guts or Fill Your Guts; and performed his new single, Adore You. Styles also did a Carpool Karaoke session with Corden, but this time, Styles was in the driver's seat.
Fans were excited to see Styles hosting, with #HarryHostsLateLate trending on Twitter. One of the most talked-about moments was Styles being questioned by his ex, Jenner, in a game segment.
A game of Spill Your Guts or Fill Your Guts sees the host and the guest take turns asking each other personal questions. In last night's show, Jenner asked Styles, who she previously dated, which songs on his debut album were about her. Instead of answering, Styles chose to eat cod sperm.
Styles also chose to eat a scorpion over ranking his former One Direction bandmates' solo music, even taking a bite before Jenner had finished asking the question.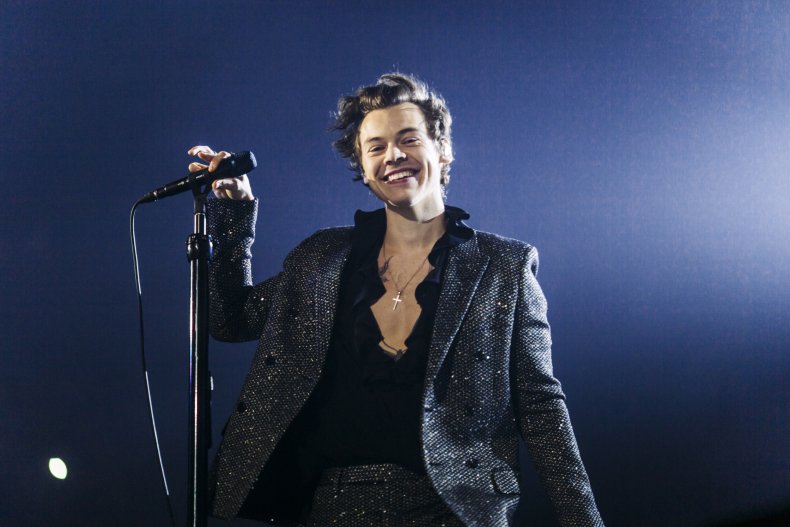 Then, despite Corden not hosting the show, he had time for a Carpool Karaoke session. Carpool Karaoke is a popular segment of The Late Late Show, which usually sees Corden "drive to work" with his musical guest as they sing the guest's songs. Previous Carpool Karaoke guests include Adele, Paul McCartney, Ed Sheeran, Ariana Grande, and Kayne West.
In last night's episode, Corden gave Styles advice on hosting, which included making guests feel comfortable and feigning enthusiasm. The pair then sang Styles' Watermelon Sugar, a single from his new album, Fine Line, which will be released on Friday, December 13.
Styles also performed his latest single, Adore You, live on the show.
This isn't Styles' first time hosting The Late Late Show. Styles filled in for Corden in 2017 when Corden missed a show because his wife went into labor. The singer also recently hosted Saturday Night Live, in an episode in which he was also the musical guest.
This time, Corden is taking a break from hosting The Late Late Show to work on the comedy musical The Prom, which is a movie adaptation of the Broadway play. Corden will miss seven shows, and other than Styles, guest hosts filling in for Corden include Melissa McCarthy, Ken Jeong, Alicia Keys, Chance the Rapper, and Jeff Goldblum.
The Late Late Show with James Corden is on at 12.35 a.m. weeknights on CBS. Tonight's episode will be hosted by Anthony Anderson, who will interview Nick Jonas. Vampire Weekend will perform.