Harry Styles Wardrobe Malfunction in Front of Jennifer Aniston Sparks Memes
Harry Styles suffered an embarrassing wardrobe malfunction in front of Friends legend Jennifer Aniston.
Styles, 28, was performing a show at the Kia Forum in Inglewood, California, on Thursday night as part of his "Love on Tour" when he had the unfortunate mishap.
During a performance of his hit song "Music for a Sushi Restaurant," Styles danced over to one side of the stage and tripped briefly, before kneeling on one knee and throwing his hands up to the crowd, which is where Aniston happened to be sitting. Then he is seen in videos posted to social media turning around and grabbing his crotch.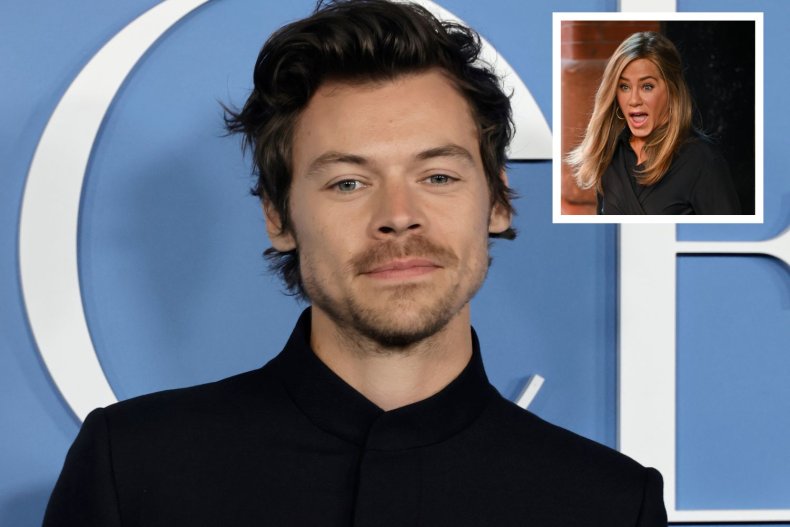 The "Kiwi" singer can be seen looking down at his pants and then rolling his eyes at his band, showing them how he had ripped his trousers from the left groin down to the crotch.
He then ran into the middle of the band and quickly picked up a black towel to cover himself up before heading back to the same side of the stage and getting the crowd hyped.
The moment was not missed by Styles' millions of fans, who quickly rushed to joke about it on Twitter, pointing out that Aniston was the singer's first crush. He revealed that fact during an appearance on The Ellen Show in 2020.
"OH MY GOD I FORGOT JENNIFER ANISTON IS THERE HE RIPPED HIS PANTS IN THE PRESENCE OF HIS FIRST CELEBRITY CRUSH I WOULD DISSOLVE INTO THIN AIR," tweeted one fan.
Another added: Harry Styles ripping his pants trying to impress Jennifer Aniston and the look on his face lol. This hands down the funniest shit in 2023 so far lmao.
While a third wrote: "Can we take a moment to think that he almost flashed Jennifer Aniston aka one of his idols."
Other celebrities at Thursday's gig included Kylie Jenner, Spencer Reid, Ellen DeGeneres, Noah Beck and Dave Grohl, according to social media.
Styles' outfits for his world tour were custom designed for him by Gucci's creative director Alessandro Michele.
The singer has had a long-standing relationship with the Italian fashion house, including attending the 2019 Met Gala with Michele dressed in a sheer black lace Gucci top, high-waisted trousers and a single pearl earring. He was co-chair for that year's gala, alongside Lady Gaga, Serena Williams and Vogue editor Anna Wintour.
Styles and Michele also collaborated on a Gucci campaign that featured the former One Direction star. Called the HA HA HA campaign, it showcased Styles' "dream wardrobe" and used "menswear as a tool of the avant-garde," according to the Gucci website.