Harry Styles' Mom Slams 'Don't Worry Darling' Haters on Instagram
The reactions to Don't Worry Darling, a film that has dominated headlines in recent weeks, have been fairly diverse, but too many negative comments about the movie on a recent post from Harry Styles' mother prompted her to call out the haters.
On Wednesday, the singer's mother, Anne Twist, posted several photos to her Instagram to her 2.6 million followers, including one of her smiling in a green dress in front of a large Don't Worry Darling poster of the film's star, Florence Pugh.
"First time in the French cinema .. first day showing .. 'Don't Worry Darling' you were excellent! Really enjoyed from start to finish. Well done @oliviawilde and team for drawing us in, well done baby @harrystyles for being a fabulous Jack. Very proud as usual 😊 👏🏼👏🏼👏🏼," the caption read.
The comments flooded in, and not all of them were good. "Sorry Anne, but this filme [sic] is so disgusting. I'm traumatised [sic] for the rest of my life!" said one user.
"In fact the movie sucks and your son definitely doesn't know how to act," said another.
Another commenter brought up several of the reasons behind the negative online chatter, including how director Olivia Wilde, who is also dating Styles, has portrayed the film in terms of its sexual content.
"A movie marketed on female pleasure which made the lead of the movie uncomfortable. No warnings about rape. No warnings about any of the triggers in the movie scenes. And yet the director glorified female pleasure. And you like this movie?" the user asked. "And people stating facts about this movie isn't vitriol. Please stop pandering to whoever your son is dating and for once look beyond the easy money and be HONEST. If you truly enjoyed this movie and all that it stood for, I am deeply disappointed in you and what you stand for."
"The only one good in the movie is Florence [Pugh]," said another user.
The disparaging comments prompted the mother of the "Late Night Talking" singer to respond in an Instagram story, quoting in a statement, "If you can't say something nice, don't say nothing at all."
"I'm astounded and saddened by the vitriolic comments on here to be honest," Twist wrote. "I enjoyed a film. If it's not your cup of tea don't go... If you don't like me[,] please don't follow me. Simple."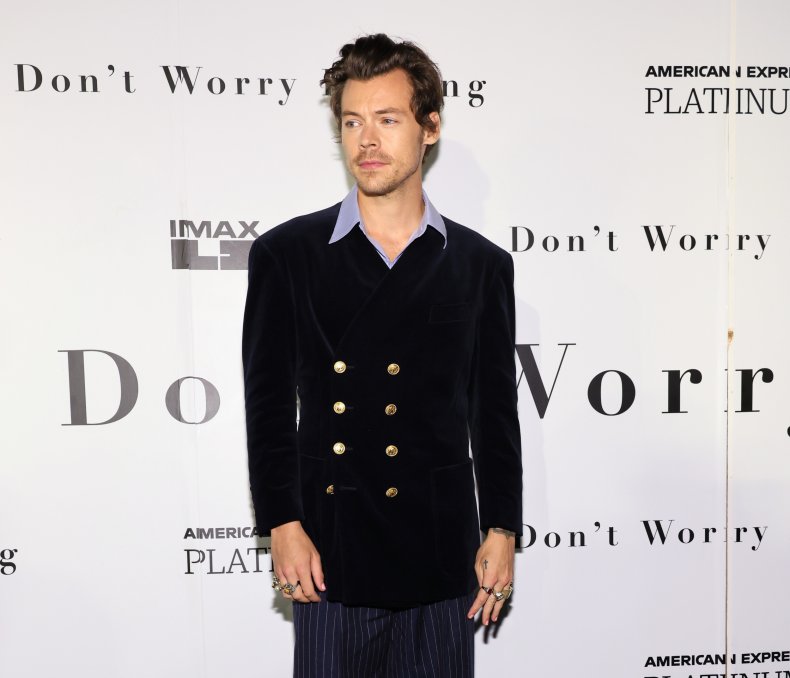 Don't Worry Darling has been the subject of much talk in recent months, as Wilde's The Stepford Wives-inspired mystery drama has been blemished by rumors of cast feuds, spitting allegations, poor performances, and online arguments regarding trigger warnings.
Many other users jumped to Twist's defense on Instagram on Thursday, with one commenter writing, "Anne, I love how you support Harry. And I truly hope you ignore all of the toxic comments on what is truly a sweet and supportive post."
The film also stars Chris Pine, Gemma Chan, Nick Kroll, Sydney Chandler, Kiki Layne and Dakota Johnson, and will be in theaters everywhere on September 23.
Newsweek reached out to a representative for Styles for comment.