Harry Styles Fans Dominate Twitter as Singer Appears on Today Show
Before his appearance on NBC's Today Show, Harry Styles fans took over Twitter with excitement about the singer's performance.
The "Watermelon Sugar" singer was scheduled to appear on the morning show to promote his most recent album, 2019's Fine Line. Styles' fans braved a rainy morning in New York's Rockefeller Center to see the singer.
Fresh off his NPR Tiny Desk Concert, the singer performed songs from both Fine Line and his self-titled debut for the Today Show including "Watermelon Sugar", "Adore You" and "Kiwi."
During the interview portion of his appearance, Styles also gave props to Lizzo, saying that they may collaborate in the future. "I just think she's amazing," he told Today. "I think she's such a great artist. As a fan, what you want artists to be is themselves, and I think she's someone who's just herself, and she makes amazing music, and it's really feelgood, and I think that's what a lot of people need right now.
To promote his appearance, The Today Show shared the hashtag #HarryStylesTODAY. The show's official account shared both fans' excitement and their own. Styles offered VIP tickets to his upcoming tour to a fan that was crying during soundcheck. When host Carson Daly gave her the tickets, she fell to the ground screaming. "Harry, it's too bad you don't have any enthusiastic fans here today," Daly quipped.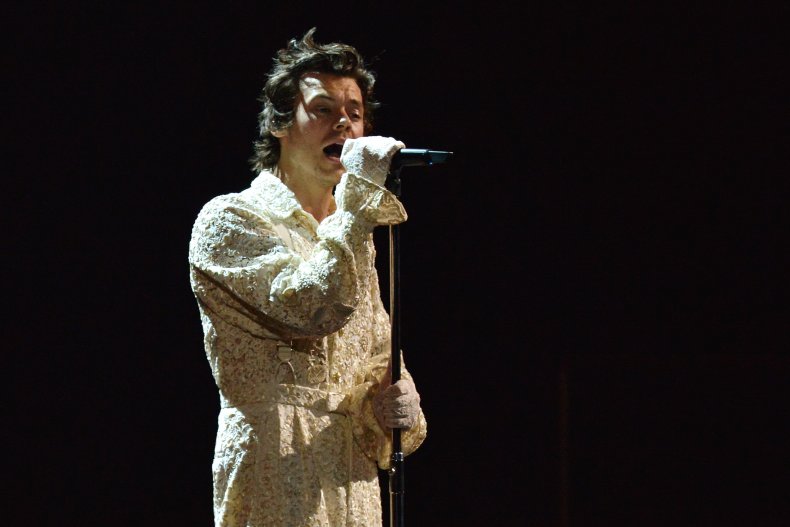 Some fans commented on the former One Direction singer's wardrobe during the soundcheck, notably his colorful cardigan. One fan tweeted that she'd ask her grandmother to knit one, after finding that his sells for $1,890.
Many fans shared photos and videos of themselves on the way to the performance decked out with Styles swag. Some with their signs to draw the singer's and camera operator's attention. Another fan shared that she was merely excited that she made eye contact with Styles.
Other fans tweeted photos and videos from both the performance and the singer's soundcheck. In one clip, Styles responds to the audience singing back the lyrics to adore you. He quipped "Fine" to the audience when they sand "Just let me adore you." Others shared videos of him performing One Direction's hit "What Makes You Beautiful."
The Today Show performance wasn't the only Styles-related news to stir up Twitter. The announcement of two Madison Square Garden concerts to close out October caused the hashtag #Harryween to skyrocket on Twitter. Styles announced the concert on the morning show. Styles will kick off a world tour in April with support from King Princess, Jenny Lewis, and Koffee. Orville Peck will provide support for the Harryween "Fancy Dress Party."