Harry Styles' Toe Leaves Fans Divided After New Photoshoot
Harry Styles' latest cover shoot provoked a strong reaction from some of his fans as a peeking big toe divided opinions.
The singer is the new cover star for Better Homes and Gardens magazine, with the announcement of his feature reportedly breaking the company's website. Several photographs feature Styles in different clothes around a home but a couple of images highlighting his toes have got people talking.
The main picture in question shows Styles facing the camera wearing pajamas, but his bright red socks have a hole in them, meaning his big toe is protruding. The internet got to work immediately and the terms 'Harry Styles' and separately 'his toe' became trending topics online.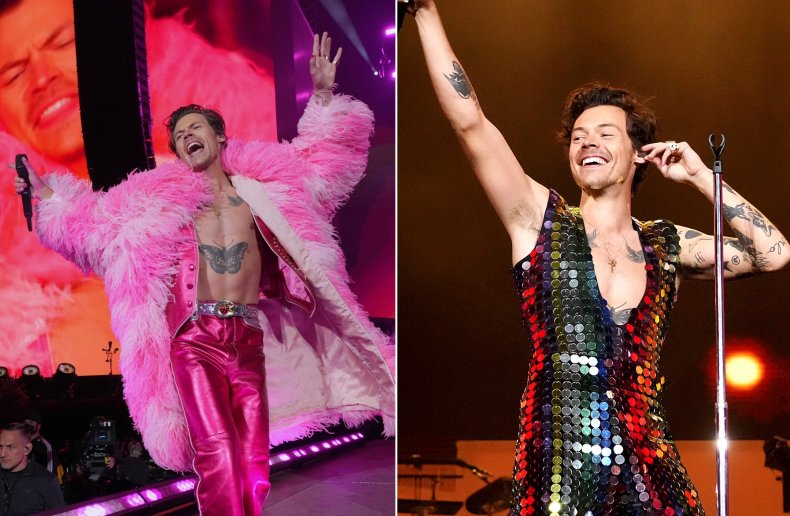 Within the June 2022 issue of Better Homes and Gardens, Styles talks about music, metamorphosis and mental well-being, according to the company. The article, written by Lou Stoppard, shares an insight into Styles' life but the photographs, taken by Tim Walker, were shared widely across Twitter and TikTok.
Those in the pro-toe camp include Twitter user @pimllrry_ who noted that "harry styles's big toe tattoo finally getting the recognition it deserves" and @rEaR_vIeW_ wrote with an emotional emoji attached, "his toe picking out of the sock and it's nail painted with the sprouting pleasing polish is just to much for me i can't harry styles."
The pictures in question which are causing such a reaction online can be viewed in the article by clicking here.
Twitter user @xoprincesspark joked, "people see you smiling down at your phone and assume you're texting someone. mf im looking at pictures of harry styles big toe." Also proving the singer can do no wrong, @TheAngelbabylou wrote, "Like I hate feet but his toe is beautiful." User @severushes posted images confirming Styles and his feet were trending.
TikTok appeared less forgiving when it came to the emergence of Styles' toe.
Sharing a brief video of the picture in question, @kaitlynflorals wrote over the image "no.. cause who's idea was this monstrosity" before zooming in on the toe.
@redformandumbazz featured herself looking displeased at a couple of images from the photoshoot that show his toe.
Not only did the singer's toe cause a reaction online, Styles' feature within the magazine reportedly crashed the entire Better Homes and Gardens website entirely.
Late on Tuesday, the publication's social media channels shared the news that Styles would feature. The Twitter responses to the announcement featured fans attempting to purchase the magazine, but they were all met with the message "Your order could not be processed. Your order has not been placed. Please try again later."
Fashion and lifestyle journalist Summer Cartwright wrote on Twitter "harry styles rly broke better homes and gardens." Meanwhile authors Heather Cocks and Jessica Morgan, via their shared Twitter account, congratulated the staff of the magazine for their get.
Styles recently wowed crowds with his Coachella set where he collaborated with Shania Twain and Lizzo across the weekend.
Newsweek has asked Better Homes and Gardens for further comment.