'Harry's House' Leaks Online With Other Songs, Angering Harry Styles Fans
Songs allegedly from Harry Styles' highly anticipated third studio album, Harry's House, along with other unreleased songs, was leaked online. The news of the leak had fans furious as they headed to social media to vent their frustrations.
Styles caused a frenzy on social media when he announced Harry's House would be out May 20. His first single "As It Was" dropped alongside the music video at midnight U.K. time. The vibrant video has over 72 million views on YouTube.
A now-deleted tweet from Sony—Styles' record label—urged fans not to listen.
"PSA: friends don't let friends listen to Harry's House before May 20," the label tweeted.
Among cuts believed to be from Styles' third album, other unreleased songs have also been leaked. The songs "Medicine" and "Anna," were songs that Harry exclusively played while on tour. Additionally, never-heard One Direction songs were leaked.
Many fans are echoing Style's label in encouraging others to not listen to the album until it was intended to be heard on May 20.
A fan received over 14,000 likes for their tweet that reads: "IF I SEE ANYONE LEAKING HARRY'S HOUSE OVER HERE CONSIDER YOU ARE BLOCKED. MEDICINE & ANNA OK BECAUSE WE'VE ALREADY HEARD THEM, 1D SONGS OK CUZ THOSE R OLD BUT DON'T YA DARE LEAK HS3! HE'S WORKED SO HARD FOR THIS! PLEASE DON'T SOIL HIS HARDWORK!!!"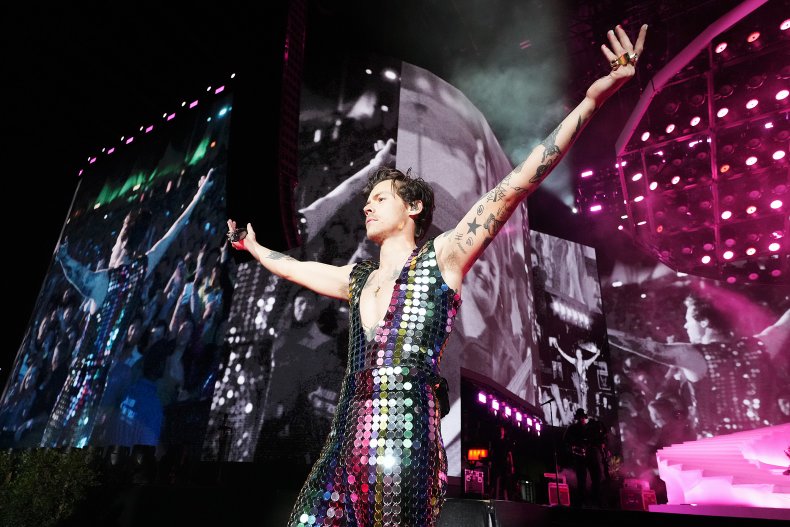 "i cannot stress this enough @ColumbiaRecords @Harry_Styles @HSHQ @jefezoff 99% of the fans decided NOT to listen to the album, don't change any of your plans because of this leak, we're here and we're waiting patiently for the actual album to come out," one fan tweeted to Harry, his record label and his team.
"harry styles really didn't do all this effort forming an era for u to just leak it we all waited for long but don't RUIN THE GOD***N ALBUM," said another frustrated fan.
A fan tweeted, "IGNORE THE LEAKS!! Harry has worked so hard on this album...let it go live on 20 May 2022. Please don't ruin the album launch for him. We're all desperate to hear it but this is just far too disrespectful."
"I literally feel like crying. I can't even imagine how H is feeling rn. How people can leak songs one by one and why? 1D songs are fine, medicine/ anna is ok But the whole Harry's house? I will never listen to the leaked album...pls don't share any link," a fan wrote in an emotional tweet.
Newsweek has reached out to Harry Styles' representatives for comment.