Harvard Arrest: Police Under Fire for Repeatedly Punching Naked Black Student
Police in Cambridge, Massachusetts, are being criticized after footage emerged showing a naked 21-year-old black student pinned down and repeatedly struck in the stomach by an officer.
Police claim the use of force was justified in arresting the man, identified as Selorme Ohene, because he was high on drugs at the time of the incident and acting in an aggressive and unruly manner.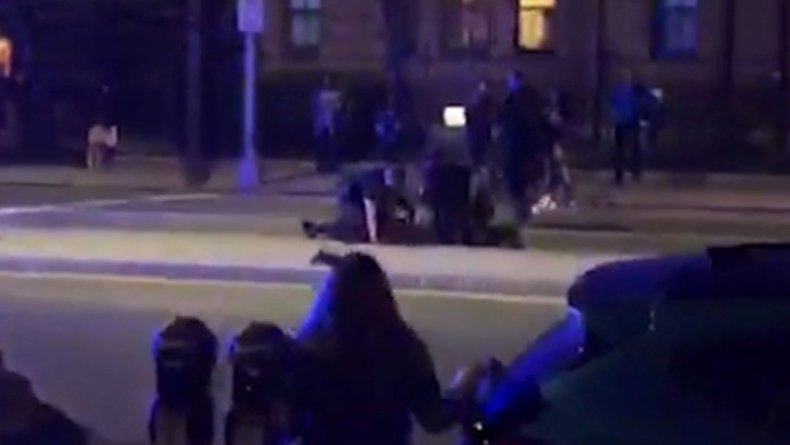 On Sunday they released video of the arrest filmed by a member of the public and submitted to police after complaints about the conduct of the officers.
Cambridge Mayor Marc McGovern in a statement Sunday desribed the incident as "disturbing," and said that he has been told by police that the incident is under investigation.
"Cambridge affirms that Black Lives Matter, but it must be true in practice as well," he said in a statement.
Police said that they were called Friday night at about 9 pm with reports of a man behaving in a disorderly way, and found Ohene standing naked on a traffic island.
The footage shows police talking to Ohene for about two minutes before officers take him to the ground.
"Numerous attempts were made by the officers to calm down the male, but they were met with opposition and hostility," Commissioner Branville Bard said Monday.
Police say Ohene was clenching both fists and walking toward officers before the takedown.
The footage shows at least one officer repeatedly punching Ohene. Police have admitted that the student was punched five time in the stomach, the New York Times reported.
"Once on the ground, the male continued to resist arrest," Bard said. "Three officers from the Cambridge Police Department and another officer from the Transit Police Department were required to gain compliance with the male."
According to police Ohene resisted arrest when he was on the ground and force was used "in order to gain compliance from Ohene to avoid further injury to himself, the responding officers or any on-lookers."
The Harvard Black Law Students Association, some of whose members witnessed the scene, disputed the police account and claim the officers acted without provocation.
"We demand that the officers who assaulted this man while he was naked, fully subdued and bleeding on the ground be investigated and held accountable," the group said in a statement.
Ohene was taken to hospital for evaluation and arrested on charges including disorderly conduct and assault.