Harvard Cancels Class Slated to Be Taught by Kavanaugh
A Harvard Law School course that embattled Supreme Court nominee Brett Kavanaugh was scheduled to teach in January has reportedly been canceled, with school administrators informing students of the decision on Monday.
Kavanaugh has taught at the Law School for about a decade and had been expected to spend three weeks teaching the course, titled "The Supreme Court Since 2005."
However, Associate Dean and Dean for Academic and Faculty Affairs Catherine Claypoole said in an email sent to students that Kavanaugh had "indicated" on Monday that he could "no longer commit to teaching his course in January Term 2019," according to The Harvard Crimson. "So, the course will not be offered," she said.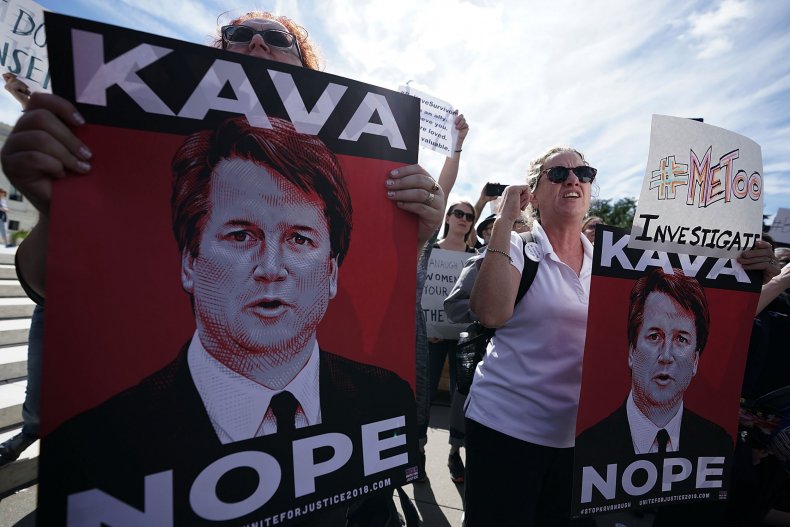 A faculty page for Kavanaugh promoting the winter 2019 course also appears to have been pulled from the Harvard Law School's website.
An archived version of the webpage from September shows Kavanaugh listed as a Samuel Williston Lecturer on Law and lists "The Supreme Court since 2005" course as one of his upcoming classes.
The cancellation of Kavanaugh's course on the Supreme Court comes as his own Supreme Court nomination hangs in the balance as allegations of sexual misconduct swirl around him.
As the FBI investigates those claims, including those of Christine Blasey Ford, who was the first to come forward to accuse Kavanaugh of having sexually assaulted her in the 1980s, GOP Senate leaders have vowed to push forward a final vote on Kavanaugh's nomination this week.
On Monday afternoon, Senate Majority Leader Mitch McConnell said "the time for endless delay and obstruction has come to a close," asserting that the Senate was considering the nomination on the floor and will be "voting this week."
Read more: Brett Kavanaugh committed perjury by lying under oath during hearing, Senate Judiciary Committee Democrat Says
A few days before Harvard Law School students received Claypoole's letter, hundreds of Harvard alumni had signed a letter to Law School Dean John F. Manning, calling on him to "rescind" Kavanaugh's position as a lecturer and prevent the judge from teaching this winter.
"Now more than ever, HLS must send a clear message that it takes sexual violence seriously," the letter stated. "Too often throughout history, sexual assault and violence against women and girls have been dismissed.
"The accusations against Judge Kavanaugh, including those by Dr. Christine Blasey Ford, are credible and grave," the letter continued. "They seriously call into question his character and morality and should disqualify him from a lifetime appointment as a Supreme Court Justice. They should likewise disqualify him from any position of esteem, including lectureships at HLS."