Harvard: Corey Lewandowski, Sean Spicer, and Joe Scarborough Are Nation's Finest Civic Figures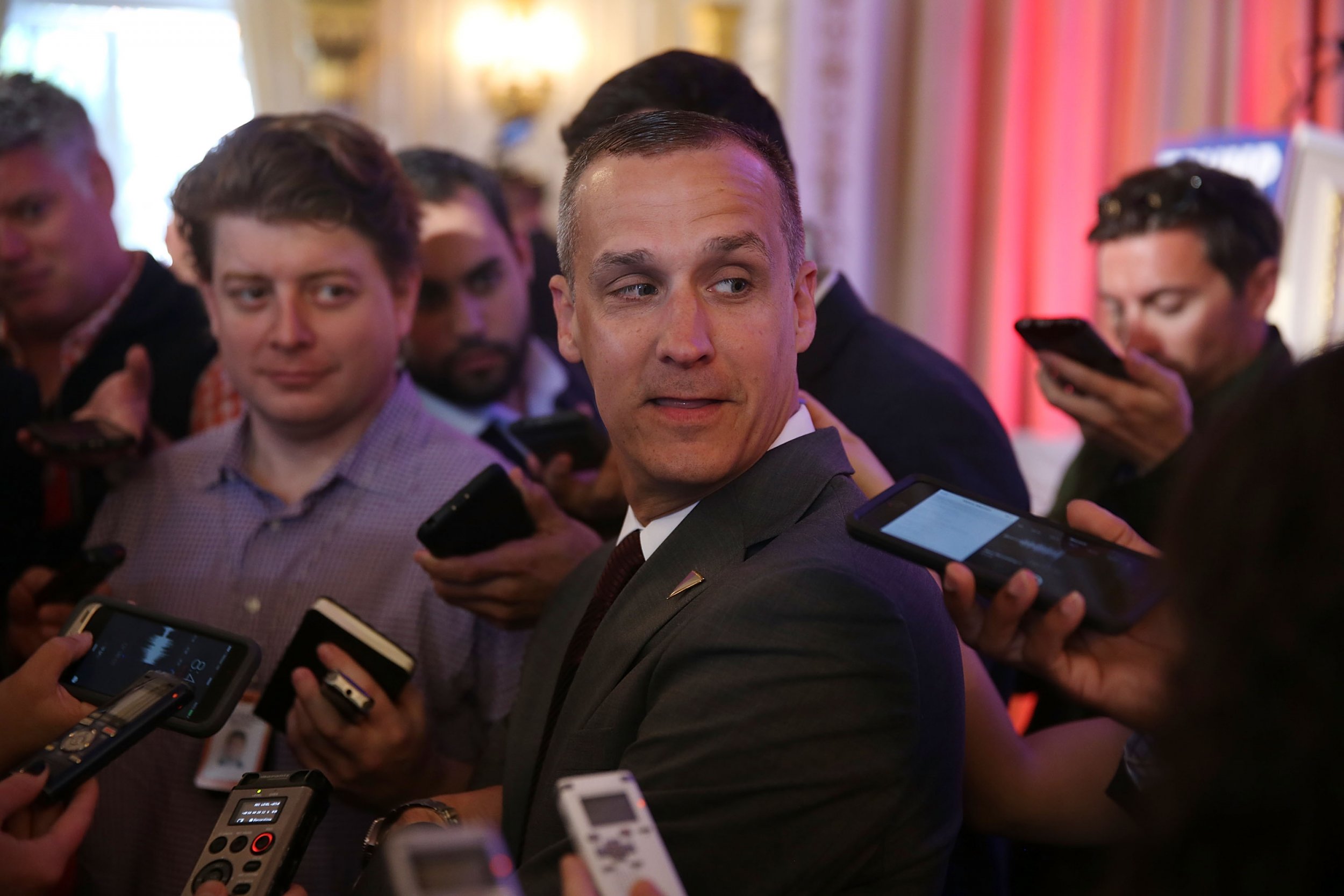 Corey R. Lewandowski, Robby Mook, Sean Spicer, Chelsea E. Manning: It sounds like an impressive guest list for a Sunday morning talk show. Instead, it is a partial slate of visiting fellows for the 2017-2018 academic year at the Institute of Politics at the John F. Kennedy School of Government at Harvard.
The fellows program is supposed to bring "distinguished veterans of public life to campus," giving the young strivers of Harvard Yard an enviable access to power as they prepare to wield power themselves. A good portion of why you'd go to Harvard instead of, say, the University of California at Irvine is because your roommate's mother may be a Goldman Sachs partner, while your writing instructor may be a Pulitzer Prize winner happy to introduce you to his literary agent and effusively blurb your book of narrative poetry about growing up in the Connecticut suburbs.
Still, one wonders if Joe Scarborough and Mika Brzezinski belong in the class of IOP fellows (they're there, along with more predictable, and respectable, figures like Kansas City Mayor Sylvester James, Jr., and Cornell William Brooks, former head of the NAACP). It's hard to think of a duo more singularly corrosive to the notion of reasoned civic discourse, more antithetical to the practice of journalism speaking truth to power. Seated in leather chairs in front of diligent overachievers already planning congressional runs, Mika and Joe will excoriate President Donald Trump to endless reports of applause. I doubt, however, that they will fully acknowledge how thoroughly they abetted him during the presidential race, how deeply and obviously they craved the feeling that comes with brushing up to power and wealth.
Of course, brushing up to power and wealth is the whole point of a fellowship like this. It's hard to see any other reason to invite Lewandowski, who was Trump's first campaign manager. You may recall that Lewandowski was charged with assaulting a female reporter; he also allegedly made drunken sexual advances on female campaign reporters. Prior to that, in 1999, he was arrested on suspicion of bringing a gun into a House of Representatives building. Then there's Spicer, whose entire career as the White House press secretary involved a sustained assault on truth, dignity and open society. IOP stresses "a strong emphasis on student-Fellow interactions," which means Harvard students can expect Spicer to shout at them, exaggerate wildly and announce, over and over, that "the tweet speaks for itself."
(The fellowship's two student administrators did not answer a request for comment, while a Harvard spokesperson sent a statement that said, in part, that an "invitation to spend time at the Institute of Politics does not imply an endorsement of the views or actions of any of our Fellows.")
Manning will be the IOP's first transgender fellow. That is indeed historic, and important in its own right, even if some are not inclined to see the leaker of classified information as a paragon of public service. Less historic is the inclusion of Jason Chaffetz, the former Utah congressman and an IOP fellow this fall. Only in a society where shame is no longer a hindrance can someone like Chaffetz don the vestments of a Harvard intellectual, however fleetingly so. He used the deaths of four Americans in Benghazi, Libya, to conduct a sham inquiry whose sole point was to sap Hillary Clinton's political capital. Sensing (correctly) that legislating would be nigh impossible under Trump, he did the honorable thing and fled Congress.
Then there's Mook, the widely disliked and power-thirsty campaign manager for Clinton. His obsession with data likely cost her the election. He should have gone to Wisconsin. He will be going to Harvard instead.
This is what we get for turning the public square into an orgy for shallow egomaniacs: Lewandowski on CNN, Chaffetz on Fox News, Joe and Mika saving the republic on MSNBC. These people are Harvard fellows not because they have original thoughts or deep convictions to animate public life. They're fellows because they're famous.
The painful irony is that Harvard was once the wellspring of the nation's political leaders. That may have been its downfall. It was Harvard men like Henry A. Kissinger (three Harvard degrees), and Robert S. McNamara (Harvard Business School), who are largely responsible for the debacle that was Vietnam, eroding public trust in the best and the brightest (Harvard graduate John F. Kennedy played a role in that fiasco, too). "I am obliged to confess I should sooner live in a society governed by the first two thousand names in the Boston telephone directory than in a society governed by the two thousand faculty members of Harvard University," arch-conservative William F. Buckley, Jr., confessed in 1963.
That antipathy coalesced into a widespread rejection of politicians with Ivy League degrees, leading George W. Bush (Harvard and Yale) to portray himself as a brush-clearing cowboy from Texas. And it brought about the election of Trump, who, despite his University of Pennsylvania education, cast himself as a fast-food eating tribune of the masses.
Once he is through at the White House, I am sure there will be a place for him at Harvard.